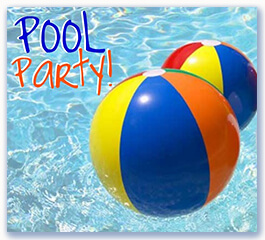 Everybody loves a good pool party. What's not to love about splashing around with your friends and family, staying cool on a hot summer day, or just lounging around on a pool float?
Before you slather on your SPF, strap on your water wings, and cue-up your favorite summer tunes – let's talk about ways to make your pool party fun and safe.
To start, make sure you have a clear pool deck. You don't want an obstacle course that could result in somebody falling in or around the pool and getting hurt. Next, don't forget to store your pool chemicals away from where anyone can get to them. Remove the pool cleaner from the pool, and make sure that main drain covers are secured.
LIFEGUARDS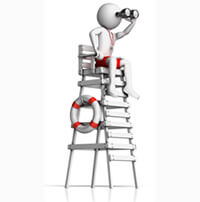 Remember you are responsible for the safety of your guests. It's important to have somebody keeping an eye on the party and assuming the lifeguard role. Depending on the size of your party you might want to consider hiring a professional. I want to swim and party so if it were me, I'd hire a guard regardless of the guest count.
If your party moves inside due to weather or guests just taking a break, it's a good idea to lock the doors to the pool. Keep the pool lights on so you can watch out for any rebel partiers that may sneak into the unattended pool.
It would also help to have an extra set of eyes on the pool. Ask one of your guests to help keep watch. You didn't think this would be all fun and games did you? It is for me, because I would hire a lifeguard!
IDENTIFY HIGH RISK GUESTS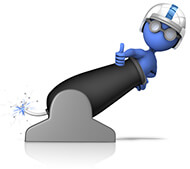 It's important to gauge who your "high risk" guests are, kids and adults. Having two children myself I would consider them a risk for any pool party, and anyone under 5 makes this VIP list for me. I don't expect to see Grandma knocking Timmy into the pool with a fun noodle. Granny is in the clear as far as I'm concerned.
Don't be shy about asking your guests if they will be swimming, and be sure to ask parents about their child's swimming skills. If they admit that their child has limited swim ability, ask them to please watch their young ones closely.
Enforce strong pool rules to prevent accidents. No diving, no dunking, no running. If you have especially rambunctious swimmers, give them a lifeguard time-out!
SAFETY EQUIPMENT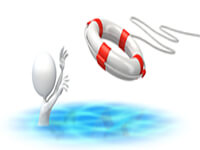 Do you have the proper equipment to handle an emergency? I recommend having a life ring with a tow rope as well as a telescoping pole handy. Length of the rope and pole should be based on your pool size. You want to be able to help a distressed or injured swimmer from any side of the pool.
It helps to have floatation toys available for the little ones that might not be at Olympic swimming levels (kickboards, noodles, pool tubes, et cetera). Not too many though, you don't want to limit visibility and too many toys in the pool can be hazardous.
Diving board? It may be a good idea to close the diving board during the party, unless you can have a diving referee to keep things safe. Important note: most diving injuries occur to grown men showing off their high dive.
POOL LOCK DOWN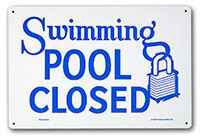 If someone gets injured or the party gets out of control – it's time to lock down the pool. Find a buddy that can help clear the pool area and keep guests out of the water. Pool alarms can be used to alert you if anyone falls in (or jumps in) while the pool is unattended.
At this point you can determine whether or not the pool party is OVER or you just need a moment to gain some control or tend to an injured guest. You just needed a moment? Party On!
Everybody loves a good time and a good pool party. But nothing is more important than the safety of your guests. Remember to:
Keep all "Eyes on the Kids".
Set and enforce strong pool safety rules.
Store pool chemicals safely away.
Make sure drain covers are secure.
Hire or designate a lifeguard.
Lock up when the pool is not in use.
It wouldn't hurt to have a pool safety checklist to help make sure all the bases are covered. Now that you're all set there is one more priority… have fun and soak up some sun!
And keep granny away from the pool noodles…


Roberto Gonzalez
InTheSwim Staff Blogger