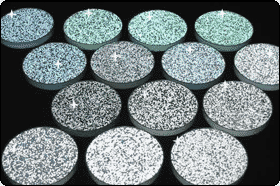 Gone are the days of plaster only available in white – today's plastering companies are offering not only colored additives, but colored aggregates – to add visual interest, greater durability and more satisfied customers.
Your local pool plastering companies may not offer all of these options – some types of plaster are regional offerings.
When Should a Pool be Replastered?
Pool plaster can last many years – before the erosive effects of water and chemicals begin the degrade the surface. The surface eventually becomes rough, and stains become more difficult to remove.
Plaster is the waterproof coating that is spread on top of the gunite or shotcrete shell of your pool. It is meant to degrade very slowly, although many factors can affect its appearance and surface softness.
Ugly pool plaster? Stained and dull, pitted and rough surfaces are the usual reasons for resurfacing a plaster pool. It's not done for structural integrity, or to maintain the waterproof barrier, in most cases.
Replastering your pool is done primarily for aesthetic reasons. And that – gives us a lot to talk about.
Pool Plaster Additives
Pool plaster is a mix of white portland cement and marble dust. It is called marcite in some parts of the country, whitecoat in others, or just pool plaster. The two components are mixed together with water and bonding additives, sprayed on the prepared surface and troweled smooth
Colors: Pool Plaster can be dyed any color by the use of colorants added to the mix. Lamp Black dye, in different amounts, can produce shades from light gray to dark black. Hues of blue and red can also be easily and cheaply added to the marcite mix.
The problem with colored plaster is that the color may not be uniform. Variations in hue can occur, and it's common for a colored plaster pool to develop a whitish haze over time. This is normal, however on white plaster, a white haze is not noticeable.

Nonetheless, adding a color pigment to white pool plaster can produce dramatic results – with French Grey and Federal Blue being the top requested colors.
Quartzite: Colored quartz chips or more basically, ceramic coated sand can be added to the plaster mix to create visual interest, colors and a more durable product. Quartz and silica are considerably harder than marble, and is more resistant to chemical deterioration, and the effects of being submerged in water.

Colored quartz additives are very flat and smooth, and the finished surface is likewise. The colors or "specks" help to hide surface imperfections, and can also make dirt and debris less visible on the pool floor.
Pozzolans: This additive dramatically improves the performance of pool plaster, but you won't know it's there. It doesn't change the color or texture of the plaster. What it does do, is help preserve your plaster and protect it from etching and mottling. It does this by locking up calcium hydroxide, and preventing its reaction with other compounds. The result is a longer lasting, smoother finish.

Silicone Shield: Another additive that is used to extend the lifespan and durability of pool plaster, Silicone Shield is used to "waterproof" your plaster. The product claims to reduce staining, chemical deterioration and solubility of the plaster, by essentially locking out water – like a shield of silicone.
Exposed Aggregates
PebbleTec brought the idea from Australia. Using pea gravel sized river pebbles started as the best way to install a beach front entry, without waterline staining. It's called "exposed" aggregate because after application, a thin top layer is removed to expose the aggregate, or the tiny, colored pebbles.

Other pebble products such as Pebble Sheen, Fina and River Rok are now available to plasterers. These create a smooth surface, although somewhat more "bumpy" than other pool surface types. The pebbles have a much higher resistance to water and chemicals, and typically last much longer than regular pool plaster.
Beadcrete is another Australian product, using tiny glass beads set in a polymer modified mortar. Very reflective and slip resistant. More chemically resistant than marcite, or marble dust pool plaster; it should be longer lasting as well.

If all of this choice is overwhelming, you can always just go with white plaster again! It's not quite as durable as the other pool surfaces with a greater amount of surface aggregate, and it is more susceptible to visible imperfections and staining. White pool plaster is however, the most affordable plaster option you can buy!
If you have any questions regarding your plaster choice and want an impartial opinion, leave a comment below, or call our pool experts at 800-288-7946