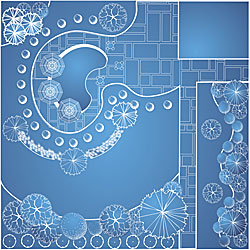 There's nothing quite like a Before and After photo, to show how far something or someone has improved.
Today's photo-blog is an idea book for swimming pool renovation and remodeling. These photos are courtesy of the proud pool builders who helped a homeowners dream come true.
Cipriano Landscape received a lot of attention for this pool and grounds re-do a few years ago. A very dramatic pool and backyard remodel.

Outdoor Living Pool & Patio added a Baja Shelf, for toddlers to play or for use as a tanning shelf (or a water polo goal). Also replaced the old school tile, coping and plaster.

Humble Sparkling Pool Service renovated this pool to include a separate hot tub, planter and water feature design. And also replaced the blue tile, brick coping and paver deck.

Freestyle Pools & Spas matched this vanilla pool to the tropical surroundings with stone decking, raised spa, dark plaster and tile, and lots of tropical plants. A real lagoon would not be rectangular, so the shape of the pool was modified.

Another Freestyle Pools & Spas renovation. After removing the safety fence, this facelift added a spillover spa, custom molded coping, glass tile and a travertine deck. Sweet!

Freestyle again with a customer tired of the sterile look on this once modern pool and spa. Darker plaster and tile, with natural stones and tropical plants really changes the pool look.

Desert Springs Renovations changed this pool and spa combo for a family that loved the pools at Disney resorts. Large rocks, waterfalls and muted colors make it happen.

Colleys Pools takes charge on a vinyl pool renovation with new liner, decking, fence and gravel surround, making this pool much more appealing.

Aqua 1 Pools replaces a textured concrete deck and brick coping with a travertine stone (very popular now), and straightens out the water quality issue.

J. Designs Pool & Spa brought this pool up to date with a complete deck replacement, cantilevered over the edge of the pool, capping a modern pool tile color.

In this complete backyard renovation, the pool shape is perfect for a mountain lake design, with overhanging stone decking, and boulders surrounded by evergreen bushes.

Shasta Pools brought this pool deck and edge up to date by removing the 'Flintstones' pool edge and the Kool Deck, replacing with a travertine stone and matching tile.

Another Shasta Pool project, removing accent tiles and perimeter tile and replacing white plaster with a blue bead surface.

Shasta has done over 30,000 pool renovations, below is an updated the pool/spa combo turned water feature, and replaced dated tile with a stone finish.

"The 80's called, they want their red brick and blue tile back!" Splash Pools transforms this dated raised spa in a clean and modern design.

Another Splash Pools renovation adds pedestal planters and water features, replaces the cantilever deck with cast concrete and travertine, and gave the tile and plaster a facelift.

Splash Pools turned this boring inground spa into an infinity spa, overflowing on the far side (which looks out to a lake). Finished with a large rustic stone and a stamped concrete deck.

The color scheme non-existent, MA Pools replaced the pool tile and coping with a dark color to match the stamped and stained pool deck.

Another J. Designs Pool & Spa brought this pool up to date by with a colored, textured and scored concrete deck, and a more neutral color for perimeter pool tile. 

I hope you enjoyed looking at these 19 pool re-design ideas as much as I did! Every 25 years or so, you can plan on a pool rehab.
Why not dream big and make it into your dream pool? Remodeling and renovating a pool on the scale of these shown above is affordable and adds value to your home.


Davy Merino
InTheSwim Blog Editor