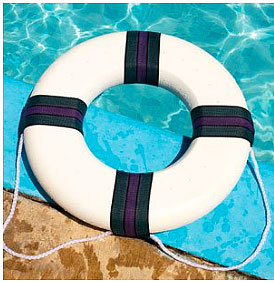 Right now in North America we are at the peak of pool season, and also at the peak of pool accidents.
Improving pool safety should be on every pool owner's mind; over time it's natural to become complacent.
Take a look at your own pool and see how adding a few pool safety products can make your pool safer!
Safer Swimming Pools
For protecting children under 10 and dogs over 10 ~ a pool alarm sounds an alert at the pool, and also in the house.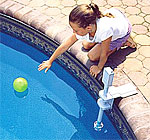 Poolside alarms sound when an object over 15 lbs falls into the pool. Wearable pool alarms will sound a remote alarm when a transmitter, worn by child or dog, is submerged in water.
Safer Pool Fences
A primary pool perimeter fence is required in nearly all parts of the U.S., and they need occasional repair to keep them non-climbable, and to be sure the fences self-close and self-latch, as required.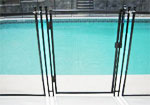 A typical 3-sided pool fence doesn't provide much protection. Boost your barrier with secondary fencing, mesh pool fence sections, which restrict access while preserving visibility.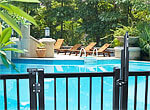 Adding self-closing Safe-T Latch hinges and child proof latches will also add a strong layer of protection. They easily retrofit to nearly any pool gate style or materials.
Safer Main Drains
VGB stands for Virginia Graeme Baker, who was entrapped on a main drain cover. The VGB Act requires pools to use safe drain covers for main drains and suction outlets.

For most inground pools with main drains or water feature suction outlets, the VGB compliant Hayward Drain Cover will fit nicely, and make your pool that much safer.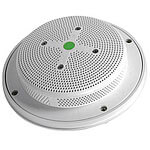 The AquaStar "Hockey Puck" drain cover can also retrofit to nearly all 6-8″ round pool main drains.
Safer Pool Ladders

Pool ladders are pretty safe, or so you may think. Fact is, hundreds of adults are injured each year on pool ladders that break during use.

If your pool ladders see heavy use from heavy adults, swap it out with our heavy duty commercial pool ladder, or beef up your existing ladder with the Safety Ladder Step Kit.
Safer Pool Pets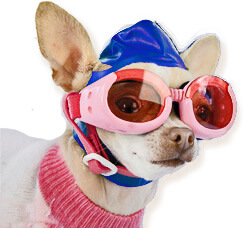 Although most go unreported, it is estimated that 1000 pets drown annually in US swimming pools. Most occur to very young or very old dogs, with poor vision and poor swimming ability.
Protecting your pets means training them on how to exit the pool, if possible. Where no exit stairs exist, a Skamper Ramp or some other means of egress can be installed.

Safety covers or safety fencing is also a good choice, as well as in-pool alarms or wearable alarms like Safety Turtle.
---
See all of our alarms and safety equipment for pools, and take a look at your own pool and see how you can make your pool safer – for children, friends and family pets!

Davy Merino
InTheSwim Blog Editor