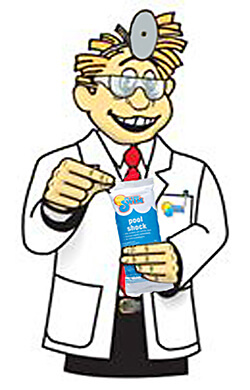 Welcome students! Today's topic is one that is near and dear to my heart – pool chlorine!
Chlorine has made it possible for millions of people to enjoy the benefits of swimming without concerns about pathogens that may be lurking in the water.
Not the most powerful halogen sanitizer, but the abundance of raw materials and ease of manufacture has made chlorine the most popular!
Chlorinated Isocyanurates:
These are a group of chlorine products that contain cyanuric acid, which helps protect chlorine from degrading in sunlight. Two of the most common isocyanurates used in pools are Trichlor and Dichlor.
TriChloro-S-Triazinetrione – Cl3C3N3O3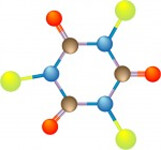 The King of chlorine products, "Trichlor" is pressed into 1″ and 3″ tablets, and also in stick form. Trichlor contains 52% of cyanuric acid by weight, and contributes 0.6 ppm of cyanuric acid is added to the water, for each 1.0 ppm of Free Chlorine added.
Trichlor has a relatively low pH of just under 3 – which will require the addition of pH increaser to maintain pool pH in the 7.4-7.6 range.
Trichlor has 90% available chlorine, which means that 10% is composed of inactive ingredients, mainly binders and release agents.
Trichlor is capable of carrying other ingredients to control of algae or to improve water clarity, however this will reduce the percentage of available chlorine. For example, our Triple Action Tabs have 72% available chlorine.
Application: Trichlor tablets or sticks dissolve slowly when placed in water. 1″ tablets dissolve more rapidly due to increase surface area, which is desirable in pools or spas with higher chlorine demand.
Trichlor should be added to the pool using a chlorinator. The best type is installed into the pool equipment plumbing, or a floating chlorinator can be used. One should never place chlorine tablets in the skimmer, or toss them directly into the pool.
Precautions: Chlorine tablets are highly reactive, and can explode or ignite if exposed to contaminants or other chemicals, and will release chlorine gas when moist. For this reason, chlorine tablets should be tightly sealed, and stored in a cool, dry and well ventilated area.
Chlorine gas from pool tablets will oxidize nearby metals, and should be stored where this is not a concern. Never consolidate two buckets of chlorine products, slight compositional differences can result in a reaction, producing explosion, fire or toxic fumes.
Sodium Dichloro-S-Triazinetrione – NaCl2C3N3O3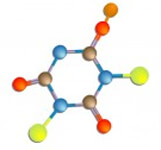 Another type of stabilized chlorine, Dichlor is a granular form of chlorine. Using Dichlor will contribute to the level of cyanuric acid in the pool. By weight, Dichlor is 57% cyanuric acid; for each ppm of chlorine added, 0.9 ppm of cyanuric acid is added to the water.
The pH level of Dichlor is nearly neutral (7.0), and won't affect the pH of the pool water noticeably, is fast dissolving and because it's sodium based, it won't contribute to calcium levels in pools.
Dichlor has an available chlorine level of 56% or 62%, depending on the formulation – anhydrous or dihydrate. Supplemental additives can be mixed with Dichlor, such as our Assure MultiShock with clarifiers and buffers, however this lowers the available chlorine percentage to 58%.
Application: Granular chlorine products are used by broadcasting the granules over the pool surface, or by diluting into a bucket of water, and pouring the mixture around the [inside] edge of the pool. Consult the label for dosage instructions prior to application.
Dichlor is used for shocking or superchlorinating, and can also be used for daily chlorination for small pools, spas and fountains.
Precautions: When broadcasting granular chlorine, one should mind the direction of wind that may blow the material in unintended ways.
Dichlor is incompatible with any other type of chlorine and is highly reactive to small amounts of dirt, dust or leaves. Mixing with any other pool chemical can cause a violent reaction, including explosion and fire.
Do not store open packages of Dichlor, which can spill or take on moisture or other contaminants. When using 1 lb. bags of Dichlor, use the entire bag at one time.
Hypochlorites:

Another group of chlorine products is known as hypochlorites, which are ions composed of oxygen and chlorine. They are made by hydrolyzing salts of sodium or calcium with chlorine, followed by rapid drying and cooling.
Sodium Hypochlorite –
NaOCl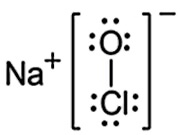 Liquid chlorine, or bleach is the most well known hypochlorite, used for a variety of cleaning and disinfecting purposes. It is not stabilized, so cyanuric acid is added to the pool separately to extend the product.
The pH level of sodium hypochlorite is very high at 13, the highest of any chlorine. This requires frequent addition of pH decreaser into pools that use liquid chlorine as the primary sanitizer.
The percentage of available chlorine is quite low for pool bleach, 12.5% is standard. Household bleach, by contrast (i.e. Clorox) is typically a 5% solution. However, due to low cost, sodium hypochlorite can be one of the cheapest chlorination methods, especially for large pools.
Using sodium hypo can elevate TDS (total dissolved solids) levels over time, due to the high level of sodium, more than solid or granular forms of chlorine.
Application: Introducing liquid chlorine into pool water is accomplished by using a chemical metering pump; one specifically designed for the purpose, which draws chlorine from a storage container, and injects it into the pool return line.
Liquid chlorine can also be hand-fed into the pool, by pouring a bucket full directly into the pool. It dissolves instantly and leaves behind no residue.
Precautions: Storage of large quantities of sodium hypochlorite is likely safer than an equal amount of tablets, and certainly much safer than using chlorine gas. Nonetheless, caution should be taken to avoid contamination of the liquid, spills or leaks in the pumping hoses.
Like other chlorinated products, strong reactions can occur when contaminated with dirt or dust, or when mixed with other pool chemicals. Accidental mixing with acids can create an extremely toxic form of chlorine gas.
Calcium Hypochlorite – Ca(OCI)2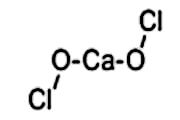 Cal Hypo, as it is colloquially known, is the most common form of granular pool shock and also the least expensive. Not stabilized, and not meant for daily chlorination. Add in the evening when the sun goes down.
The pH level of calcium hypochlorite is high at 11.7, but when used for a chlorine booster or for shock treatment, one should not see any noticeable effect on pool pH levels.
The percentage of available chlorine for Cal Hypo is standard at 65%, however some formulations such as Super Shock deliver a higher potency at 73% available.
For pools with hard water or high calcium hardness levels, keep in mind that Cal Hypo contributes to your calcium levels. For every 1 ppm of free chlorine added, Cal Hypo also adds 0.7 ppm of calcium to the pool.
Application: Like all granular pool chlorine products, it can be broadcasted or sprinkled across the surface or it can be diluted by pouring into a bucket filled with water, and added to the pool.It can also be poured directly over stained areas (plaster pools only), for quick removal of organic stains.
Consult label instructions for dosage, but the standard dose is 1 lb per 10000 gallons, which should yield 7-9 ppm of free chlorine, depending on strength used.
Precautions: Cal Hypo is one of the most dangerous pool chlorine products, to use and store. It is easily contaminated and reacts strongly to any foreign substance, yielding fumes and fires. Mixing with trichlor tablets and water creates a very strong explosion.
Do not store half used bags of cal hypo; store shock in a plastic container, in a dry and cool location, out of the reach of children.
LIthium Hypochlorite –
LiOCl
Lithium hypochlorite is another granulated chlorine, so fine that it looks like sugar. Fast dissolving formula is safe for any pool type, it won't contribute to calcium levels, and is not stabilized, and adds no cyanuric acid.
Lithium is the most soluble form of hypochlorite, and is considered 'clean burning', because it leaves no residue behind. Unlike other hypos, the potency of Lithium is unaffected by pool pH and temperature, and it won't cloud the pool when added to the water.
The percentage of available chlorine is low at 35%, when compared to other granular chlorine products, especially considering that the price of lithium is over twice that of other hypochlorites. This is mainly due to the cost of lithium being much greater than calcium or sodium.
However, it's many benefits outweigh the increased cost for many users, and for others who experience water issues with other chlorine types, lithium can be the solution.
Application: Lithium can be broadcast or sprinkled into the pool. Wear safety glasses and take care not to inhale wind blown particles. The typical dosage is 1 lb per 6000 gallons, which will raise free chlorine to about 5 ppm.
Precautions: Lithium is possibly the safest of all chlorine products to have around the home. It has a low flammability and is not as reactive as other chlorine products. Nevertheless, take care in use and storage to prevent contamination, moistening or mixture with other chemicals.
Class dismissed!