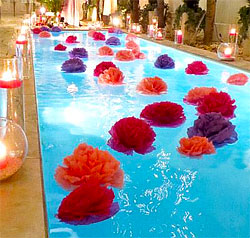 When decorating for a pool party, you don't need to spend your hard-earned money on pre-made party supplies or spend hours decorating every single square inch of your backyard.
Instead, focus on the essentials – Food, Games and a simple pool party Theme – and the rest will fall into place.
Set the Stage
Just because the party will be held in the backyard doesn't mean it can't start in the front. With construction paper and markers, include a welcome sign beside or beneath the wreath, suggesting guests either come on in or use the side gate to head directly to the pool area.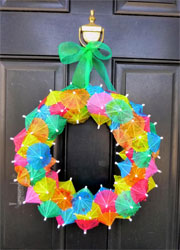 Show guests they're in the right place with a simple round Styrofoam wreath, two or three packets of umbrella picks and a pack of kids novelty sunglasses. Use a glue gun and small-head sewing pins to attach the flowers and sunglasses to the wreath. The umbrella picks should fit nicely in the Styrofoam without glue, but you can add glue for a windy day. There are many ideas for pool party decoration inspiration on Pinterest.
Pool Party Food
In the rush and excitement to gather pool party supplies, don't forget that some of the party snacks can double as decor. In addition to hot dogs, hamburgers, pizza or Popsicles®, consider displaying treats in clean sandcastle molds. Fill brightly-colored buckets with salsa and Tortilla chips, using toy shovels as serving spoons.

Make handmade display tags encouraging party-goers to "dig in!" Other castle sand molds or small pails could hold themed treats, such as Swedish fish candies and Goldfish crackers. For less obvious associations, include more display tags and get creative. Cheese puffs can be labeled beach balls, colored licorice make great pool noodles and blue Kool-Aid becomes ocean water with just a bit of imagination.
In the Pool
You can't have a pool party without a beach ball, but they aren't the only options you have for functional decor. Before the party, fill the pool up with floating water balloons. Simple to make, you can fill normal balloons with a bit of water for weight and then finish with air. Water balloons are also great for pool party games with kids. Organize a race where participants have to get their balloon from one end of the pool to the other without using their hands.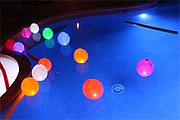 Another fun idea is to put glow sticks in some of the balloons, which adds a cool layer of light and color to the party once the sun goes down. You can easily find more creative pool party game ideas online.
Little Extras
Some guests will forget towels and sunscreen. Set these items strategically around the pool—these little stations will not only help a friend in need, but they'll also give your pool party an extra bit of charm.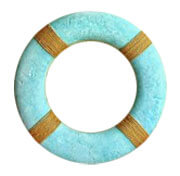 In one corner, use a basket or empty cooler to hold rolled beach towels. In another, set up a sunscreen station with colorful hanging pails, a DIY Life Buoy, or a blown-up pool tube. It's not only useful to guests who forgot to bring some, but it will serve as a reminder to reapply as the party presses on.
Save your hard-earned money, and throw a pool party on the cheap. Remember, the big attraction is the pool, so keep it simple with Food, Games and cute DIY pool party decorations!


Dana Katz
InTheSwim Staff Blogger