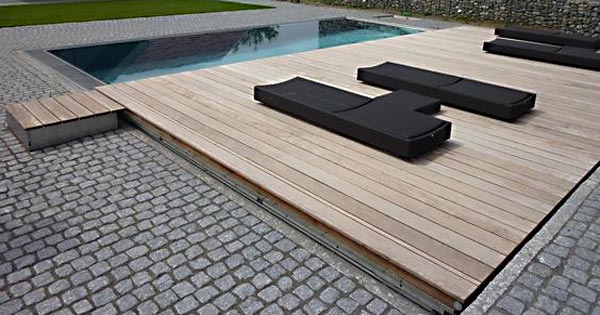 Swimming pool decks have come a long way from plain ol' concrete.
Upgrading a pool deck is one of the most popular pool renovation projects, but the array of pool deck options can be dizzying!
In today's post, we break down pool decking into four distinct types; concrete, tile, wood and natural stone pool decks.
CONCRETE DECKS
Concrete pool decks have the most finish options, in fact with the exception of wood decks, all pool decks have at least a reinforced concrete sub-deck – it's what you put on top that makes all the difference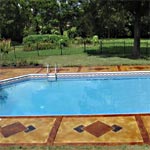 Colored Concrete: Matte or flat hues can be added to concrete by adding a colorant dye to the mix, or adding a powder or acid stain after the concrete is poured. For blended colors that resemble stone or for color accents or patterns, a colorant is applied to fresh concrete, to dye only certain areas.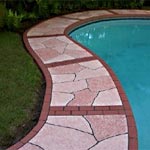 Engraved Concrete: Using a small concrete saw, the pool deck can be scored or engraved to create stone shapes, leaves, vines or any type of intricate pattern. Engraving is also used to create water drain channels on concrete pool decks with poor drainage.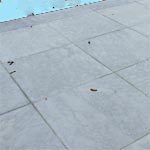 Sandblasted Concrete: Sandblasting a pool deck will roughen the surface for more traction, but it also imparts a matte finish to the concrete, producing beautiful results, especially for colored or stained concrete. Acid washing a concrete pool deck can produce a similar result; both must be done with care for good results.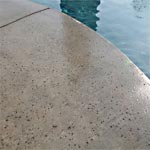 Salted Concrete: After pouring and troweling a pool deck, rock salt is scattered over the surface, and lightly pressed into place. After a day of hardening, the deck is power washed to reveal an attractive pock marked surface. Snow belt pools should seal a rock salt pool deck regularly to prevent freeze damage during winter.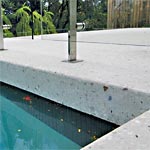 Polished Concrete: For pool decks that are quite level and hard, polishing can be an option to produce a lustrous sheen. Adding colorful aggregate can produce a floor with the look of Terrazzo. Polishing concrete is done after the deck has cured fully, and should be sealed regularly to keep it looking good.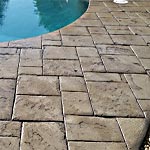 Stamped Concrete: While the concrete is still wet, large rubber stamps are placed and pressed to form stone shapes, brick patterns, even pine plank imprints. Dozens of patterns to choose from, with colors chosen to match the material that is being simulated.
Tiled Concrete:  More commonly called stenciled concrete, installers make a tiled pattern over prepped concrete with heavy duty tape. They then spray on a colored cement over the existing deck, and knock it down with trowels, similar to a Kool Deck. The tape is then pulled up to reveal the 'mortar joints' between the tile.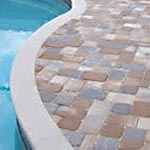 Patio Pavers: A paver pool deck uses interlocking patio pavers made of colored concrete, usually in shades of brown or red. Pavers are installed on a 1″ bed of polymer sand, over top of 6″ of stone dust, or other sturdy sub-deck. Heavier pavers are used around the outside deck edge to hold it all together.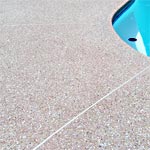 Exposed Aggregate: This method lays a fresh concrete deck a particular size and color stone, glass or ceramic aggregate added to the mix . The top layer of cement is washed away, revealing the surface of the aggregate rock. Smooth stones are used for bare feet comfort.
PORCELAIN TILE DECKS
A good way to upgrade a pool deck is to place outdoor porcelain or ceramic tiles on a bed of thinset mortar. Pool deck tiles are available in hundreds of shapes and colors, and have available decorative accents, mosaics and trim tile sets to complete a unified patio or pool deck design. Finish with a waterproof, anti-skid sealer.
WOOD POOL DECKS
Exotic hardwoods like Ipe wood are popular, but also is regular pressure treated pine 2×4's. A wood deck has timeless appeal, adding warmth and comfort to any pool deck. Partial wood decks can occupy 1 or 2 sides of a pool, or be built on top of a concrete deck as a raised lounge area.
NATURAL STONE DECKS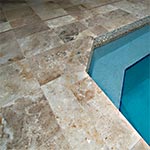 Natural Stone also has a timeless appeal, and nothing will last longer. Natural stones such as flagstone, limestone or travertine are placed over a solid sub-base of concrete or stone dust. After placement of a stone deck, the joints between are usually filled with mortar, and a sealer applied to protect the luster and color.
---
So you see ~ pool deck choices are numerous, and if you want to upgrade your pool look, it's hard to change the pool itself, but the pool deck can be easily transformed with color and texture.
Call your local pool deck contractor for more information and pricing, which can vary from $10-$25 per square foot for a custom pool deck.


Davy Merino
InTheSwim Blog Editor
SSoSave
Save
Save
Save
Save
Save
Save
Save
Save
Save
Save