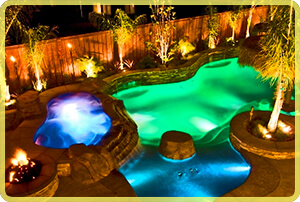 Swimming pool lights are one of the hottest selling pool accessories and while adding safety to night time swimming, they add an aesthetic touch and a unique appeal to any swimming pool.
In my experience with pools, I have mostly seen white lights used for the main purpose of illuminating the pool safely. This makes sense, but what if you could combine safety with beauty and add soothing ambiance or thrilling light shows to your pool?
Put more Cool in your Pool – think of the pool parties you could have this summer, with some pool light features. Color pool lights are available in several styles and colors, but my all-time favorite are LED pool lights. Brighter than ordinary lights, LED pool lights are way more economical and long lasting and help you add your own individual style to your pool and backyard.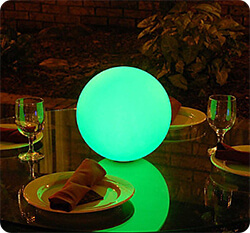 Let's begin with my favorite pool light, the ChillLite Pool and Patio Lighting that can be added to enhance your back yard, deck, pool and any other area inside or out in need of a decorative soft glow! These chemical resistant LED pool lights emit a soft glow for that special ambiance, and are available in Kokoon, Balloon, Bubble, Kube & Loon styles to please any taste and match any décor.
Hayward ColorLogic 4.0 LED Pool Lights are definitely next on my list; they deliver high intensity light in a palette of colors, as these unretouched photos below show!

LED pool lights are just as bright, but use 79% less energy than standard incandescent lighting – and they last 20 times longer. Most new pools are being built with color LED lights, and you can retrofit most any pool.
Hayward's not the only manufacturer of LED pool lights, check out this video of Pentair's IntelliBrite 5G pool light.
For a special celebration like a romantic evening with your loved ones, you cannot go wrong with the Pentair IntelliBrite 5G LED Color Pool Light – a color-changing underwater light that allows you to mix and match various combinations of individual colored lights in order to create a vibrant color spectrum.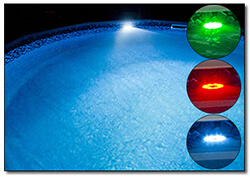 I would also recommend the NiteLighter 100 Watt Multi-Colored Pool Light and the Jet Light. Designed for aboveground pools, these super-bright LED lights will enhance your backyard and pool area with special effects and will be the envy of your neighbors.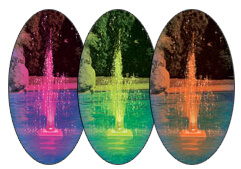 Another creative way to add LED lighting to your pool is combining lighting with Swimming Pool Fountains like this amazing LED Triple Tier Pool Fountain.
Not only will you enjoy a special light show at night, you will be soothed by the sound of cascading water at all times. This beautiful fountain easily attaches to your pool return and continually changes colors for a dramatic effect – this is a total winner.
When you think about color LED pool lights, your options are endless and with such great variety available, you can be as creative and imaginative as you like to create that unique, individual appeal that will make any pool owner proud. So come take a look at our Pool Accessories section and get ready to adorn your swimming pool!
Until next time, Sayonara!


Ayesha Aslam
InTheSwim Staff Blogger