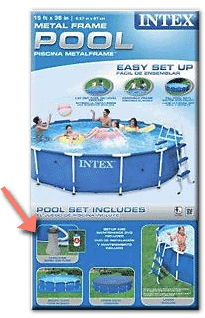 It's a problem of many small to medium sized aboveground pools. So that they can fit the entire pool in one box, the pump and filter unit is notably small.
Big Box retailers also configure their pool-in-a-box kits to have even smaller and weaker pump and filter units, to lower their shipping, storage and costs of goods.
For many first time pool owners, they wonder why they have so much trouble keeping the water clear, or preventing algae on their soft-sided pools.
It's because your one-piece pump and filter is too small!
What's the Solution?
Run the undersized pump and filter 24 / 7 to keep the water clear.
Use more chlorine to help break down contaminants, reducing the filter demand.
Use an algaecide and a clarifier to further aid the filter.
Keep the pool as clean as possible with vacuuming, brushing and skimming.
Or, you can upgrade your aboveground pump and filter, with something better.
Benefits to Upgrading
Vacuuming: One-piece pump and filter units are not only small, but typically have no strainer basket. This makes vacuuming the pool impossible, and pool owners have to use a garden hose powered venturi vacuum device. Not so effective, especially if you have low water pressure.
Reduced Run Time: The pool water in an aboveground pool should be turned over twice per day. This means that all the water in the pool should go through the filter and return to the pool, twice in a 24 hour period. Stronger pumps do this faster, filtering all the pool water in just a few hours.
Water Clarity: The small cartridge filters that come with small above ground pools are really no bigger than an oil can, with only 6-9 sq. ft. of filter surface area. That's not much. A larger cartridge, of 25-50 sq. ft., or a small sand filter, will keep your water cleaner and clearer.
Reduced Chemicals: As mentioned above, to compensate for an undersized filter, we will find it necessary to use more chlorine, algaecides and clarifiers, to assist the filter. With a larger filter, keeping the water particulate free, less expensive chemicals are needed.
Less Worry: An undersized filter needs cleaning every week, has trouble handling summer storms, and needs almost daily supervision. Larger systems, set on a time clock, automatically turn on and off, and can run for a month in between cleanings.
How to Upgrade an Aboveground Pump and Filter
Find your current size of pump and filter sq. ft, on the label.
Decide on a budget, somewhere between $100 – $500.
Take a look at our aboveground pool filter / pump combos.
The simplest route is to just increase the size of your Intex pump and filter. Intex cartridge filter systems are sized by GPH (Gallons per Hour) of water flow rate. If you currently have a 530 gph, you can make the easy switch to a 1000 gph. If you have the 1500 gph, there is also a 2500 and a 4000 gph pump and filter unit made for Intex pools.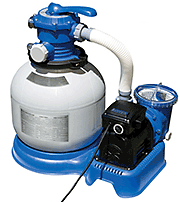 Intex also makes a nice little sand filter system, with a separate pump that has a strainer basket. These are sold by the diameter of the sand filter tank – 12″, 14″ 16″. Sand filters are easily backwashed, and you can easily change the sand every few years. Having the big pump basket makes vacuuming the pool fast, and the clear lid helps you know when to empty the pump basket.
If you don't have a softsided, Intex style pool, you can look at our aboveground pump and filter selection, and find something there with more horsepower and filter surface area. You also have a larger selection of cartridge or sand pool filters.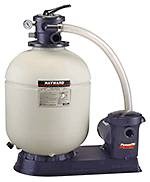 If you are looking at sand filter systems, I'd recommend the Hayward Pro Series pump and filter systems. I like Hayward because you always can get replacement parts and customer service if you need it. The Hayward above ground sand filters are available in 14″, 16″, 18″ and 21″ diameter, and paired with 3 different pump sizes.
If you are a fan of cartridge filtration, I'd steer you towards the Hayward X-Stream filter system.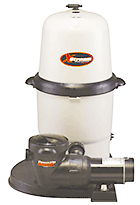 It has a large capacity element of 100 sq. ft. and is available with either a 1 hp, or 1.5 hp pump, with a clear lid and oversized pump basket.
The cartridge on the X-Stream filter is much like the one used on smaller pools, but in a larger size. On a pool of 10,000 gallons, you could expect this filter to go at least a month in between cleanings.
Installation
There's not much to worry about with installation. Plug the lines at the pool, and simply remove the hoses from the old system and connect them to the new system. Remove the plugs to fill the pump with water and plug in the cord to a grounded outlet.
Larger, more powerful pumps however, may be too strong for very small Intex style hoses. If your hoses are crimping or stretching, you may need to buy more heavy duty pool filter hoses.

I mentioned earlier that you can use a timeclock on a larger filter system, to run the pump only 10-12 hours daily. For this, you can plug in this simple time clock into any grounded outlet, and then plug the pump cord into the timeclock. Set the on and off dogs, and your pump timer will handle the rest.
With pool filters, size matters ~ so, if you're stuck with a too small filter, that won't get the job done easily, upgrade your above ground pool with a larger filter system- to a real pump and filter!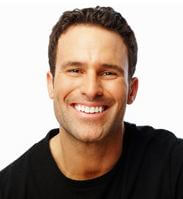 Davy Merino
InTheSwim Blog Editor