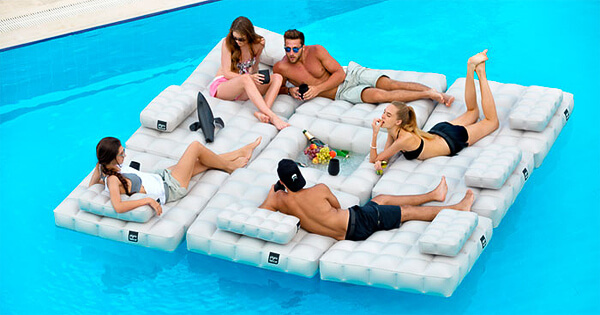 Pool Lounges that work in the pool and on the pool deck – what a great idea!
But many pool floats that are great in the pool, aren't so great on land. Uncomfortable and prone to popping from being dragged around over bricks and concrete.
Today's blog is a list of ten dual purpose pool lounges, for relaxation in and out of the pool.
Ultimate Fabric Covered Pool Lounger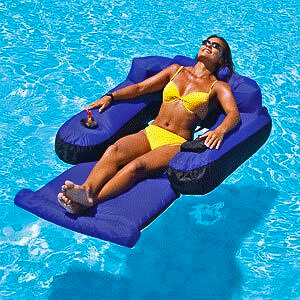 Relax in the sun, in or out of the pool, with this versatile pool lounger.
Fabric coated with plush padded nylon surfaces, this is one of the few inflatable pool lounges that is tough enough for rough pool decks.
55″x38″x17″ – $59.99
Aqua Cloud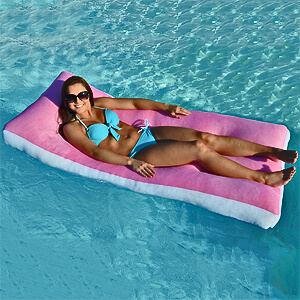 The Aqua Cloud is is filled with thousands of foam beads and covered in soft mesh fabric.
Oversized cushioned pool float keeps you high and dry while you relax in bean bag comfort. Super soft float molds to your shape.
68″x30″x6″ – $99.99
Aqua Sofa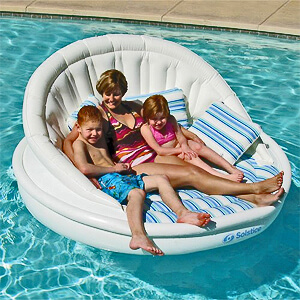 The AquaSofa has a thick vinyl base to handle rough surfaces without worry about leaks or tears.
Big enough for 2 or 3, you can gently float in the pool, or use the Aqua Sofa in any location around the home.
68″x36″ – $124.99
Ultra Fabric Coated Mattress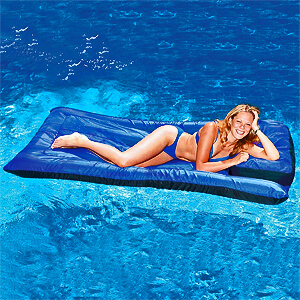 Like it's cousin, the Fabric Coated Lounger, this oversized pool raft is inflatable covered in soft nylon fabric.
Large head rest cradles you in comfort – it's a big pool float. Nylon sheath protects from deck abrasions.
72″x38″x7″ – $53.99
SunChaser SunSoft Luxury Lounger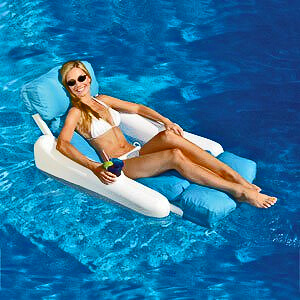 Most pontoon floats aren't quite well balanced enough or are too much of a 'sling' design to work well on land.
The SunSoft is well suited for wet or dry uses, with the low slung frame and ultra thick padding.
50″x32″ – $159.99
Baja II Pool Lounger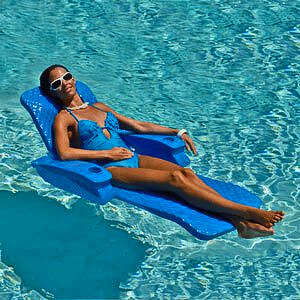 Most foam pool chairs aren't great deck chairs because the foam is too soft for rough pool decks.
The Baja II is soft, but has large solid armrests that evenly distribute weight; one of the sturdiest pool lounges made.
63″x34″x21″ – $319.99
Capri Inflatable Lounge
Soft and ultra durable 6-D polyester over a strong air bladder. Unique hammock design is super comfy!
Bright colors and chic design make the Capri pool lounge suitable for many places besides the pool.
73″x31″x24″ – $79.99
Margaritaville Oversized Pool Lounger
Part of our new Jimmy Buffet Margaritaville series of pool floats, the lounger is available as single (shown) or double.
Super soft top has water activated graphics that magically appear when wet! For the pool or poolside.
69″x38″x8″ – $79.99
Aruba Inflatable Lounge Chair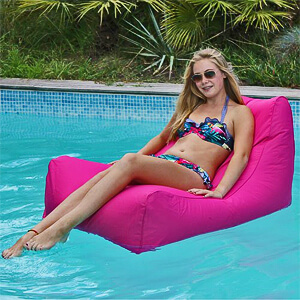 Inflatable lounge chair is stable on land or water. Filled with air, you can adjust the inflation to your liking.
3 bright vibrant colors and a unique shape make this funky inflatable chair a hit indoors and out!
45″x32″x26″ – $49.99
Aquaria Chaise Lounge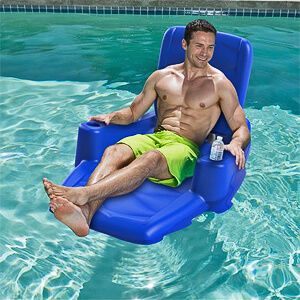 Aquaria Chaise Lounge is made with Aqua Cell foam that never cracks, chips or peels.
Durable Aqua Cell lounges resist sun and chemicals and have the color all the way through.
42″x39″x29″ – $349.99
With these sturdy and strong pool chairs around the pool, you'll never be without a place to sit – in sheer comfort! Combining your pool furniture and pool floats into one was just bound to happen – welcome to the future!

Davy Merino
InTheSwim Blog Editor
Save