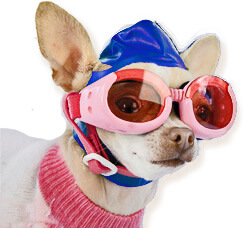 Some dogs are natural swimmers. The Labrador retriever breed originated in Newfoundland and worked alongside fishermen, according to the American Kennel Club. Top-heavy, short-nosed breeds, such as the French bulldog, find it more difficult to stay afloat. All dogs need humans to practice pool safety on their behalf as circumstances arise that put even strong swimmers in danger.
Here's 5 Quick Tips on Water Safety for Dogs (and other pets, too!).
1. Secure the Pool Area.
If your dog belongs to one of the breeds that find swimming difficult, if not impossible without help, install a pool fence. Both temporary and permanent pool fencing options are available, for inground and above ground pools.

Another way to secure the pool area is electronically. Pool alarms emit a loud alarm if a body enters the water. Even better for dogs, strap a Safety Turtle to his collar, which sounds an ear-splitting alarm if the 1″ square sensor is submerged in water.
2. Teach your dog to Avoid the pool when Unsupervised.
Training also is advised for these breeds for when other dog pool safety practices fail, in the event that the pool gate is accidentally left open. On her blog, noted dog trainer Victoria Stilwell recommends positive-reinforcement methods, which in this scenario would involve purposefully leaving the gate open and using motivation to teach the pet not to enter without you. Allow your dog to approach the open gate, then call him away and reward with treats, play or even just praise if that gets the job done. Repeat in short sessions until your dog will not go through the open pool gate without you.
3. Teach your dog to swim.
If your dog belongs to a breed that can naturally swim, start lessons at a young age. Sit beside your new puppy (or an older dog new to you or the pool) on the top step so he can grow accustomed to the water, providing praise throughout the session. Move on to holding the puppy while walking in the shallow end, allowing his legs to paddle. Throughout this session, repeatedly walk back to the steps so the puppy will learn where to safely exit the pool.
Slowly move on to solo swimming, but no matter how strong a swimmer never let your dog in the water or elsewhere in the pool area unsupervised. A tired dog or one who falls into the pool accidentally may panic, try to climb out from the deep end and fail. Always supervise your dog when swimming, and train your dog to not swim unsupervised (it can be done!).
4. Invest in a doggy life vest.
Just because your dog isn't a natural swimmer, that doesn't mean he won't like cooling off on the top pool step or watching the action from a shady spot. To ensure a non-swimmer's safety, invest in a life vest. A vest also will allow a dog who is not a natural swimmer to enjoy the activity, and those with arthritis also enjoy the extra help while getting the health benefits of swimming.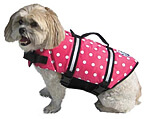 Be sure to buy the correct dog vest! One that not only fits your dog, but can support his weight as well. Do this by measuring his length from neck to tail, chest and neck while in a standing position and taking his weight. The life vest should fit snugly, and should not be too constricting.
5. Add a ramp or dock to the pool.
Dogs with arthritis or other health conditions that make using steps a challenge, install a dog pool ramp if you have such a pet. Just as with pool fencing, permanent and temporary options are available, with the latter an excellent option if you have dogs who regularly visit, but do not live with you.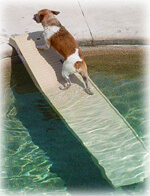 Consider Skamper Ramp, a portable floating escape ramp for swimming pools. For larger breeds, or heavier dogs over 90 lbs. look at the Super Skamper Ramp.
A new Pet Step is now available, a much longer ramp that works great for larger dogs or deeper water, as shown here being used by a clever dog!
---
Keeping Dogs safe around pool involves barriers like fences and safety covers, or ramps for pools without an easy "Wedding Cake" type step exit. Life vests are also a wise choice for around the pool, or a day at the lake or river.
Most importantly, teach your dogs where to find the pool exit – steps or ramp. Even if your dog won't go near the pool, they may fall in the pool one day and panic, unless you teach them how to exit safely. An important skill for all family dogs.


Sheryl Sollis
InTheSwim Staff Blogger