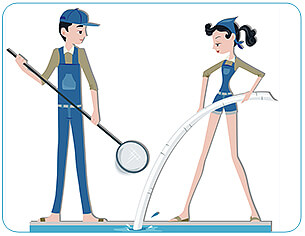 Cold days and chilly nights have given proof to the fact that summer is over and we must prepare our pools for hibernation during the long winter months.
In our previous blogs this month, we have already discussed the proper winterizing procedures for aboveground and in-ground pools; today I am going to walk you through the winter chemicals you will need to prepare your swimming pool for the dormant winter months.
Adequate amounts and types of chemicals in your pool during the time it is not being used will ensure a clean pool all winter long, and also make opening in the spring a lot easier and faster.
When it comes to choosing winterizing chemicals for swimming pools, you will notice a wide variety of brands and prices, with all of them serving the same purpose – keeping your pool clean and algae-free all winter.
Balancing Chemicals:
Pool balancing chemicals are the most important part of pool chemistry and before you prepare your pool for winterizing, ensure that the chemical levels are within the ideal ranges of:
pH: 7.2 – 7.6                                                                  
Alkalinity: 80 – 120 ppm               
Calcium Hardness: 180 – 220 ppm
When we talk about pool chemistry, the most important thing to balance is the pH of your water since the effectiveness of your winter pool chemicals are dependent on proper pH levels.

You can use chemicals like pH Increaser, pH Reducer, Alkalinity Increaser and Calcium Hardness Increaser to adjust your water balance levels after testing.
Pool Anti-Freeze: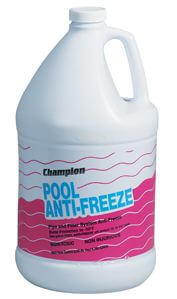 One of the worst fears pool owners face during harsh winter months is frozen plumbing lines. This may seem like a major issue but can be easily prevented by using Non-Toxic Anti-Freeze.
Pool Anti-Freeze usually contains Propylene Glycol, and helps to protect your pool plumbing against freeze damage. Pool Anti-Freeze is quite simple to use – just pour it down your pool's plumbing lines to inhibit freezing and keep pipes safe from freeze damage.
Winter Algaecide:

When your pool is not being used and filtered, algae finds a way to grow and prosper. Do not be alarmed – for we are smarter than algae and have come up with the perfect solution to inhibit algae growth with our special winter pool algaecide.
Dr. Pool's amazing winter formula not only kills existing algae, it also prevents future growth. In The Swim Winter Algaecide is effective at eliminating and preventing all kinds of algae – green, yellow and even black algae.
Clarifiers and Stain Prevention:
Another issue that pool owners do battle with during winter is ugly stains on pool surfaces and cloudy, murky water. You can deal with this issue by using Pool Clarifiers and Stain Preventers that keep surfaces and water free from stains and discoloration.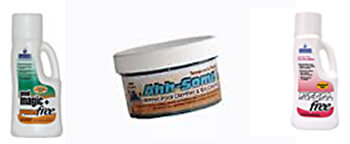 Pool Clarifiers and Stain Preventers work by eliminating the formation of metals in your pool water which aids in keeping it clean, clear, and stain-free.
In the Swim offers some excellent winter chemicals like Ahh-Some Winter Pool Clarifier, Metal Free Pool Chemical, and Pool Magic & Phos Free – all of which are environmentally-friendly and compatible with other winter pool chemicals and sanitizers.
Winter Ball: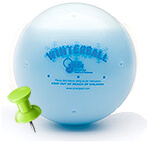 Simple and handy, the Winter Ball makes it easy to keep your pool chemically balanced during winter. Inside is a concentrated blend of enzymes, clarifiers, and scale & stain treatment which are slowly released into your pool water to keep it crystal clear. Winter Ball does it all, treating up to 30,000 gallons of water and is compatible with other winter pool chemicals. Just pierce the ball (with the included push pin), and drop it in the pool.
Pool Chemical Winterizing Kits:
I am sure by now you are feeling lost and clueless, and probably considering me some kind of a pool chemical freak. Well here's the thing, you can go ahead and mix and match all of the chemicals I talked about earlier in this post, or make your pool closing easier and go for our Pool Chemical Winterizing Kits.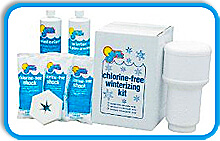 Winter pool closing kits are pre-measured for your specific pool size and contain everything you need to prepare your pool for closing. These specially formulated chemical kits are easy on the pocket, and will not stain or bleach your pool surfaces. Takes the guess work out of pool winterizing chemicals, by having everything in one box.
If you're looking for more advice on winter pool closing kits, see Brett's recent post, or visit our website where we have an exceptional variety of Winterizing Pool Chemicals – I am confident that you will find everything you need and that too at prices you would love!
The only thing that remains is relaxing and looking forward to a hassle-free pool opening, for a properly closed pool rewards you with an easy, breezy pool opening!


Ayesha Aslam
InTheSwim Staff Blogger