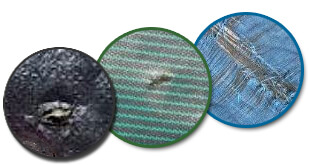 Very soon it will be time to open your pool for the spring, if you haven't already.  This is a great time to inspect your winter pool cover for damage and make any necessary repairs so you know it is ready to be used next winter.
This way you don't have to worry about forgetting to patch in the fall, and then find yourself in an unpleasant situation if a small tear becomes a big one in the middle of next winter. Trying to make emergency repairs to a torn cover in freezing temps is no fun!
Solid Winter Cover Repairs
Solid covers (the tarp kind that lay on top of the water) are pretty easy to repair, and repairs should be done ASAP so that tears don't stretch and get larger, allowing dirt and debris in to your pool. Tears up to about 12 inches are generally successfully repaired so that the cover can be used for at least one more season.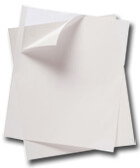 Tears along/near a seam can be patched, but may not last as long. Our winter cover patch kit contains two 8-1/4x 10 inch peel-and-stick patches. Just clean and dry the cover, and place the patch over the tear. Letting the patch set overnight before use would be ideal.
Other good patching options to use that you might already have around the house would be rubber cement to glue the torn areas back together, or duct tape. You had probably already thought of duct tape, is there anything it CAN'T do?!
Safety Pool Cover Repairs

DIY Repair: Tears and holes in safety covers up to 3 inches can generally be repaired at home. If you have a mesh cover and happen to have any of the safety cover mesh material you can sandwich the top and bottom of the tear with the material with rubber cement. If you have a solid cover or do not have any mesh cover material to use, we offer safety cover patch kits that come in both solid and mesh material in a variety of colors. Loop-Loc patches are made by 3M.
Each kit contains 3 peel-and-stick patches that measure 4×8 inches. For an extra-strong patch apply one to the top and bottom of the cover.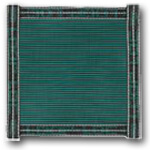 Factory Repair: If you have a tear that is over 3 inches, or broken straps, it is a good idea to check with the safety cover manufacturer to see if it is safe to repair at home or if they would recommend you send the cover in for professional repair. The manufacturer can sew on a patch, or replace the panel(s) as needed.
Measure the hole/tear and take a picture of it. You can start out by sending that information to the manufacturer to get an estimate on the repair. If you have extensive panel or strap repairs to make, you may want to consider replacement.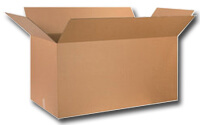 If you are going to send it back for professional repairs, clean and dry the cover, circle the areas that need repair with chalk, and remove the springs from the straps. Then, roll it up tightly and stuff into the smallest box that will fit, to ship it back as cheaply as possible.
You don't have to use the original manufacturer for repair, and there are a few textile and industrial sewing companies that also repair pool safety covers.
If you don't know who made your cover, give In The Swim a call and we can refer you to the manufacturer closest to you, for a repair quote.
I would highly recommend that you do this as early in the spring as you can so that you aren't stressed at the end of the summer waiting for the repaired cover to be returned to you (it can take 3-4 weeks). Safety cover manufacturers are extremely busy producing new covers in the fall, and their lead times for repairs can increase to 5 or 6 weeks.
If you have any questions regarding how to repair your cover or need to have your safety cover professionally repaired, please give us a call at 1-800-288-7946.


Jackie Wolski
InTheSwim Staff Blogger