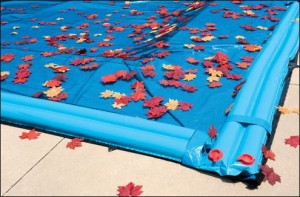 Trucks have been pulling up outside for weeks, bringing hundreds of palettes of winter pool supplies – we are ready for pool closing season!
Here's a run down of our most popular winter pool supply products. Check your own inventory against my list below, to get ready for fall!
Winter Pool Chemicals
To keep your pool water fresh all winter, without filtering requires the right mix of winterizing chemicals.
Algaecides work to prevent algae from forming and growing in your pool. Usually 1 quart will do it, for a pool up to 25,000 gallons. The best algaecide for winter use would be a bottle labeled "60", which is a 60% solution. We also sell a "50", but this is a different formula, which may not work as well in all situations. For more info, Dr. Pool did an entire post on Algaecides last summer.
Phosphate Remover is a good idea for pools that have been battling algae during the summer, or for mesh covered pools that tend to open up green and messy in the spring. Phosphates are a major food source for algae, and can be easily removed by pouring in a bottle of phosphate remover. Jackie wrote a post on phosphates last fall, if you want more info.
Metal Removers will help to prevent stains and scale from attaching to your pool surfaces. They do this by keeping minerals locked-up, in solution, so that they won't be able to deposit themselves. If you live in a hard water area, or if your water contains metals and minerals, keep them 'sequestered' during the long winter.

Enzymes – the same type that are used to clean up ocean oil spills, enzymes like the Winter Ball can be added to pools to digest oils, pollutants and contaminants that would use up your winter pool chemicals. If your pool is in a smoggy area, or if you have lots of springtime pollen, using an enzyme helps keep the water clear.
Chlorine – keeping a little bit of chlorine in the pool during the winter is important. You can use a chlorine tablet floater, but for vinyl pools, this could be a problem if the floater tips over, or comes to rest on a pool step. Adding too much chlorine shock can destroy algaecides, so the best solution may be our non-chlorine tablet floaters, packaged in our winter chemical kits.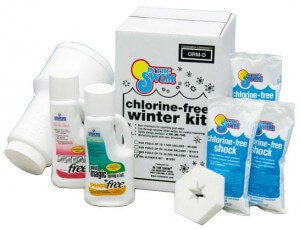 And speaking of winter chemical kits, or pool closing kits, these are, for most of our customers, the easy breezy way to take care of winter pool chemical needs.
We have pool closing kits for every size of pool, from 7,500 gallons to 35,000 gallons. Just choose your pool closing kit size; everything you need is in the box.
Winter kits are convenient and economical to use, being less expensive than if you bought the chemicals separately. Plus, they include basic pool winterization instructions and tips on keeping your pool clear all winter long.
Winter Pool Cover Accessories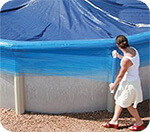 Covering your pool properly is key to an easy spring pool opening. We have a large variety of accessories to help keep the pool covered, make it easier to maintain, or protect your pool and winter cover from harsh weather.
For aboveground pool covers, heavy winds can get up under the edges of the cover and pull it off the pool, possibly ripping the cover or damaging the top rail of the pool. Use Cover Seal (shown), or our Cover Clips, to secure the cover tightly, and keep out high winds. Using an Air Pillow under your pool cover will break up the sheet of ice that forms across the pool – protecting your pool walls from ice expansion.
Inground pool covers need water bags to hold them in place, and a cover pump to keep rain water and snow melt pumped off the pool cover. Too much water on top can stress the cover, or pull the cover into the pool. In spring, standing water can attract frogs, worms and mosquitos, so it's best to keep your pool cover pumped off and clean.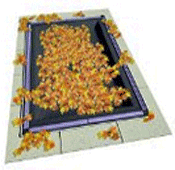 Leaves around the pool can make cover removal a chore, and if there are too many, they can damage the pool cover with their tannins and acids, or leak into the pool through small holes in the cover. Using a Leaf Net, laid over top of your solid winter cover, makes it easy to pull all of the leaves off the cover in one motion.
Pool Winterizing Supplies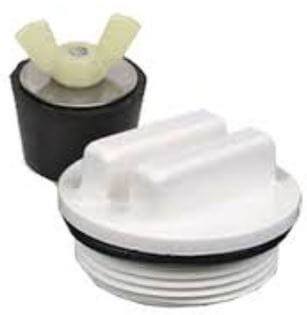 Winter Plugs are necessary to plug the plumbing lines on your pool, to keep water from filling the lines after they are drained or blown out with air.
Skimmer covers allow vinyl pools to keep the water level at normal levels during winter, which protects the liner, while keeping water from entering the skimmer.
Antifreeze for pools can be added to pipes to prevent freezing, if you don't blow the lines, or even if you do – they provide an extra layer of protection, in case freeze plugs begin to leak.

For the best protection against expensive underground plumbing damage, blow the lines out with air. You can use a small compressor, on a low setting, or for best results, blow the lines like a pro using our Cyclone Blower, which will even blow out main drain pipes.
With the right pool closing products, you can easily and successfully winterize your pool, and sleep soundly all winter long – knowing that your pool and plumbing are safe from damage and that your water will be clean when you pull off the pool cover next spring.
For tips on closing your pool – see these previous articles on how to winterize your pool.
How to Blow Out Pool Lines for Winter
Winterize your In Ground Swimming Pool
10 Steps to Winterize Above Ground Swimming Pools


Ayesha Aslam
InTheSwim Staff Blogger