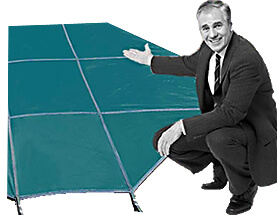 Not sure if you've noticed, but the sun is setting earlier. Pretty soon, the leaves will start to change and it will be time to close the pool for winter.
Safety Covers for in ground pools and for some above ground pools that have decks – are they worth the extra cost?
In today's blog, we'll compare some Costs vs. Benefits of safety covers.
Why Use Safety Covers?
The number one reason pool owners invest in safety covers is to provide safety and prevent accidental intrusion by children, pets, or other animals. According to the CDC, nearly 60% of all drowning deaths for children under 15, occurred at a private in-ground pool.
A common problem that we hear talking to our customers is that they have algae growth when they open the pool for the first time during the spring. Solid safety covers help eliminate algae growth over winter. Algae can potentially stain the pool and will cause more headaches come spring time.
Winter Covers vs. Safety Covers
Winter Covers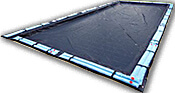 A winter cover is essentially a large, oversized tarp to prevent debris from getting into the pool, and minimizes algae growth over winter. Winter covers can last on average 3-5 years and will then need to be replaced with new.
Having to replacing a winter cover every 3 years or so can become very costly. Winter covers are good for a budget conscious pool owner and usually do a good job of keeping debris from getting into the pool, but in the long run, they can cost more.
Winter Cover Advantages
Cost is low, most pools can be covered for $200-$400.
Keeps the pool very clean, blocks all sun.
Initial Installation is easier than a safety cover.
Quick availability.
Winter Cover Disadvantages
Durability. Tree branches, heavy snow and rain can damage.
Water bags. Ugly, slimy and 2 or 3 seem to break every year.
Non-Safe. Floating pool covers are unsafe for kids and animals.
Safety Covers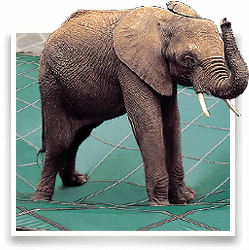 Safety pool covers are made of a stronger material than winter covers. Covers are able to withstand a break strength of 4000 pounds. Yes, that means that a baby elephant can stand on a safety cover!
This makes safety covers much more durable than floating winter pool covers, and much longer lasting.
Safety Cover Advantages
Safety. Will prevent access to pool, and supports thousands of pounds.
Looks great. Neat and clean, almost elegant.
Low maintenance. Easy to put on and remove.
Better fit for pools with raised walls, spas or water falls.
Safety Cover Disadvantages
Cost. Safety covers can cost 2-4 times as much as a winter cover.
Installation requires a hammer drill, and half a day of labor.
Custom shaped safety covers can take 3-4 weeks to fabricate.
Initially, safety covers may seem high in price but over the course of the years, it will pay for itself over time. It is important to get a safety cover that is properly sized as it is going to ensure the longest life of the cover. If the cover is not sized properly, it voids the warranty and you will not get the longest life of the cover.
On average, safety covers last 12 years. The covers can last longer than that by taking proper care of the covers, and stored in a cool dry area when they are not in use.
Mesh vs. Solid Safety Covers
Once you decide if you want to invest in a safety cover, the next step is to determine the type of cover. There are tightly woven mesh safety covers, shown below left, and a reinforced vinyl material used for solid safety covers. Both types are anchored into a surrounding pool deck.
Mesh Advantages
Mesh material is a lot lighter and easier to handle.
Rain water and melting snow passes through the mesh material into the pool.
Leaves and debris are collected on top and makes for an easier spring clean up.
The cost of a mesh safety cover is less expensive than a solid safety cover.
Mesh Disadvantages
Allows sunlight to penetrate through which contributes to algae growth.
Fine particles such as silt can make its way through the cover.
Solid Advantages
Blocks 100% of sunlight which prevents algae growth and an easy spring clean up.
Prevents fine particles from entering the pool and accumulating over winter.
Strong material resists damage from tree branches or animals.
Solid Disadvantages
Solid covers tend to be heavier in weight.
Safety covers with drain panels allow particulates and spores to wash into pool.
Safety covers that use a cover pump to pump the water off need to be maintained.
The Bottom Line. Paying more up front for a safety cover is going to be more cost effective in the long run. The quality of safety covers, 3-5x longer life expectancy, great looks and low maintenance are added benefits. More importantly, safety is the number one reason to buy a safety pool cover. Safety Covers remove all pool worries when you put them on.
If you have any questions or need help with any aspect of covering your pool for winter, our experts are standing by 24/7. Call us at 800-288-7946.


Kristine Malak
InTheSwim Staff Blogger