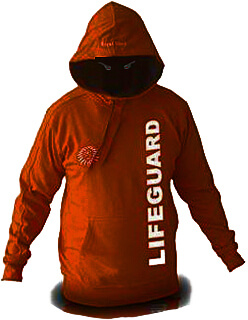 Halloween is on a Friday this year! That means lots of parties!
Northern pool owners are already closed for the season, but southern pool owners are still enjoying their pool through October. Before it officially becomes 'off-season', have some fun with a Halloween party.
Here are some spooky décor ideas and Halloween pool activities for all you sunbelt pool owners out there  – there's still more time to enjoy the fall weather around the pool!
Halloween Décor
1). Pumpkins Galore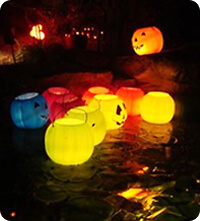 It's time to harvest pumpkins in the garden or the multitude of pumpkins at the local pumpkin patch. Floating pumpkins in your pool is a really neat way to decorate the swimming pool. You can carve real pumpkins and place small candles inside so your designs can light up the pool. If you don't want to use real pumpkins, your local craft store carries an array of plastic pumpkins that will look just as appealing.
2). Party Pool Dye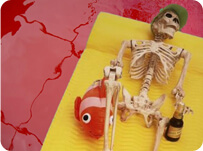 Swimming pool dye is a fun way to get into the Halloween mood. Whether you choose creepy red or goblin green, swimming pool dye is a terrific way to decorate. Party Pool dye is non-toxic and won't stain your pool and in 3-5 days the color will filter out, and you'll be back to a beautiful blue pool.
3). Bubbles and Candles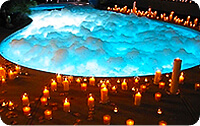 Add laundry soap and point your pool returns at the surface to create a foamy swimming pool. After the party, shock the pool to break up the foam, and run the filter. Decorate the swimming pool with candles to make a magical backyard that is perfect for an outdoor party.
4). Dry Ice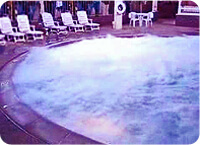 For Halloween this year, make a spooky swimming pool with dry ice or fog machines. A foggy atmosphere gives a spooky aurora to the yard. If you put dry ice in the pool, take safety precautions and make sure that no one is swimming. Touching dry ice can cause skin burns.
5). Plexiglass Pool Cover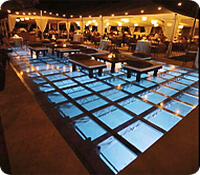 If you want to expand your backyard and create a dance floor or dining area, you might consider having a party rental company install lighted plexiglass panels over the pool, or a stage over water for the band to play, or for a costume contest catwalk. Pricey, yes and a super creative way to transform your pool area into an incredible space for big events.
6). Spider webs, Tombstones and Skeletons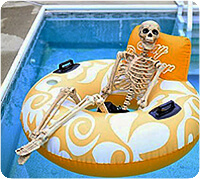 It's time to dig out your go-to decorations in in the basement. Don't be afraid to use the decorations you already have and spice them up with some new décor from the store. Spider webs are a classic decoration that can be placed in bushes and trees surrounding the pool. Get some tombstones and make a creepy scene in a corner.
7). Glowing Hands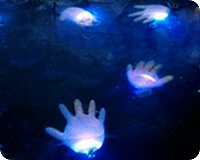 Need some unique lighting ideas in your swimming pool? Get some latex gloves and put a glow stick in each of them. Inflate the gloves and tie them off, and set them afloat. At night it's really creepy to see glowing, floating hands in the swimming pool.
 
8). Sound Effects/ Halloween Music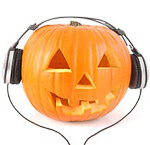 Music and sound effects are the perfect way to set the mood for the Halloween season. Sound effects might be good if you are not outside the entire time, otherwise the repetition might get a tad annoying to your guests. There are plenty of Halloween CDs out there for adults and kids that incorporate fun/creepy music. Or, make your own Halloween playlist!
Halloween Party Games
1). Dive for Your Pumpkins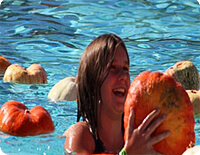 For Halloween parties for kids, get a dozen pumpkins and place them in the pool. The kids can swim to their pumpkins that they want to carve. After they carve the pumpkins and it begins to get dark, they can float them in the pool with candles inside, or set them in various places around the pool.
2). Halloween Hunt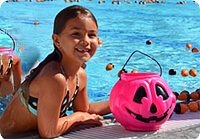 For the Halloween hunt, fill some Halloween colored eggs with small toys, hard candy or coins and place them in the pool. Make it a fun competition and let the children race in the swimming pool to get as many eggs as they can. If there are many ages, divide the hunts into age groups.
3). Costume Contest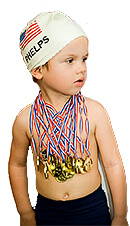 The possibilities are endless really…whether you want to be a pirate or Olympic swimmer, a themed costume party is a lot of fun for not only kids but adults as well. At least the party host should dress up! Fortunately adult Halloween costumes are easy to buy, rent or make yourself!
Any boy willing to go shirtless could dress up as Michael Phelps. A great idea for babies that are not swimming is a shark or fish costume. Finding Nemo, anyone?
Whether you throw a Halloween bash or simply transform your yard in spooky décor, make sure you take the time to enjoy the decorating experience and have fun with it. Get family and friends involved, so that this Halloween you can have the coolest pool in town!


Jaquelynn Pettinato
InTheSwim Staff Blogger