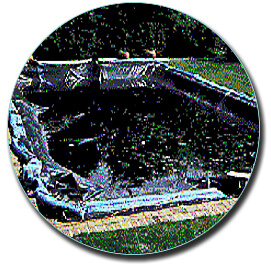 When temperatures get as low as they do in the winter, you hardly want to go outside.
But this is exactly what you need to do to find and fix problems with your winter cover – when you see the cover needs to be cleaned, patched or adjusted.
If a winter swimming pool cover slips off in the cold seasons when nobody is using it, it can be a shock to find months later. Debris can just pile up, along with unwelcome algae guests.
Let's explore 5 pool cover nightmares you don't want to deal with when it comes to winter covers.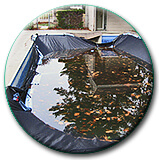 The pool cover can fall into the pool if – as mentioned above – you do not keep a solid handle on it and keep it tightly wrapped over the pool. Keep in mind that you will not be doing much – if anything – over the long winter months, so you should have it tight enough to stand up to the cold, strong winds you may experience.
Periodically keep an eye on the cover to catch a glimpse of any issue early on so you can quickly fix it and prevent worse problems.
If you notice your cover slipping into the pool, creeping towards the edge, what you can do is just grab hold of the cover edge firmly with both hands, bend your knees, and lean back, pulling the cover back over the deck. Now put more weight in that area. Do NOT use bricks or cinder blocks because they may be pulled in, and damage the pool or pool cover.
Literally tons, of water. When snow or ice accumulates and starts to melt, or when rain builds up on the cover, you will notice a lot of unwanted water on the cover. Remove water regularly with a pool cover pump. These pumps are submersible and stand up to freezing temperatures. Connect to a garden hose and plug into any 115V grounded outlet.
Speaking of snow and ice – that's something you would rather avoid than try scrapping off the cover. Keep the cover pump handy for when that stuff melts – naturally. No use in messing with the ice or snow on the cover since you could tear the cover by mistake.
Water on the top of the cover can attract worms, and while that may not seem like a problem to some people, the sharp beaks that are associated with birds that feast on worms can be a problem for covers! See our selection of automatic pool cover pumps to keep your cover mostly dry during the off season.
If your cover is too loose, then that will allow for debris to accumulate as well as inhibit algae growth. Many times the cover is simply too large for the pool. In this case, fold the cover under itself, to leave 3-4 ft of overlap all around the pool. For areas of limited space, use extra water bags. It is important to remember to keep the pool cover latched on tightly.
Aboveground pools can use wall clips, wall bags or cover seal to help hold their cover tightly. Inground pools use water bags or water tubes to secure the cover.  Floating, solid pool covers should be pulled outward, to remove most wrinkles, and anchored solidly with water tubes or Aqua Blocks. These will hold the cover down, but not damage the cover or pool if they happen to fall into the pool.

Pool Water Bags come in single and double tubes. Place these water tubes on the corners, sides or edges of the pool, laying them end to end, and overlapping in areas of little deck coverage.
Leaves and Debris on Cover
Leaf Rakes are an obvious solution to the problem. Simply sweep off the leaves with the leaf rake, extending to reach every spot on the cover. All you have to do is attach the leaf rake to the pool pole then scoop across the cover to collect leaves, sticks, acorns. Empty into a 20 gal can on the pool deck, with a few holes in the bottom for the water to run out.
One of the most common ways to eliminate the issue of leaves piling up on your pool cover is to find a Leaf Catcher. Simply place it on the top of the pool cover and after the leaves have fallen, you just remove the leaf catcher and voila – all of your leaves are gone. You'll still need to pump the cover all winter, to remove rain and snow melt.
If you notice holes or tears in the cover, it could be from several different sources. Tree branches could fall and land, animals such as birds could get the worms that are on the water which is on top of the cover, debris build-up could prove too much weight to handle and cause tears – these are among the most common situations and reasons for tears in the cover.
This is the reason you will probably find pool cover patches undoubtedly helpful. If the tear isn't big enough to warrant a new cover, then you can be thankful that these patch kits are in existence! These patches halt the tears and holes from getting bigger and becoming a massive headache later. Note that patch kits are available for both winter covers and safety covers.
Cover Patch Kits allow you to provide a fix – whether it is a temporary or permanent solution – and will hopefully allow you to keep your cover working throughout the winter, giving you a great protection all winter long.
Now that you know some of the worst pool cover problems to expect, you can anticipate in advance and have the supplies ready for the long closed swimming pool season.
Avoid a pool cover nightmare in the spring by preparing well before the weather takes a turn, and by visiting your pool cover often this winter!


Alex Malamos
InTheSwim Staff Blogger