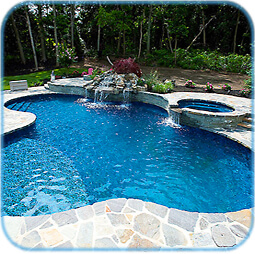 So you want an in-ground pool but you are not sure where to start? In The Swim has dozens of inground pool kit styles, with complete pool kit prices ranging from $5-7 grand.
Dreams of putting an inground pool in the backyard can come true with a total price that can be half of what local pool builders charge!
Vinyl Pool Kit Designs
Here's a few things to think about when planning your own inground pool installation.
1. Pool Size: Think about the space you have for a pool. What do you currently use if for? This is important since most of us don't own backyards that go on for acres and you want to make sure that you still have room to use it for everything else. For example, my family loves to grill, eat and relax outside. So we still need a patio that is not right on the edge of the pool. For others you may not use your backyard as much or you have space for both.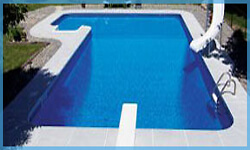 2. Pool Shape: Inground vinyl pool designs have come a long way from the standard rectangle. We have 10 different modified rectangle designs, with Grecian or Roman ends, Lazy L or Full L shapes.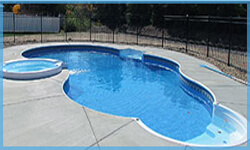 If you want a freeform shape, we have 8 pool designs with flowing curves, with names like Mountain Lake and Lagoon, or other modified kidney shaped pool designs, like the Tahiti or Oasis pool.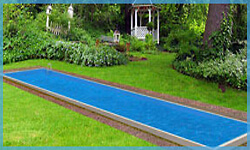 3. Pool Depth is your choice, from 4′ to 10′ in depth, depending on the pool shape and size. Sport pools, with two shallow ends and a center well, or Diving pools with an 8-10′ deep diving well, or Lap pools, built to any depth you want.
Vinyl Pool Kit Options
A nearly infinite number of options can be added to your pool kit. Our pools are sold complete, with all equipment and plumbing included, but you may be interested in…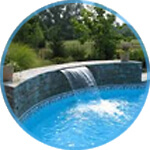 Water features – Waterfalls, cascades, bubblers or deck jets and wall fonts all have huge effect on the audio and visual of your pool. From small spouting frogs to large waterfalls built on the edge of the pool, water features are easily planned into your pool design.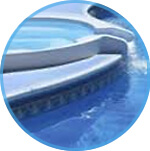 Raised spa – Raise the spa over the pool slightly to create a spillover into the pool and it becomes a focal point. Spas not only add to the beauty and balance of your outdoor space but also expand your season by another month on each end.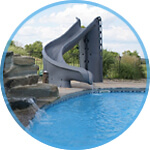 Slide & Dive – No matter what shape and size pool you have, if you want a diving board or pool slide, add that to your pool plans – it's much easier and safer, to install it at the same time as the pool deck is installed. We can help you with the safety calculations.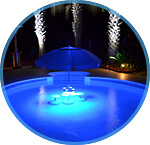 LED Pool Lights – Create ambiance with LED lights in the pool which change color to match your mood. They can also be added to water features, to create dramatic colored water falls or water spouts.
Vinyl Pool Kit Plans

The first step is to contact your local building and zoning commission, and get their inground pool packet, outlining all of the rules for building your own inground pool. Pay the permit, and give us a call!
We have 3 former pool builders, who are on staff to help the DIY pool builder. Bob, Chris and Larry have not only installed these pools professionally, but also self-installed vinyl pool kits in their own backyards.

Call them today to help you with your inground pool kit plans. Unlimited support from real pool builders, who also happen to be real nice guys.
855-342-4741


Brett Rotelli
InTheSwim Staff Blogger