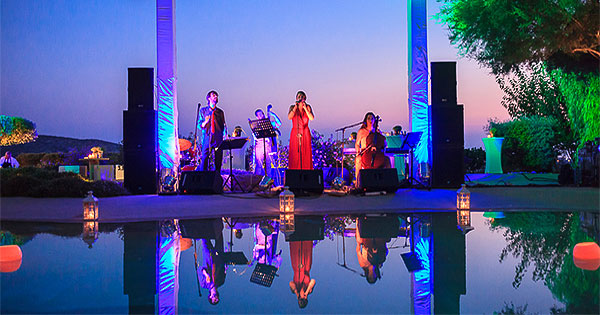 Adding music around a pool makes pool time much more enjoyable, whether you are in the pool, cleaning the pool, or tending to the landscape.
If you already have an in-home stereo system, you could connect outdoor speakers to the receiver, but wiring is difficult and the controls – are inside the house.
The choices are endless for outdoor audio systems, so let's break it down into a few simple set-ups that you can do yourself without spending thousands.
Speaker Location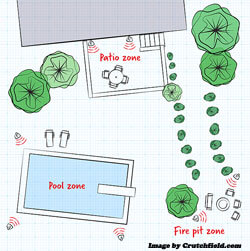 The first step is to decide where you would like music to be playing. If your pool is close to the house, or if you have other structures near the pool, hanging outdoor speakers under the roof eave is a popular choice.
When the pool is located a good distance from the house, you may want speakers for pool lounging and seating areas. And for very large backyards with several areas for gathering, you may want to plan your outdoor music system with music 'zones', where you can control volume and even music selection, independently.
Outdoor Speaker Selection
When outdoors, music speakers compete with a lot of ambient noise, and don't gain from reflecting off indoor walls and furniture.
The number of speakers you choose depends on how big of a space you are trying to fill with sound. The volume or loudness depends on speaker size and amplifier / receiver size.
Most outdoor pool systems will have 2-4 speakers, but larger areas could benefit from more speakers, especially if you have separate gathering areas spaced a distance apart.
Bluetooth Rock Speakers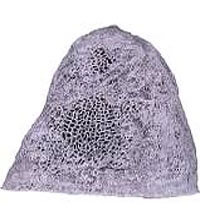 Wireless Bluetooth speakers allow you to connect your iPod, Tablet or Smartphone or any Bluetooth enabled device, to play your favorite stored music or stream from music services like Pandora or Spotify, or dial in your favorite radio station from their website.
Smaller wireless speakers are rechargeable, while larger ones plug the master speaker into a 115V outlet, which also powers a secondary speaker. Wireless speakers can also receive a wireless signal from the house, if placed within the wifi range.
You could use wireless rock speakers with the Sonos Connect, to create a secondary wifi network, or to expand your home wifi network to the backyard. As a bonus, you can use the Connect to stream music, play internet radio or music stored on a network PC.
Sonos Connect and Connect:Amp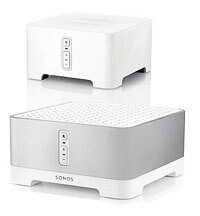 Sonos is a very popular wireless music system for the home, and it's what I have in my house, and outside on the patio. Easily connect to your PC music files, music streaming services and internet radio. The Sonos App puts you in full control, and the wireless speakers are easily moved from one room to another.
Sonos does not make an outdoor speaker however, but there are two ways around the problem. For my outdoor music, I connected a Sonos Connect:Amp in my garage, and connected speaker wires through the eave, where my outside (Yamaha) patio speakers are mounted.
Another route is to use the Sonos Connect (No Amp), and hook it up to your existing amplifier, receiver, or directly to your internet router. Place it near the pool for a dedicated wifi network with access to online radio, music streaming or a PC music library.
Niles Planter Box Speakers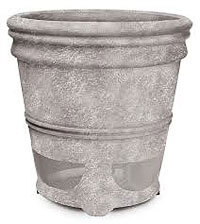 Like Rock Speakers, Planter Box Speakers are designed to be hidden, and in this case, dual purpose! Large planter area accommodates flowers, bushes or tropical plants. Place them at the corners of your pool deck, or on the outside edge of a raised deck area.
Like most quality sounding speakers, Planter Speakers are meant to be wired, with a 2-wire speaker cable run underground inside of 3/4″ conduit. On the other end, they are connected to a receiver or amplifier set up in a protected location.

A popular set-up is to run wires from planter or rock speakers, to the Sonos Connect:Amp, and then control it with your phone or tablet. You can also install an outdoor volume control knob, as shown here from Niles Audio, which also makes some great outdoor sub woofers, if you like to turn up the bass!
---
Sorry for talking so much about Sonos, but I do love mine! Any $100 receiver will do the job for an outdoor system, especially if you just want to hear the radio, or play a CD collection.
And, unless you're a serious audiophile, there's no need to get all caught up in complicated multi-channel systems – just keep it simple like me, with an amp/receiver, some speaker wire and a couple of outdoor speakers mounted under the roof eave, or hidden among the landscape..


Ryan Dornan
InTheSwim Staff Blogger