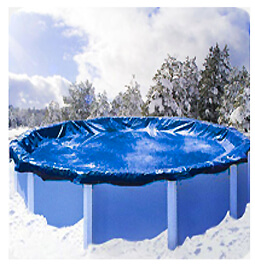 Winterizing an above ground pool would be easy – if it weren't for Old Man Winter!
Wind, Snow and Ice and will soon be on its way, and for an aboveground pool, these can be particularly troublesome.
Make mistakes with any of these and you can easily end up damaging your pool cover or your pool itself!

Debris
Every picture of a winter cover that you see is dry and clean, but in the real world Mother Nature and Old Man Winter will make a mess of things.
Cleaning your pool cover protects your cover and your pool water. A small hole in a winter cover can contaminate the pool water, and berries and bugs and nuts attract birds and squirrels that can damage your cover.

Leaf Rakes: A leaf rake is a bag shaped skimmer net that attaches to any pool pole. Just push is gently across the pool cover to scoop up leaves, twigs and other debris.

Leaf Nets: An easier method for sure – if you have lots of large trees around the pool, spread a leaf net over top of your winter cover until all of the leaves have dropped. Then remove all of the leaves from the pool cover at once, and easily take the bundle of leaves to the curb or woods.

Water
Keeping water pumped off of your pool cover is important to prevent the cover from tearing – just 100 gallons of water weighs over 750 lbs, stressing the walls and the edges of your winter cover.
Cover Pumps:

Electric submersible pumps, manual or automatic, allow you to easily remove rain water and snow melt from the pool cover. Just attach a garden hose, and plug it in. Manual pumps should be unplugged when done, but automatic cover pumps will safely turn themselves on and off as needed.

Gravity Pumps: We also have gravity fed, siphon-type pool cover pumps, that work great with above ground pools, such as the Cover Drain or the Dryco pool cover drain kit.
Snow? It's best to leave it alone, to avoid damaging the pool cover with a sharp snow shovel, but if it gets over 12″ deep, you can either carefully use a leaf rake to push off the top 6 inches, or spray the snow with warm water, and then pump off with your cover pump.

Wind
High winds can wreak havoc on an aboveground pool winter cover, tearing and ripping the edges as heavy winds get up underneath. However, there are a number of winter accessories made specifically for this problem.

Cover Seal: This is like a giant roll of Saran Wrap™ – only stronger! Once your cover is installed, wrap around the pool 3 or 4 times to block wind and prevent your cover from rubbing on the top rail of your pool. Reusable Cover Seal can be rolled back up on the spool in spring.

Cover Clips: This product clips your pool cover to the top rail of your aboveground pool, to keep winds from getting under the cover. Use 2 cover clips for each vertical upright in your pool (between wall panels). Sold in 5, 10, 20 and 30 packs
Wall Bags:

Vinyl bags that you fill with water and hang on the cover cable, or they lay up against the pool wall, on the inside of the pool cover. Reusable for years and years.

Ice!
Not a friend of aboveground pools, ice expands nearly 10%, putting pressure on pool walls and skimmers. Of course, there are products to help you deal with the damaging effects of winter pool ice.

Air Pillows: Place an air pillow in your pool before you button up the pool cover. The pressure of the pool cover pushes the air pillow down into the water, preventing a continuous ice sheet from forming across the pool, which can damage pool walls.

Skimmer Guard: Dual purpose item plugs your skimmer line tightly, and the raised plastic cylinder absorbs ice expansion in the skimmer, saving your skimmer from ice damage that can quickly crack it into pieces.
Skimmer Plug:

Works like a Lid'l Seal™ or the Aquador™, with the big exception that you don't need to replace your skimmer faceplate. Just push it into the front of your skimmer, and it makes a water tight seal, keeping water out of the skimmer, all winter long.
Old Man Winter and Mother Nature throw a lot of weather at your aboveground pool during the off season. Fight back with these smart accessories to prevent damage from Debris, Water, Wind and Ice!


Sheryl Solis
InTheSwim Staff Blogger