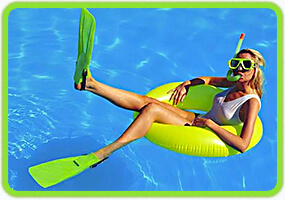 Owning a pool is an essential part of keeping cool in the summer heat.
We have thousands of pool accessory items, so I've grouped them into 4 categories – Care, Convenience, Fun and Relaxation.
What's a swimming pool without cool pool gear? Here are a few of my personal favorites!
Pool Care Accessories

Summer storms are raging this summer, and if you are over the dip 'n flip type of skimmer net, be ready for fall with a Leaf Rake. The large bag holds hundreds of leaves and is much more maneuverable than the flat nets.
For those of you that own DE filters, a new tool is available to deep clean between the filter grids. The Power Pic attaches to your hose, and allows you to clean between the grids with a close, powerful spray to get off all of the DE powder, dirt and grime on the grids.
If you have an installed chlorine feeder or a salt generator, that's great. Even so, a floating chlorinator is good to have, in case the pump and filter system is down for some reason. The Solar Globe Light-Up Chlorinator is the coolest floater I've seen. Use it as a chlorinator, and as a lighted, floating orb in your pool.
Pool Convenience Accessories

Keeping the pool deck picked up can be hard job. It can be especially difficult when your house is the only one in the neighborhood with a pool.
One simple solution could be the Pool and Spa Towel Rack. This accessory is a neat way to keep towels dry and in reach whenever your guests are looking to dry off and cover up.
Another great item is the Portable Poolside Storage Box. This box gives a simple solution to storing all those poolside accessories and comes with wheels for easy portability when needed. Toys, chemicals, cleaning tools, all fit neatly inside.
For even more space, set up our Utility Shed by the pool equipment to your pool gear safety stored and easily accessible.
Pool Fun Accessories

Pool games and toys are key when it comes to keeping family and friends entertained. A classic summer favorite of all ages are our colorful, multi-use Pool Noodles.
A Crash Mat is great pool fun for the kid inside who still loves to "cannon ball" into the pool. It's a cannon ball target, and the when you land just right, it breaks apart into jigsaw puzzle shaped pieces made of thick EVA foam.
For that golf enthusiast who you can't seem to steal away from the green, try tempting them back home with the Pro Chip Island Golf pool game.
And, what's a summer pool party without a volleyball match? The 2-IN-1 Basketball & Volleyball combination package allows users to choose the game that best fits their crowd.
Pool Relaxation Accessories

Finally, what's a better way utilize your pool, than as a place to relax and let off steam after a long, hard day at work?
A beautiful waterfall like the Copper WOK Waterfall can help set the tone and save you a few trips to the spa.
Place a few Floating candles, and you can set the mood for a romantic evening swim beneath the stars.
And, what's a relaxing day, without the perfect chair to float in. The Floating Recliner Lounge chair is a permanently reclined inflatable chair, perfect for that mid-day nap.
So, whether it's pool accessories to help you care for the pool more conveniently, have more fun or more relaxation, a pool just isn't a pool without a few accessories to keep you entertained.
Enjoy your summer!


Dana Katz
InTheSwim Staff Blogger