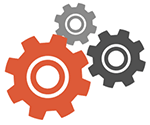 With the In The Swim Custom Pool Builder, you have the option to custom build your above ground pool to fit perfectly in your backyard space.
If you already own an above ground pool, or if you are eye-ing our above ground pool sale just in time for the holidays, here are 10 inspiring above ground pool ideas, to make your pool really pop!
1. ABOVE GROUND POOL WITH A DIVING BOARD AND SLIDE?!?
It's not common but it's not impossible either, and this pool is proof that you can add a pool slide and a diving board and base combo to a pool deck surrounding a (partially) above ground pool. Our inground pool kits (16'x32′ or larger) can be built with the proper depth and slope to allow for a diving board and slide, or built with a sport bottom, which is deep in the center of the pool. In this case, excavation is limited to the hopper bottom. This is known as On-Ground, an aboveground pool with a deep end.
2. ADD AN ORGANIC FINISH
Simply adding an organic facade element around the steel walls of a pool can dramatically improve the aesthetics of any above ground pool and create a more natural presence in your backyard. From simple beams of lumber to bamboo to elephant grass, covering the metal walls of a pool is a generally affordably and simple DIY project that can go a long way to give an ordinary above ground pool a real "Wow!" factor.
When budgets allow, adding wood or stone can have a dramatic effect, as shown in these inground pool kits used on-ground. This pool is partially in the ground, which reduces the excavation work, then wrapped in paver stones.
3. LEVERAGE THE EXISTING ENVIRONMENT
This pool not only applied the organic facade technique from the previous example but also used the natural incline of their backyard to their advantage by adding a deck. The gravel makes for a nice frame to define the space but also functions to prevent soil erosion from rain runoff due to the hill. Semi inground pools stay cleaner as the raised sides block blowing leaves, and the taller sides also have a safety benefit for kids and animals.
4. ARE YOU SURE THAT'S NOT AN INGROUND POOL?
Adding a deck around the entire perimeter of a rectangular above ground pool can make you forget that it's not actually an inground pool. Depending on the height of the deck, the depth of your pool, and the deck access points, it isn't unfathomable to pull this off.
5. SEMI-ABOVE GROUND POOL 
Or a semi-inground pool – depending on your perspective. This pool uses the existing hill in the backyard to cozy the entrance of the pool right up to the patio. An advantage of a semi-above ground pool is that the ground acts as a natural insulator to help regulate pool temperatures. Here's two examples of Radiant ® Pools, built into sloping backyards.
6. COMBINING ORGANIC ELEMENTS
This vinyl on-ground pool uses mock stone panels to frame the outside rise, and wood as a bench-like deck or lounging area to completely make everyone forget that this very well could be one of our vinyl pool kits, looks like our 16×40′.
7. ADD A WATER FEATURE
This pool is essentially a culmination of several of the previous examples with the added touch of a fountain. The raised finished deck surrounds this small on-ground pool, giving the appearance of an inground pool, and the stone fountain makes a nice compliment to the organic elements at work here. The end result is a spa-like vibe that abolishes any reservations one may have towards above ground pools.
8. BREAK THE ROUND AND RECTANGULAR MOLD
Not all above ground pools have to be circular or rectangular, and this pool is proof. The angled plank wood deck really accentuates this pool's unique size and modified kidney shape, which looks a lot like our 'Aspen' pool shape. Vinyl inground pool kits can be built in-ground, on-ground or above-ground.
9. LIGHTEN THINGS UP A BIT
These are two great examples of adding soft exterior lighting around the deck and under the pool coping for a warm, almost mysterious glow. Both compliment the interior pool lighting perfectly to give each of these pools style that transcends whether or not it's in or on the ground.
10. IF MONEY WERE NO OBJECT
For larger budgets, a raised wood deck above a concrete and glass pool can completely redefine the concept of an above ground pool.
These last few break all boundaries of a typical above ground pool by using elements typically found in high end inground pools. Extra thick safety glass is super strong and allows you to enjoy the pool from all sides. It can also be employed as a safety fence.
---
Above ground pools have become easier and easier to order online and conveniently delivered to your front door to be installed in a matter of hours. What was once deemed a lavish luxury is now obtainable even for those with the tightest of backyard budgets!
In The Swim currently has holiday sales on Intex Ultra Frame Pools and on permanent Steel Wall Pools. Winter is the best time to buy, and the best time to plan your spring pool installation.
See our inground pool kits also, which can be DIY installed in less than one week, and can be put in-ground, on-ground or above-ground! 


Ryan Dornan
InTheSwim Staff Blogger