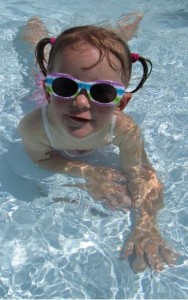 It's that time again; summer is right around the corner. With preschool coming to an end, your toddler is ready for a summer in the pool. Before they can get in the swim, there are a few parent preparations to keep your pool time together safe ~ and fun!
The first thing you're going to need to do is make sure your baby or toddler is safe from the sun's harmful rays. There are plenty of great sunscreens you can buy that will help protect them as they splash around in the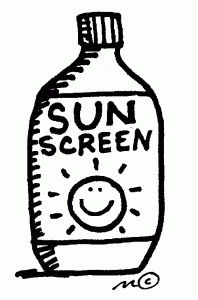 pool. Another wise thing to have on hand is a hat to protect that baby face. If your child will wear sunglasses, these are adorable, and will allow them to enjoy pool time more.
Another item to plan on is Swim Diapers. Most public pools require them; at home you can do what you like, but if it were me – I'd add these to the shopping list. Make sure to buy the right size, so that it fits tightly over the diaper. Disposable and reusable swim diapers are available.
Baby's first swim season?
Babies spend most of their time clutching onto Mom or Dad in the pool. As early as 6 mos. old, your baby can have fun with Kicking, Dipping and Floating skills. Keep them always at arms length, and give them your best smiling encouragement. Take your time to slowly acclimate your baby to the water.
For toddlers, start outside of the pool, splashing around the edge to show them how fun the swimming pool can be. If he/she is having fun, try and get them to step into the water or put their feet in holding your hand. If your child has trouble with putting their face in the water, practice by blowing bubbles in chest high water. Masks for young swimmers (3+) can help with their comfort level.
There are plenty of mommy and me swim classes you can find at your local park district or YMCA for all ages of young swimmers. It's a great way to meet other Moms (and Dads) in the area. Or you can buy an online training course, and invite other Moms you know to your house for Mommy & Me swim classes.
As always an adult should always be pool side to supervise the kiddies in the pool! Teach your kids never to go near the pool without an adult, and follow the A-B-C's of pool safety Alarms – Barriers – Classes.
Swimming Pools should be Fun!
If you're looking to add some fun this summer – here are some great options for inside and outside the pool.
To keep little guys cool in the pool, have them splash around in this fun inflatable swim seat. Baby Bopper Baby Float. Not only does it block the sun, but it has a fun, inflatable hammer and whack-a-mole type game for hours of floating fun – safe from the sun. Sturdy but comfortable leg-holes provide a nice seating surface. Large, flat design keeps baby stable in the water.
For the toddler who wants to splash around a little more or their own, take a look at the swim-tee trainer. We have these in yellow or blue colors. This popular style inner-tube baby float has been around for years, you probably remember it from your own childhood. Soft woven polyester swim tee trainer is tank top style for comfortable swimming.
Enjoy your summer with your young kids, they're only young once! And remember that they have the most fun when you enjoy the pool with them! Always keep them within arm's reach, and leave the reading and texting for later!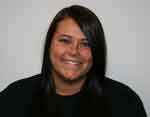 Lauren Dylla
InTheSwim Staff Blogger