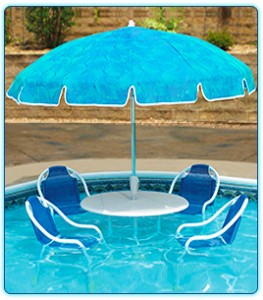 "What are four walls anyway? They are what they contain. The house protects the dreamer." Frances Mayes, Under the Tuscan Sun, could not have described a home better.
Some people forget that their home can be expanded outdoors. Let's create an atmosphere in the backyard that serves a purpose and is also aesthetically pleasing.
Here are some starting points to consider before you hit the pocket book. 5 ways to be an Exterior Decorator!
1. Color and Comfort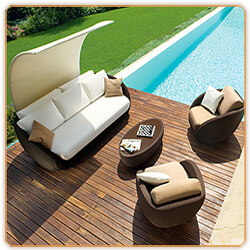 Think of your deck/patio space as a living room and arrange seating areas to create a comfortable atmosphere for friends to gather.
The patio furniture should reflect your personal style and the look you want to achieve. Include vibrant fabrics that make your neutral patio seating pop such as lime green and yellow shades. As the season wanes, aim for red and orange hues.
Patio furniture comes in a variety of styles and materials, so take the time to find something you love. Add some whimsy by including porch swings, hammocks and oversized daybeds – all great furniture ideas to reduce stress, and make your pool more livable.
2. Pool Pathways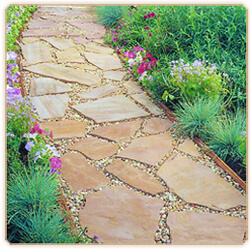 You no longer need to walk on grass or a wood chip path – think outside the box! A flagstone path is a simple project that doesn't require mortar or power tools, is low maintenance and appealing to the eye.
Health tip: Choose stones that are good for your feet. Use smooth stones that vary in size and place them in different angles to create a reflexology path.
3. Light the Night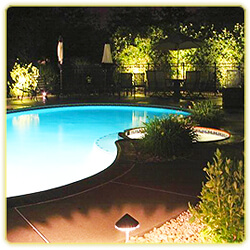 It's obvious that lights can be used to set the mood, but there are several other benefits of light-scaping your pool. Lighting is a great outdoor safety feature, whether it's for security purposes or safety measures it's definitely worth considering. Yet, the best part of utilizing light in your outdoor area is being able to enjoy your space late into the night.
A string of twinkle lights in the trees or above your furniture is the perfect way to light up the night. Tiki torches in the yard are great for parties. Some other options include gas lighting, which casts a warm glow from the flickering light. Fire pits are another great way to incorporate light and are fun to sit by when the evenings get a tad chilly. Regardless of what you decide, make sure you consider the atmosphere you want to achieve.
4. Soften the Edges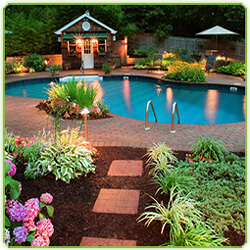 Incorporating plants to your outdoor environment will not only add beauty, but has several health benefits. Studies show that being around plants in a natural environment can improve memory performance and attention span by 20%! Flowers bring happiness, due to the positive energy that people get when seeing them, reducing stress hormones and depression symptoms.
Research has also shown that individuals who spend more time around plants usually have better relationships with others and increased levels of vitality. Thus, if there is one decorating tip that is vital – it's adding plants to your yard.
5. Sounds of Water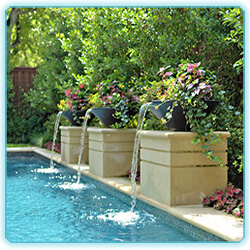 Provide yourself a tranquil environment with the sound of water. Whether a small stream in your backyard, a gentle waterfall into your pool, or a fountain on the patio.
Even though installing fountains and streams can be a little pricey, there are some terrific benefits to consider before you rule it out.
Water is a source of relaxation and reduces stress and anxiety. Plus, the sound of flowing water helps drown out noise pollution.
Fountains serve as a natural humidifier, adding moisture to the air, and a place for birds to bathe or pets to drink. Used in the pool, they help aerate and oxygenate your pool water, and the splash helps the pool skimmers.
~ In summary, exterior decorating around the pool, patio and backyard has many benefits that outweigh the small expense and effort. Now, the next step is putting your ideas in motion, and give your backyard some Décor all your Own.


Jaquelynn Pettinato
InTheSwim Staff Blogger