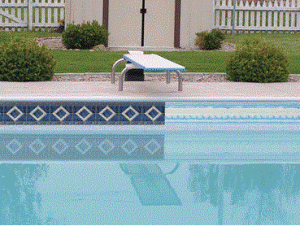 It's time to break free from waterline stains or fading on your vinyl liner, acrylic, fiberglass or stainless steel pool wall.
There is an affordable product that is durable and easy to apply to your pool to bring it back to life. Introducing…
Borderlines Adhesive Tile Pool Borders

Borderlines vinyl liner tile borders can be installed on inground or aboveground pools, with overlap or beaded liners. There are plenty of vinyl tile border designs to choose from. Whether you are trying to cover waterline stains, unattractive marks or you are just ready to update your style; Borderlines pool borders make it easy!
Borderlines pool liner borders are available at a reasonable price, very easy to install and ultra-convenient for a quick change to your vinyl liner waterline border.
Borderlines pool border kits have the option of either 6'' or 9'' – depending on how much area you want to cover. Kits are sold with 80' to work with and include the installation kit but you can also purchase tile border strips in 10' sections with the installation kit sold separately.
Borderlines Installation Process
The Borderlines installation is a cinch! Follow these steps to install your new pool border makeover kit.
1. Lower the pool water level 9-12″
2. Use a tile & vinyl cleaner to degrease
3. Clean with Isopropyl Alcohol / Water
4. Start at the skimmer, peel & stick
5. Use installation kit squeegee to smooth out
6. Allow 24 hours before filling the pool again
The Borderlines installation kit includes a handheld flexible squeegee – so that you can smooth out any air bubbles that may have gotten trapped while you were applying the sections to your pool wall. All you have to do is start near the center of the borderline and move the squeegee toward the edges to push out any trapped air bubbles.
A slight overlapping of the ends of each 10′ Borderlines section is recommended. For pools with curved radius corners, dry-test first by using masking tape – to see how it handles the curvature. Very sharp corners may need to be trimmed and spliced, to avoid bunching up in the corners.
If you encounter any obstacles in the waterline, like rope hooks or return fittings, you can easily cut the Borderlines tile border to work around them. It looks best if you leave some extra liner border, so that you can tuck it underneath the faceplate or rope hooks.
Borderlines Pool Liner Waterline Border Kit Video
http://youtu.be/kZ8SFeyDWK8
As with most any installation in a wet environment, the waterline border surface needs to be clean and dry before installing the tile border kit to your pool. Allow the self-adhesive glue to dry for 24 hours before filling the pool back up.
These pool waterline borders are also UV and chemical resistant. So if you're tired of your swimming pool's waterline appearance, create a new look without breaking the bank. The transformation will be fast, easy and dramatic! This will save you the expense of purchasing and brand new liner and the manpower it takes to install one. Borderlines can easily be installed in one afternoon.
Your backyard is a place where you can escape into your own little paradise. Decorate it to your liking and cover up unsightly stains, discoloration, fading or small rips in your vinyl liner waterline area. Don't put up with waterline stains or faded vinyl at the waterline any longer – check out how affordable Borderlines pool border kits can be!
Although we no longer carry the products, Borderlines vinyl liner pool borders help you add pizazz to your pool and all you have to do is peel n' place, and before your eyes your pool has been transformed with a new style. Take the time to enjoy your pool – that's what it's there for!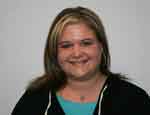 Natalie Martin
InTheSwim Staff Blogger