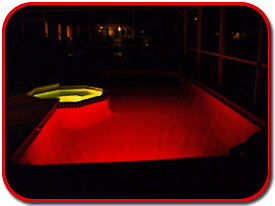 Calling all Halloween lovers! The time has finally come to put all those spooky ideas to work and create the scariest boo bash ever, and what better place could there be to throw it than around your own pool?
There are many amazing and creepy ideas and recipes to make sure that your party is festive and in spirit with the holiday, and we are here to help!
Pool Color – red or green, it's a great way to transform your pool and really set the tone is by dying the color red and adding a few scary sea creatures. However, if you do decide to dye your pool red or green – make sure to use a safe guide to dye your pool, in case anyone decides to take a midnight swim. You don't want your guests turning colors!
Creatures: Raise tension with our large inflatable sharks, inflatable alligators or shark themed items like the Cool Shark Chlorinator and Cool Shark Pool Thermometer.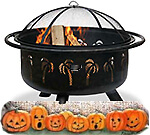 Fire: For cooler areas of the country where the night time temperatures drop, adding fire bowls and heat lamps to the area can allow the party to remain comfortably outside. Outside fires, on the patio, or at a few spots around the pool will keep groups of guests warm.
Lighting is another spooky way to add some a little nervous tension to a Halloween party. When the moon goes down and the werewolves come out, you will want to make sure your backyard is well lit.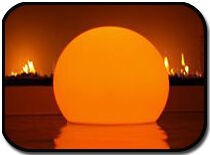 Surrounding the pool with lights such as Chill Lite Pool & Patio Lighting can help set the tone. Underwater pool lighting of different colors, Tiki torches around the pool, and flameless candles around the backyard, illuminating beneath plants can also help set a super spooky ambiance.
Funkins, are pumpkins made of foam that can be purchased cheaply, carved quickly and used with flameless candles. Float them in the pool, or stage around the backyard. Bonus: they don't rot, so you can use them year after year, or even re-carve them with a new face.

A fun craft idea could be carving pumpkins and surrounding the pool with everyone's unique masterpiece. Stick them on spikes, or line your pool fence to bring a nervous chuckle to your guests.
Decorations around the pool can be a key mood setter.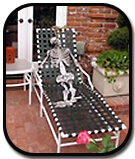 Skeletons in patio chairs or floating in the pool.
Tombstones in the lawn. Spider webs on pool ladders.
Fog Machine! Eerie, smoke on the water effect.
Large planters with bones sticking out of the dirt.
Food is always a big part of Halloween parties. There are literally thousands of themed recipes for this holiday. Let's keep it simple however.
Halloween Hamburgers cooked on the grill are always a popular crowd pleaser. To stick with the theme, cut out faces in cheese and top the burgers with them.
Mummy Dogs. Wrapping up cut hot dog pieces in crescent roll dough to look like mummies, can also be a great grab and go item for kids and adults, while burgers are cooking.
Creepy Fingers. As for dessert, you can create some 'finger food' by dipping pretzel rods in chocolate and adding an almond nail to the tip. There are dozens of ways to make festive Halloween themed pretzel rods.
There are numerous ideas you can use to make your party great, these are just a few. Whether you want a kid friendly boo bash, or a spooktacular haunted house, or a more adult style party – some themed accessories and fun food can be the key to a successfully spooky soiree.

Have a Haunting Halloween!


Dana Katz
InTheSwim Staff Blogger