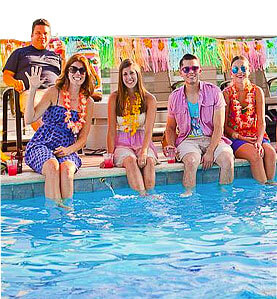 I loved the White Pool Party ideas that Christine recently shared; for a more colorful summer pool party idea, why not host a Hawaiian Luau?
Nothing beats a sunny day by the pool with delicious BBQ right off the grill. As Emeril would say, kick it up a notch, and instead of a regular BBQ, it's easy serve a Hawaiian BBQ, with a Luau theme!
Bring the taste of the islands with fruity cocktails and Hawaiian-style barbeque recipes. Add more island flavor with Lei floral necklaces for the guests, and grass skirts for the hosts. Buy a few tiki torches and other island decorations. For $20 at a Party Store, you can get all you need!
Char Siu Glazed Pork on Buns
Char Siu, which is Chinese-style barbecued pork, is a popular dish in Hawaii. Below is an easy recipe. To make the brine, you'll need to mix up Kosher salt, brown sugar and vanilla extract. Chill the liquid until it is cool. Next, put two, 1-lb. pork tenderloins into a 9 x 13-inch baking pan, cover with the brine and put in the fridge for 3-12 hours.
Meanwhile, make a char siu glaze with ketchup, hoisin sauce, sesame oil, garlic, ginger and soy sauce. Cover the pork with glaze just before laying on the grill, and use a brush to coat while cooking. Serve with grilled and glazed pineapple slices,  stuffed into a Hawaiian roll. See MyRecipes.com for the whole recipe.
Huli Huli Chicken
Combine chicken pieces with pineapple juice, soy sauce, brown sugar, ketchup, sherry, ginger, garlic, and green onions in a large sealable plastic bag, stirring until brown sugar has dissolved. Place chicken into bag, squeeze out air, seal bag, and refrigerate 4-12 hours. Crank up the grill to 475°, and turn every 10 minutes, for 35 to 45 minutes. Baste with marinade after each turning. AllRecipes.com has all the details.
Hawaiian Island Surfer
For a fun and fruity non-alcoholic beverage, look no further than the Hawaiian Island Surfer recipe from Love to Know. To make it, combine a half cup of orange sorbet with a small can of pineapple juice, an ounce of coconut cream and a cup of crushed ice. Blend the ingredients until they are the consistency of a smoothie and pour into tiki cups or colorful tall plastic cups, topped with fruit and maybe a little umbrella!
Pineapple Drops
For your guests who are 21 and up, consider serving the Pineapple Drop, also from MyRecipes.com. In a pitcher, mix pineapple juice, vodka, and lime juice, then chill until cold. Rub lime wedges around rims of 6 martini glasses. Pour sugar onto a large plate. Dip rims of glasses in sugar. Divide vodka mixture among glasses. Push a few pineapple chunks onto each skewer and set one in each glass.
Frozen Coconut Dessert
Taste of Home has another great recipe. In a saucepan, bring 1 1/3 cups of water and 2/3 cup of sugar to a boil and then cook for five minutes. Once it cools, stir in 2 cups of coconut and 2 teaspoons of vanilla. In another bowl beat 1 pint of heavy whipping cream until it forms soft peaks, and then fold the whipped cream into the coconut mixture. Pour into a pie dish, cover and freeze overnight. Sprinkle with toasted coconut and chopped macadamia nuts.
Pre-Pool-Party Planning Tips
Buy a set of tiki torches and set them up around the edge of the pool for a beachy glow at sundown. Get a few other decorations at the dollar store or your local party store to really set the theme.
When it comes to seating, it's always better to have too much than not enough, so enhance the backyard living experience with some additional pool furniture; for both serving and eating.
Toodles!


Sheryl Sollis
InTheSwim Staff Blogger