Swimming pools have long been the largest area of innovation around the home.
Pools inspire people to invent gadgets of fancy, and pool owners and pool techs around the world are constantly dreaming up new ways to clean, heat, sanitize and enjoy the water.
Technology never sleeps, and since we haven't done a new pool products post in several years, the time is right to look at what's hot and new for swimming pools.
---
NEW POOL CHEMICALS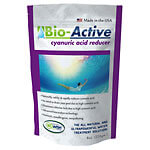 BioActive Cyanuric Acid Reducer:
Stop draining half the pool to lower cya levels. BioActive is the only chemical that reduces cyanuric acid levels, saving thousands of gallons. One 8 oz bag of Bio-Active treats 25000 gals, and can reduce cyanuric acid levels from 100 to 50 ppm – overnight!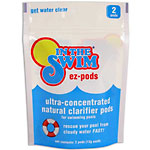 EZ Pods Natural Clarifier:
Ultra-Concentrated EZ-Pods are a natural clarifier tablet that you drop in the skimmer. No measuring, each pod treats 10000 gallons to restore water clarity. Natural water clarifier is made with chitosan obtained from sea crustaceans. Now that's science!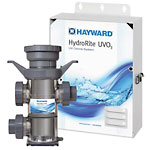 Hayward Hydrorite UVO3 System:
The Hydrorite UV and Ozone system produces UV, Ozone and Hydroxy Radicals, to kill up to 99.9% of bacteria. Designed for commercial pools, see also the Pentair Bioshield UV Sterilizer. For residential pool UV purifiers, see the Solaxx NUVO 3000 UV System.
---
NEW POOL ACCESSORIES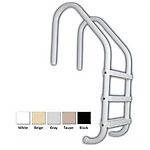 Saftron Pool Ladders:
Yawn! What's so special about pool ladders and hand rails? Saftron pool ladders and rails are made from 1/4″ thick, high impact ding and dent-free polymers. Impervious to stains, salt, sun and chlorine, they also remain cool to the touch, in any weather. Plus, they come in six cool colors!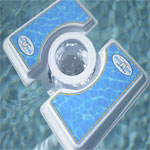 Skim-A-Round Floating Pool Skimmer:
The Skim-A-Round is a floating pool skimmer that attaches to a skimmer, vacuum line, low-water suction, even to a main drain. Floating skimmer moves around to trap debris in a lily pad style basket. Great for above ground pools with no skimmer or inground pools with a vacuum line.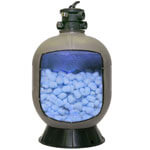 FilterBalls Advanced Filter Media

FilterBalls filter better, last longer and improve flow rate during filtration and backwashing. Made from extruded polyester, these tiny sponges trap particles down to 10 microns in size, twice as good as pool filter sand. New this year are FilterBall Minis, smaller FilterBalls, for filters that use less than 150 lbs of filter sand.
---
NEW POOL FLOATS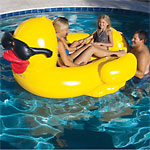 Derby Duck Ride-On:
Not sure if you saw the viral video last week of a guy riding a giant rubber ducky down a flooded street. The Derby Duck Ride-On is a new pool float by GAME, a giant version of their popular Derby Ducks, so famous all around the world for charity fund raising. Giant Inflatable Duck is huge!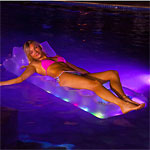 Pool Candy LED Float
Pool Candy pool float is a classic 18 pocket sun tanner pool float by day, but at night, this pool lounger lights up with 18 super bright LED lights, that change color to brighten your pool and your mood! Choose from 3 light modes to flash fast, slow, or simply glow. AAA batteries included.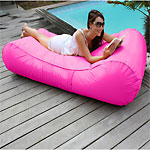 Capri Lounge
The Capri pool lounge offers luxury and comfort, with chic styling and colors. Capri lounges are covered in a soft and durable 6-D polyester cover that is removable for cleaning. Unique curved design and tall profile makes it super comfy in the pool, or on the deck. Measures 73″ x 31″ x 24″, and comes in 5 cool colors.
---
NEW POOL EQUIPMENT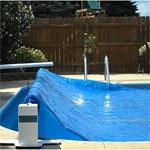 Pool Boy III Solar Reel:
Pool Boy III is the world's first battery powered (rechargeable) remote control operated solar blanket reel. Earlier versions operate with a power cord, which is so – last century! Wireless remote works from over 50 ft away, to remove and replace the solar blanket automatically.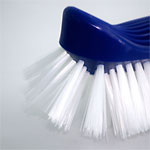 Supreme DuoBrush:
Yawn! Now we're talking about pool brushes!?! The Supreme Pool Brush has over 20,000 bristles attached in a fan-style, to do more work with every brush stroke. Duo Brush is easier to use and much more effective. Aluminum handle and V-clip fits all standard pool poles.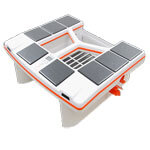 Skim Devil Solar Skimmer:
The Skim Devil Solar Skimmer is a solar powered, app controlled pool skimmer. Customizable and programmable, or you can guide the Solar Skimmer with remote control using the Android or iOS app on your smartphone or tablet. Sucks up leaves, before they sink.
---
2017 MANUFACTURER REBATES

There are rebates every year from the manufacturers, usually given in the form of a Visa gift card, send to you after you fill out the form and mail it in to the manufacturer. In 2017, rebates are available on the following items:
Pentair Rebates: Racer, Legend, and Warrior Pool Cleaners, UltraTemp Pool Heat Pumps.
Hayward Rebates: Pool Vac XL, AquaVac 500, TigerShark, SharkVac, TriVac 500 Cleaners, AquaRite and Swim Pure Plus salt systems.
Zodiac Rebates: Nature2 Mineral Cartridges, Polaris 3900 Sport, 9450 and 9550 robotic pool cleaners.
---
I hope you enjoyed this look at some of the new pool products we have available at In The Swim. Is there a hot and cool new pool product that you just simply can't live without? Let us know by 'Leave a Reply' below, or email to socialmedia@intheswim.com.


Sheryl Sollis
InTheSwim Staff Blogger
SHOP RELATED PRODUCTS: