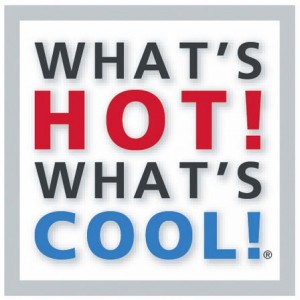 Everyone's always asking me …"What's the Hot, New pool product this year?" Usually, 1 or 2 products come quickly to mind. This year we've added a ton of new products, so many that I had a hard time choosing the winners for this list.
With long deliberation, arguing the merits of which new pool products really delivered something new (and hot), and which were only improvements or slight changes to an existing idea, we have our winners. So, may I introduce to you…
Hot New Pool Products!
Introducing Instant Liquid Chlorine. This new concentrated liquid chlorine formula is easy to ship, and makes instant liquid chlorine when the powder is poured into the pool. If you enjoy the power of liquid chlorine in your pool, we've just made it a whole lot easier to buy. Instant Liquid Chlorine is sold in 4-packs.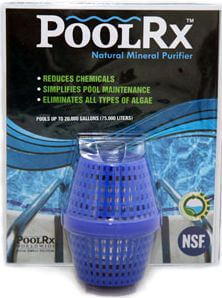 Pool Rx is a new member of our Chlorine-Free line of pool chemicals. If you're familiar with our other mineral purification systems, like Frog or Nature2, then you can understand the magic of copper and silver ions in your pool water. Simply drop it in the skimmer, and the minerals do half the work of sanitizing your pool, allowing you to reduce your chlorine levels to an unnoticeable 0.5ppm. Pool Rx now has Zinc added for Salt Pools; the zinc tablet acts as a sacrificial anode.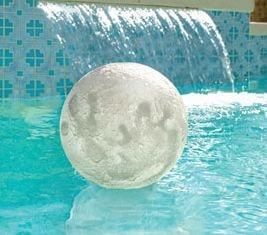 Solar Globe pool chlorinator is decorative and functional! Holds small or large chlorine or bromine tablets in the bottom adjustable dispenser. At night, the Solar Globe chlorinator glows softly, adding a cool glowing orb to the pool. The rechargeable solar battery inside turns on at dusk and off at dawn. Solar powered floating pool chlorinator is definitely Hot!
FilterGlass is a replacement filter media for sand pool filters made of recycled glass. Filters to an incredible 2 microns, FilterGlass is up to 50x more efficient than regular filter sand. In addition, because it's lighter than pool filter sand, you use 20% less. For a sand filter to perform at the level of a DE filter, try FilterGlass.
There's more new products, if you'd like to see more, visit our New Products section on InTheSwim, and enjoy this pool season with less stress and less mess!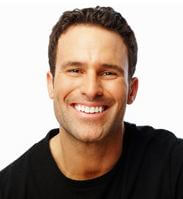 Davy Merino
InTheSwim Blog Editor