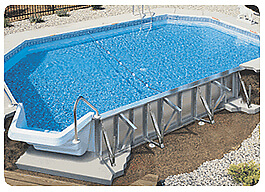 Did you know that In The Swim sells in ground pool kits? We've sold our pools to pool builders for years, and now any handy homeowner, even you, can build your own personal pool paradise.
Do it all Yourself, or schedule a week with our On-Site In Ground Pool Installation Assistance crew.
You provide labor and management of the pool project. You'll source locally the pool floor material, usually vermiculite, hire an excavator, electrician and have gravel and concrete delivered.
In case you're interested in knowing how to build your own pool, there is more research to do, but here's a quick run-down of the pool building process, from start to finish.
Plans & Permits
Before you get ahead of yourself, visit your local building and zoning dept., or look online for information on in ground pool permits. Read the requirements and restrictions on size, location, setback, fencing.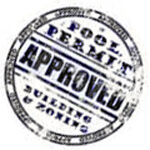 Get a plat of your property, and draw your pool shape to scale. Indicate decking, fencing, landscaped areas. Submit your drawn plan with the pool permit application, in person, with yourself listed as the Contractor.
Pool Purchase
Once you are issued a building permit, you can go shopping! Now that you know exactly the size and shape of pool, you can easily browse our pool styles and sizes, and then decide if you want the upgraded liner, cleaner and salt system option.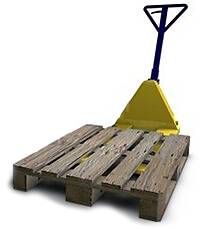 They're called pool kits, or package pools, because they are shipped with everything you need to build an in ground pool. Walls, steps, liner, pump, filter, cleaner, pipe and fittings, pool light – everything is included with our pool kits, shipped on 3-5 pallets.
Excavation
Contract with a local excavation company that has experience digging pools. They can follow the spec sheet that we provide, and dig the pool in just a few hours. If you won't be able to use all of the dirt removed, you can also have them provide a dump truck to carry away a few loads.

A week before digging the pool and pipe trench, call811 to have your property marked for underground utilities. This may be handled by your excavator, but be sure to call for this free service before you dig. It's the Law!
Walls and Floors
The pool is dug out 5 feet longer and wider than the pool size, to give you some room to assemble the walls. Panels are bolted together, and the braces or kickers are installed. A laser sight level or a transit is used to make sure that the wall panels are all plumb and level.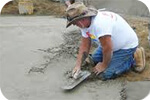 The materials for the pool floor can be vermiculite, vermiculite/concrete mix, sand/concrete mix, or all sand. After mixing, the floor material is troweled in place to a thickness of about 1 inch. Stakes and strings are used to keep the floor level and even as you go.
Concrete Collar Foundation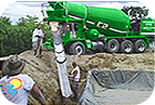 Once your walls are assembled, level and plumb, a concrete truck can bring you enough concrete to fill in the space outside of the pool walls, to a depth of about 12 inches. 2-3 helpers can push the concrete around the walls, so the truck doesn't have to move too many times.
This concrete collar will lock the walls in place, and create a permanent foundation for your in ground pool.
Plumbing & Electrical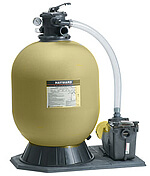 Plumbing is pretty simple. In the trench that your excavator dug from the pool to the equipment pad area, you will lay the plumbing pipe. You will be running 2-3 lines from the pool (skimmer and main drain), and at least one return pipe, bringing filtered water back to the pool. The pump and filter are connected into the plumbing loop, and once tested for leaks, the trench can be filled in.
Electrical is a bit more complicated, and we recommend that a licensed electrician perform the task of adding a sub panel breaker box at the equipment pad, wiring the underwater pool light, and making the required bonding and grounding connections.
Vinyl Liner and Water Installation
With 2-3 people, drape the liner over the pool, line up the corners and lock the bead of the liner into the track at the top of the pool wall.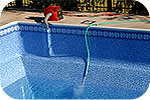 A vacuum is used to suck the liner against the pool wall, removing the air between the liner and the walls and floor. Once good suction is achieved, you can install the main drain plates, and begin to fill the pool. When half full, the pool light ring is installed, and when fully full, you can install the skimmer and return plates, and start up the pool pump.
Backfill Pool, Grade and Landscape
Your pool is operating and almost done! Now you can push dirt over top of the concrete collar, and up against the wall. Remaining dirt can be spread around if you have some extra room, or used to improve grade, slope and water run-off around the pool.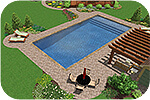 Landscaping comes last. Replanting of grass, or installation of rock gardens or planter beds, shrubs and small trees. What you put around your pool is what truly makes it your own personal pool paradise!
If you already have a pool, pass this blog along to someone you know who needs a pool, maybe you can even help them build their own pool! We have in ground pool construction help at 855-342-4741.
Call Today or browse the in ground pool kits on our website.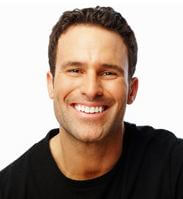 Davy Merino
InTheSwim Blog Editor