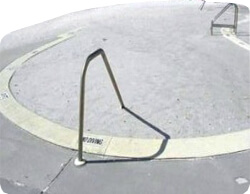 Well here it is again – the middle of winter. For those of you who close your swimming pools, you probably thought that you were done for the season.
To be sure that your pool is buttoned up properly, and small problems don't grow into big ones, here's a quick winter pool checklist.
1. Check the filter equipment
[] Breakers and time clocks are Off?
[] Damage from falling tree branches?
[] Any leaks or wet ground around the equipment?
[] Pool heater gas supply is turned Off?
[] Anything cracked, broken or misaligned?
2. Check the Pool Cover
[] Any holes in the pool cover?
[] Straps (mesh covers) and water bags (solid) are in good shape?
[] On Aboveground pools, check cable and clips, inspect air pillow.
[] For solid covers, has standing water and debris been removed?
[] For mesh covers, has water level risen to touch the cover?
3. Check the Pool Water
[] Is the water level stable, or has the level dropped?
[] Check pH, Calcium Hardness, Alkalinity. Adjust if needed.
[] If you use a chemical floater, is it empty?
[] Is there visible algae growth? Staining?
[] Are your wall plugs in place?
[] Is the pool clean?
Now that the leaves have fallen from the trees, it's time to clean up the areas around the pool, and clean the pool cover one last time.
If there are overgrown bushes or tree branches, this is a good time to do some pruning, to reduce your workload next year, and to protect your pool cover.
Pool water balance can change drastically with mesh pool covers, especially in areas prone to acid rain, or areas with high levels of airborne pollutants. Pull back the cover in a corner, or fold the cover along one side or end to expose an open area, so you can test the water chemistry and inspect the pool.
For some of you, big snow storms are on the way – so get out there this weekend, and give your pool, your pool cover and your equipment a quick inspection. Catch these problems early, and you can correct them now, before things get worse!
If you have any questions on winter pool maintenance, leave a comment below!
Happy New Year!