Now that National Pool Opening Day is behind us, we flip the calendar to May, and begin to observe National Water Safety Month. As most pool owners are opening their pools this month, May is a fitting month for pool safety awareness.
Spring is also a good time to review and inspect – simple things you should do and know, and pool safety equipment and barriers that need to be maintained, to make your pool safe for the entire summer swimming season.
Pool safety all starts with taking pool safety seriously and making it your top priority. Some simple steps you can take to make your pool and pool area safer is to never allow children in the pool area unattended whether the pool is covered or not. Never let children near the pool unsupervised no matter what – this just can't be stressed enough.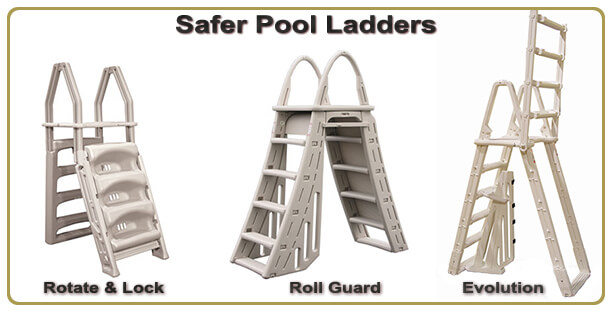 For aboveground pools, be sure to install (and use) a locking safety ladder. Above ground pool ladder systems range in prices and features, from basic locking ladders to  secure pool entry systems with a self – closing locking gate. Put that cheap ladder that came with your pool in the garage, and invest wisely in a locking pool ladder.
If you have an inground pool in the backyard, you should already have a perimeter fence around your backyard, but a secondary safety fence around your pool is even more effective to keep small swimmers from getting into the water.

Removable safety fences that are quick and easy to put up and take down, are perfect for pool owners who plan to have family or friends visit on occasion.They can provide 4-sided pool perimeter protection, or the 10 ft sections can be linked to walls, fences or other barriers to separate the pool from the rest of the backyard, or in reverse to barricade the patio from the pool area.

As a final Layer of Protection, pool owners also can install pool alarms that detect motion in your pool water should a highly determined person defeat your pool safety defenses and precautions. Safety Turtle is another popular alarm for kids and pets, the wearable turtle wristband sounds an in-home alarm when submerged in water.
With all the pool safety equipment available, there's still no substitute for being aware and prepared. The best thing you can do as a pool owner is know how to swim, and then teach your children how to swim. If you don't know how or never learned how to swim, taking swim lessons is a great way to build your own confidence in and around the water and a great activity to do with your kids.
Learning CPR

for children and adults is another great life-saving safety skill to know, allowing you to assist in pool emergencies while medical help is on the way. Something that is is much more common today than just 10 years ago is to have a phone nearby just in case you need to dial 911 in an emergency. Know where your phone is if you're in the pool, and react fast to emergencies while trying not to panic.
Finally, if you notice a child is missing from your house or yard, make the pool or spa the first place you look. Seconds count when an inexperienced swimmer accidentally gets into the pool, so check the pool first, then other vulnerable places first before searching the yard or the neighborhood.
As we kick off May, the best way to "celebrate" Pool Safety Month is by knowing the best ways to be safe in and around the water, and then practicing those methods and use the right equipment to make your pool a fantastic, fun and safe spot to enjoy all summer long. Another way to celebrate is with low prices – check our safety equipment pages and our steps and ladders, we're keeping sale prices all month long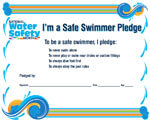 Take a visit to NationalWaterSafetyMonth.org for other pool safety resources like more useful Pool Safety Tips. Have your kids take the Safe Swimmer Pledge, suitable for framing! Click the image on the right for a larger version for printing (be sure to set your print properties to 'Landscape' printing).
Have a safe summer swimming season!


Larry Andersen
InTheSwim Staff Blogger