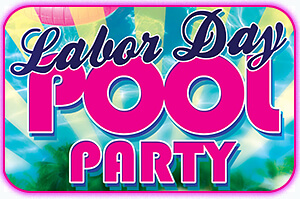 With Labor Day just around the corner, and summer coming to an end, there's no better way to ring in the new school year than with one final pool party!
If nothing else, the party can serve as a great excuse to bust out some new recipes and get one last wear in for all those white and summery garments. To start, first decide on a theme.
Theme! Some popular pool party themes for kids are Spongebob, Nemo, Mermaids, Pirates. Adult parties could use a Hawaiian luau theme, a surf beach theme, or no real theme, just festive pool party decorations.
Labor Day is all about celebrating the hard work that individuals in the US contribute each year. What better way to pay tribute to them than by choosing a, "Red, White and Blue" theme, the colors of the American flag?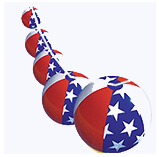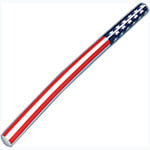 Decorate! One great way to get that theme in motion is with the decorations. The Americana Beach Ball, and Americana Doodle can definitely help portray your patriotic side. Arrange them in areas around the pool, or string them together for garlands.
Break out the Flag, and any other patriotic symbols or decorations you have for other summer holidays, and you'll have a perfectly patriotic pool party!
The Watermelon Slice pool lounger will raise spirits and help your guests relax and get in the mood for the summer food to be served later.

With the Mega Chill Cooler, your swimmers can keep their cool in the pool and not have to go far to quench a summer thirst! After dark, you can keep your guests entertained with the 3-Tier Fountain 
Food! I like to keep things simple when it comes to outside barbeques and pool parties. The best things to serve are always light and easy to grab with one hand.
Veggie, fruit and meat kabobs are always a great way to go for a summer pool party bbq. You can even combo the three on one skewer, or serve 3 or 4 different types of grilled kebabs.
One of my favorite skewer recipes to serve is cherry tomatoes, fresh mozzarella and basil dipped in balsamic vinaigrette. This simple recipe is always sure to please a crowd, and if you use a blue toothpick, you can keep this appetizer in line with your theme.
Dessert! is also an easy way to keep your food parallel with your theme. Dipping Pretzel rods in Chocolate and covering the chocolate with red, white and blue sprinkles is a simple idea that can serve as a dessert or even a centerpiece to your tables.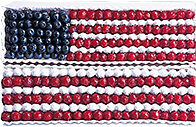 For those bakers looking for a more difficult idea the American Flag Tart, can be a great way to display your American pride, and as well as your extreme baking skills!
Drinks! Last but not least, don't forget the drinks. Sangria makes a great pool party punch.
For the kids, you can mix blueberries, strawberries and star shaped pineapple into sprite for a simple kiddy sangria.For the adult guests, try this recipe below.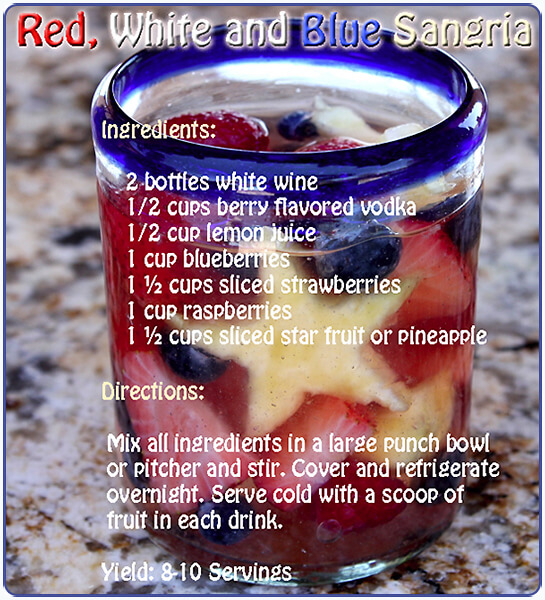 An hour on decorations, an hour in the kitchen, and you can have a year end pool party that your guests will long remember.
One more thing, Labor Day comes early this year, Monday, September 2 – so get started now planning on Last Sizzling Summer Party!


Dana Katz
InTheSwim Staff Blogger