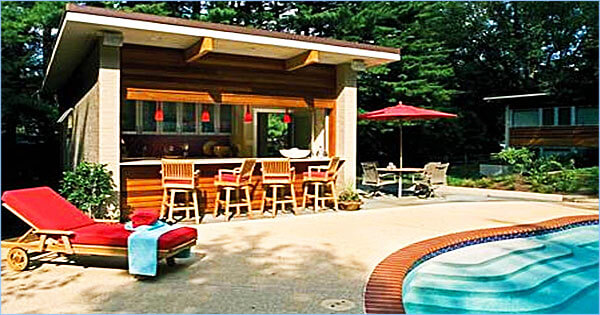 Whether it's a swim-up bar, a built-in bar on the pool deck or a standalone tiki-style bar, adding a bar to your backyard pool area is a great upgrade. Just as the kitchen is the heart of the home, the pool bar can be a place where friends and family gather when you entertain around the pool. Pool and Patio bars are also a great place to enjoy a meal. Follow these tips when planning your backyard space to bring everyone together.
Consider the Scale of the Project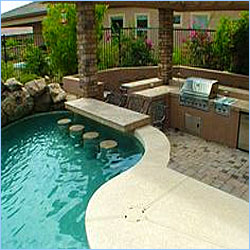 Before planning anything, consider how much space you have to work with and how much you can afford to spend on the project. These parameters will help you determine what's realistic and whether this is a DIY project or one requiring the expertise of seasoned professionals. For instance, if you're on a tight budget and have some space restrictions, purchasing a smaller poolside bar/counter will cost up to $500, whereas an in-pool swim-up bar will cost in the thousands of dollars and require professional design and installation. Instructables.com has a great DIY Poolside Tiki Bar project for just a few hundred dollars in materials.
Select a Style of Pool Bar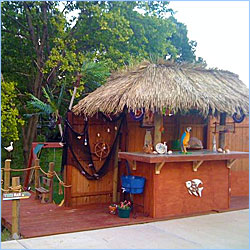 The best poolside bars complement their surroundings instead of steal the show as the center of attention. Let the style of your home and landscaping dictate the style of your pool bar. For a yard with a tropical feel, a Tiki Bar with thatched roof is the ideal addition to the backyard. If your backyard has a more formal and ordered layout, a simple stacked stone bar can blend nicely with the hardscape. Whatever your style, the goal is for the bar to blend seamlessly, so stick to the same materials that you already have in place throughout your pool area to create a consistent, cohesive look. Accessorize your bar by adding a theme to your new pool hangout; nautical, tropical, country; whatever you're into.
Consider the Climate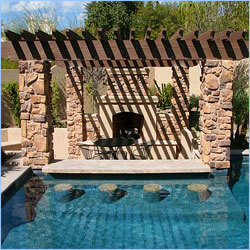 There are a variety of accoutrements you can add to the bar area to keep the temperature comfortable throughout the year. Shade is essential to any great outdoor gathering area. Building the bar under a simple shade structure like a Wood Ramada is one way to accomplish this, but installing a large shade umbrella over the bar area is equally effective for those on a tight budget. If you live in a dry, desert climate like the Southwest, a mister system can be a worthwhile indulgence to bear 100°+ heat. Likewise, stay warm on cool autumn and spring evenings by adding a propane patio heater near the bar to warm up a little quicker after a late night dip.
Coordinate Your Furniture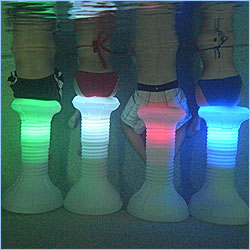 Bring the entire scene together by selecting bar stools and bar-top decor that coordinates with the rest of your patio furniture. If you aren't able to find bar stools that match your furniture exactly, make sure they're at least in the same color palette. Check out these lighted Pool Stools for poolside or swim-up bars. Then you can tie the look together with outdoor throw pillows—add them on the chaise lounges, patio chairs and bar stools for a cozy, welcoming flourish. Finally, consider adding a large hammock, wind chimes and bird feeders in matching colors.
We like to explore all topics of pool decor on this blog, for more ways to add style and substance to your pool, see our Fun Stuff category, and design your own poolside bar to serve family and friends, around the pool!


Dana Katz
InTheSwim Staff Blogger