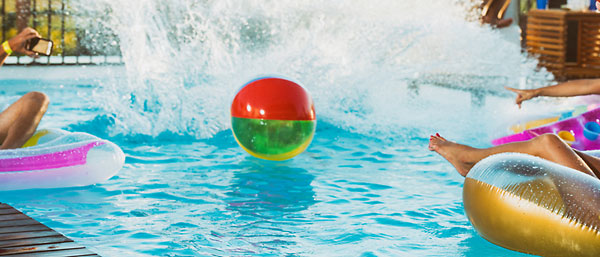 Pool parties are as much a part of owning a pool as chlorine and pool floats. While there are countless blogs and Pinterest boards featuring pool party recipes, decorations and themes, we're not going there.
Today we dive deeper into the details of hosting a pool party – prepping your pool for the onslaught with tweaks to pool safety, some cool pool accessories, and solid water chemistry for a heavy swimmer load. Let's jump right in!
POOL PARTY PREP: Pool Safety


May is National Pool Safety Month, and as the saying goes, "safety first!"  The number one priority of any pool party should be ensuring your guests are safe especially if your party is kid friendly. Young children should all be secured with life jackets or water wings, and remind them of the pool rules before unleashing them into the water.

Designate a Lifeguard! If you don't hire a lifeguard, put responsible adults in charge of watching the pool, in 30 minute shifts. Give them a lifeguard hat to make it official. Deflect conversations away from your lifeguard, and show up promptly with a replacement guest-guard in 30 minutes. Accidents do happen, recruit your guests for better pool party safety.

Pool safety certainly transcends age, and the first party of the season is a great time to make sure that your handrails are secure, there are no loose steps on on your pool ladder, or loose bolts on the diving board. And, no pool should be without a first aid kit! Also be sure to store your pool tools, chemicals, and electrical boxes safely out of reach of children.

If you have changing room or bath room that you know swimmers will be using during the party, you can put down a rug or even some non-skid tiles so that no one slips and falls. Dri-Dek tiles are an affordable and effective way to keep slippery swimmers safe. They lock together quickly and can be easily stacked during the off-season, or put to other uses.
POOL PARTY PREP: Pool Accessories


A pool accessory that may not always be practical but certainly affects pool sanitation and will save you money in the long run is a pool shower. Asking your guests to shower before they enter the pool, that's the impractical part, but affordable outdoor pool showers spare your pool sanitizer the extra work keeping the pool clean. Our simple hose-attached pool showers makes it convenient – maybe even fun!

Another great pool party accessory is the simple foot bath for your guests to rinse their feet off in before entering the water. Durable and easy to use, just fill our Big-Foot foot bath with pool water, and dump it out after the party. Stops grass clippings, dirt and gunk from sticking to kids faces – no fun!

At my own Las Vegas style pool parties, I like to make sure that I provide plenty of pool towels for all my guests. These In the Swim blue-stripe pool towels are super affordable at $19.99 per dozen. While guests may bring their own towels there certainly will be some that don't. These look really pool-y, and everyone appreciates a fresh pool towel at the ready.

A pool party can never have too many pool floats or pool noodles for guests to float around on especially if there are children involved. Investing in a box of pool noodles or several of these affordable Color Brite Pool Floats will ensure everyone that wants a float or a noodle will have one.
POOL PARTY PREP: Chemical Maintenance
In an upcoming post, we'll talk about the chemical maintenance that goes into recovering your pool water after the heavy swimmer load of hosting a pool party. However, there are a few preemptive strikes that will put you ahead of the game and help ease the time it takes to get your water back to pre-party form.

The first thing is to shock the pool, about a week before the party. My shock recipe is pretty simple. For my 20,000 gallon pool, if the water looks great, I use 2 lbs of pool shock. If it looks hazy and dull I use 3 lbs, and if there is measurable combined chlorine (chloramines), I would use 4 lbs. And for visible algae in the pool, I'd use 5 lbs of pool shock, for my 20K pool size.

Treating your water with a dose of Pool Perfect enzymes can help eliminate oily, waterline build up and removes human skin, hair and (other) waste, and any organic pollutants that find their way into the pool during a party. Not only do these enzymes help prevent stains, they also clarify, and help make sanitizers like chlorine last longer and work better. It's a win-win-win.

A pre-party treatment of In The Swim Clarifier is a smart move, especially for small filters that have trouble with heavy pool use. Pre-treating your water with clarifier a few days before the party will remove suspended but invisible solids that get in the way of sanitation, and make pool water dull and hazy. Pre-treat, before the party to give polish and shine to your pool water.
The Perfect Pool Party Plan:
Pool parties are certainly one of the best things about owning a pool but they can also lead to maintenance headaches and even some safety concerns when not approached responsibly. One of the most common questions we encounter is, "I threw a pool party, and now my water won't clear-up!". It is almost inevitable, depending on the size of your party, that your water is not going to be as clear as it was before the party. But with proper pool party preparation and planning… 🙂
Over the next few weeks we'll be looking at the steps you can take to make pool party maintenance and safety as simple and effective as possible. Following the steps and tips suggested in this article is a great way to ensure your pool party will be off to a great start.
Now you only need to plan pool party games, and add décor and snacks!


Ryan Dornan
InTheSwim Staff Blogger