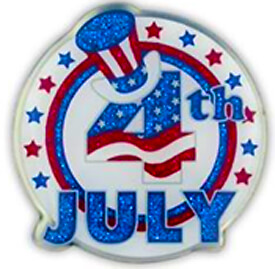 With the 4th of July right around the corner, it's time to start thinking of some fun and flavorful food and drink ideas for your Independence Day pool party!
If you're like me and enjoy cooking and creating, you also love a perfect recipe to wow guests with! You'll love some of these wonderful Red, White, and Blue recipes!
PATRIOTIC POOL PARTY DRINKS
How about kick starting your star spangled extravaganza with refreshing, layered red, white, and blue drinks!  You don't have to be a culinary expert to make these look amazing, and impress everyone at the party!
From Katrina's Kitchen, here's the Red, White & Blue Layered Drink.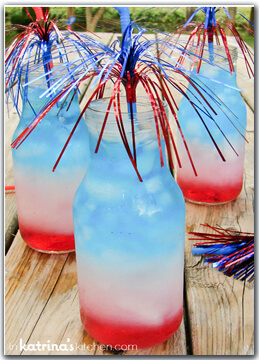 INGREDIENTS:
1 Cup Red CranApple juice
1 Cup White Sobe Pina Colada

1 Cup Blue G2 Gatorade
3 Cups Ice Cubes

DIRECTIONS
Fill glass 1/3 full with CranApple

Fill the glass full of ice

Slowly add Sobe over ice

Slowly add Blue Gatorade on top
The ice helps keep the layers from mixing. After the CranApple, very slowly pour the SoBe Pina Colada over the ice. If you pour too fast, the layers will mix and you'll have pink instead of red and white! Once you're done with the white layer, slowly badd the blue Gatorade on top. You can finish them off with colorful red and blue straws or even make them in mason jars!

Another fun idea for this drink is to get star shaped ice cube trays. Make a bunch of star shaped ice beforehand to give the drinks and even more patriotic touch!
From FoodFamilyFinds comes this great idea for a Kool-Aid Kooler.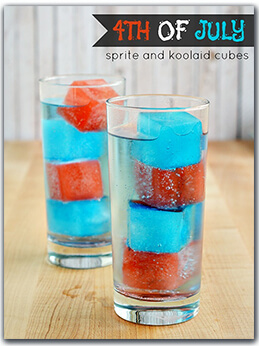 INGREDIENTS:
1 pack Red Kool-Aid

1 pack Blue Kool-Aid

2 Cups Sugar

3 Cups cold clear liquid



DIRECTIONS
Make Blue & Red Kool-Aid

Pour into large ice trays


Add cubes to clear liquid
A great patriotic pool drink with blue and red flavored ice cubes! All you do is make red and blue Kool-Aid ice cubes and add it to any clear liquid. Freeze the Kool-Aid in large ice cube trays. Add these cubes to a glass of sprite or even just a glass of water for a fun refreshment!

The larger the ice cubes, the longer the fun lasts! Use muffin tins for the largest cubes! Chill your glasses and your clear liquid before adding your Kool-Aid cubes.
PATRIOTIC POOL PARTY SNACKS
Now that you've quenched everyone's thirst, we should probably talk about what food you'll be serving your guests.
Let's start with the timeless classic, essential to every summer barbeque; from CreatedByDiane, we have Red, White & Blue Deviled Eggs.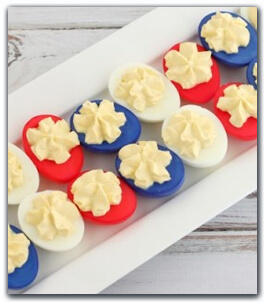 INGREDIENTS:
1 dozen Eggs

1/4 cup non-fat plain yogurt

1 tablespoon Mayonnaise
1/2 teaspoon dry mustard

Salt & pepper to taste

1 teaspoon vinegar

1 cup hot water

Red & Blue food coloring
DIRECTIONS
Hard boil the eggs, peel & slice in half

Mix other items and load piping bag


Dye eggs in hot water with a teaspoon of vinegar



Pat dry, squeeze on topping
Cut eggs in half and pop out the yolks. Use a fork to break up yolk until fine. Add mayo, white vinegar, mustard, salt and pepper and whip up with spatula until smooth and creamy. Place mixture into piping bag fitted with a decorative tip.
Mix 1 cup hot water and 1 teaspoon food coloring with 1 teaspoon vinegar.  Make one bowl for red, and one for blue.  Place egg halves into the dye for 1-2 minutes. Remove to cooling rack to drip dry. Arrange eggs on platter and squeeze the egg yolk mixture into the egg white halves.
For a festive side dish, try this wonderfully colorful potato salad recipe! No food coloring needed! From RecipeTips, we present to you Red, White & Blue Potato Salad!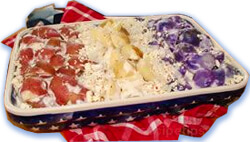 INGREDIENTS:
1 1/4 lbs blue potatoes

1 1/4 lbs small red potatoes
1 1/4 lbs small white potatoes
3 bunches of spring onions

1 cup non fat plain yogurt
1/4 cup white wine
1 tablespoon Dijon mustard

2 teaspoons sugar


Salt & pepper to taste



DIRECTIONS
Make the dressing first to allow it to chill. Whisk together onions, yogurt, mayonnaise, wine, mustard, sugar, salt, and pepper. Cover and chill.
Place potatoes into a large pot with enough water to cover potatoes. Add 1 teaspoon salt and bring to a boil. Cook potatoes until just tender, approximately 15 minutes. Drain.
Allow all potatoes to cool and cut into bite size pieces. Arrange all red potatoes at one end of the salad dish, white potatoes in the center, and blue potatoes on the opposite end of serving dish. Pour dressing over potatoes carefully. Cover and chill 2 to 3 hours before serving.
PATRIOTIC POOL PARTY DESSERTS
We touched on drinks and food, but what about dessert? These next easy recipes are sure to put the perfect, sweet, finishing touch on your fabulous Fourth of July feast!
From the 43rd Pillsbury Bake Off, we have Charlotte Gitner's winning entry of Red, White & Blue Dessert Tacos.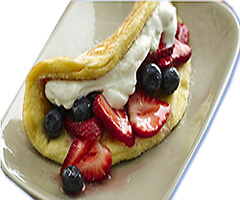 INGREDIENTS:
2 cups sliced strawberries




1 cup blueberries

2/3 cup sugar

1 cup whipping cream

1 can Pillsbury Grands!™ Biscuits

2 tablespoons flour

1/4 cup vegetable oil
DIRECTIONS
Gently mix strawberries, blueberries and 4 tablespoons of the sugar. Cover; refrigerate, stirring occasionally.
In small bowl, beat whipping cream with electric mixer on low speed until slightly thickened. Increase speed to medium. Slowly add 2 tablespoons of the sugar, beating until stiff peaks form. Cover; refrigerate.
Separate dough into 8 biscuits. Sprinkle flour on work surface; press or roll each biscuit into 6-inch round. In 12-inch skillet, heat 2 tablespoons of the oil over medium-high heat. Add 2 biscuit rounds to skillet; cook 30 seconds to 1 minute on each side or until light golden brown. Repeat with remaining biscuit rounds, adding more oil as needed. Drain on paper towels. Sprinkle one side of the biscuit rounds with the remaining 4 tablespoons sugar.
With slotted spoon, spoon 1/3 cup fruit mixture lengthwise in middle of the un-sugared side of each biscuit round. Spoon 1/4 cup whipped cream along outside edge of fruit; fold biscuit round over to form taco. Serve immediately.

For a different dessert, roll out the dough, and bake 4 inch rounds until crispy, about 8-10 minutes. Add the filling mixture and cream between two or three layers for a quick fruit Napolean!
If you're looking for something a bit more simple, these Red, White & Blue Strawberries from BakingBites are a quick treat to make.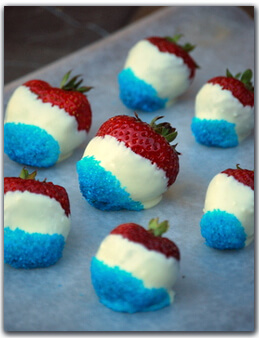 INGREDIENTS:
1 pint whole strawberries

4 oz white chocolate

Blue sugar or sprinkles
DIRECTIONS
Melt chocolate over low heat

Dip strawberries in chocolate

Dunk into blue sugar or sprinkles

Cool on wax paper

Pretzels can also be dipped into tri-color chocolate or just white, and sprinkled with red and blue sanding sugar, or cake sprinkles. Keep chocolate treats in refrigerator until ready to serve, unless your home is very cool!
Finally, from BigBearsWife comes this recipe for Red, White & Blue S'more Pies, using colored Jumbo StarMallows™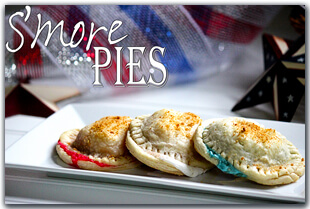 INGREDIENTS:
1 bag Jumbo StarMallows

4 Hershey's chocolate bars

1 packaged pie crust

2-3 Graham crackers
2 tablespoons butter
DIRECTIONS
Cut out pie dough into 16 3-in rounds

Place 1/2 chocolate bar on bottom

Place jumbo StarMallow on top

Top with another 3-in round; pinch edges

Brush with butter and sprinkle with graham crackers crumbs
Bake at 425 for 8-9 minutes

So, are you officially as hungry as I am now?! Whether you are a novice in the kitchen or a master chef, I hope at least a couple of these recipes help you get started with the menu for your party! Maybe they've even inspired you to create some of your own red, white, and blue treats!

And don't forget to keep the atmosphere fun! Make sure to incorporate red, white, and blue into your outfit for that extra added touch! You can even hand out Fourth of July inspired party favors to your guests like flag pins, hats, and glow sticks! Finally, plan a great place to sit and watch fireworks.
I think you have just about all you need now to have a fantastic Fourth! Now, what are you waiting for? Time to get cookin!


Christine Silviestri
InTheSwim Staff Blogger