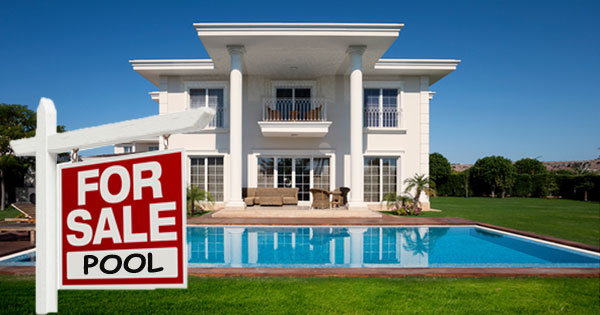 The pool in your back yard is the crown jewel, the focal point of every summer day, but now you're selling your home and that jewel could be something of a thorn in your side. You know what it takes to keep your pool clean and nice, but prospective home buyers list pool maintenance as their largest concern, along with pool safety.
In fact, depending on the area of the country you live in, having a pool in your backyard is seen as an "absolute must-have" when selling your home. Realtor.com mentions 10 best cities for homes with pools, and those cities are all in warm weather, sunny regions like Florida, Texas and Arizona where pools are open and used year-round.
Real estate agent Phil Rotondo in Melbourne, FL, agrees with this circumstance (as taken from Trulia.com), "in normal instances in Florida, we add $25-30K to the value of the pool home vs. non pool home."
So you live in Michigan and want to sell your home with a pool, what do you do? We put together some ideas on what you can do with your pool to make your house more marketable to more people.
Advice On Selling Your Home With A Pool
Be Prepared. As a seller, you need to have a plan in place on how to handle potential negative views of having a pool before you even list your home for sale. Start with being honest with yourself and your pool appearance. Pool, deck and equipment should be spruced up by a deep cleaning and replacement of caulk, grout, and worn or broken pool parts. Trim overgrown trees to bring in more sunlight and reduce debris. Fix sagging gates or leaning fence posts. Make the pool appear bright & clean, low-maintenance, and safe for children.
Open the Pool. A closed, covered pool brings a lot of questions and worry in the eyes of home buyers. "A home with a pool is always more salable when the pool is open", Mike Christoffel, owner and broker of MBC Real Estate Group in West Chicago, explains. "The idea of opening a pool is intimidating for a buyer, and can be overwhelming. If it is ready for a swim the day you close, that stress can be ignored until it is time to maintain the pool." For pools that are closed during showings or contract negotiations, an offer can be written into the agreement that the seller will pay for a pool opening, to full operational status.
Time it Correctly. The best time to sell your home with a pool is when the weather heats up. Get your pool ready to go early in the season and have it looking pristine as possible for every showing. "When it's warm out, a buyer who doesn't want a pool is more likely to be seduced by an inviting pool," Christoffel says. And also make sure that you plan for any repairs to get the pool ready. "If your realtor can advertise with confidence that the pool is in fantastic shape, they can draw in more non-pool buyers as well."
Provide a Pool Binder. Having everything it takes to open, maintain and then close a pool thoroughly explained and neatly typed for prospective buyers can save a good deal from going bad. A Pool Binder contains everything about the pool equipment, with detailed information showing them exactly how the pool operates. Service records, chemical records, renovation and replacement work done, shows buyers you've cared for your pool which gives them confidence and alleviates some of the worry. Remember that pool maintenance and safety are often their largest concerns. Offer a complete pool orientation to the buyer, as well as providing names of reputable service companies.
Convey your Pool Gear. This is one thing home sellers often overlook. Have the pool chemicals, pool equipment and pool accessories you've purchased be a part of the deal. First go through all of your pool supplies, and throw away or dispose of broken or unusable parts or products. Organize and clean-up your pool supply storage areas to make it easier to understand.
Consider including your trusty robot pool cleaner, pool floats or pool furniture or other pool accessories that make pool maintenance easier or the pool more enjoyable. If you have pool alarms, removable fencing or pool safety covers, be sure to mention that to prospective buyers.
When is Installing a Pool Worth the Money?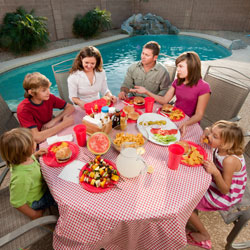 Let's start by saying that you should enjoy life, and if you want a pool, then get a pool. Pools are a whole lot of fun, refreshing, a source of great exercise (don't tell the kids that), and make memorable moments that last a lifetime.
Ask anyone who had a pool growing up, and they'll tell you all about the good times they enjoyed on endless summer days in their backyard pool.
On the more "business side" of getting a pool, there are a couple of things to consider that might help you make a decision about installing a pool:
Your Neighborhood. If every home that is comparable to your home has a pool and yours doesn't, that could actually work against you. Here, HouseLogic.com best explains if many home in your neighborhood have a pool and yours doesn't, you might be leaving a lot of potential buyers out of the running. Check your Comps – to know what other homes with pools are on the market.
Your Market. Homes on the luxury end of the value spectrum tend to have bigger yards. According to Christoffel, a lower-priced, but attractive and well-kept home most likely has a smaller yard. If you install a pool in a smaller yard, the pool will also have to be small or it will take up a sizable chunk of usable space in the yard. That same-sized pool in a bigger yard in a more expensive neighborhood will take up much less real estate making the house, and yard, more attractive to buyers.
Your Climate. Pools in warm southern climates (growing zones 9 and 10), have their pools open year around, but here in Chicago, and points north, the pool season is only 4 months long. Those in the mid-section of the country enjoy a swim for 5 or 6 months out of the year. It makes sense why swimming pools are more common in the south, however, there are still millions of pools located in northern states.
This is the first edition in a four-part In The Swim blog series with the focus of providing valuable information and ideas to home owners, home buyers and real estate agents regarding swimming pools.


Larry Andersen
InTheSwim Staff Blogger