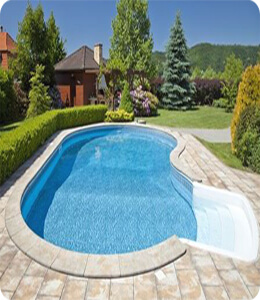 A swimming pool is a great asset to your home. It adds aesthetic value to your yard, provides years of exercise and enjoyment and adds resale value to your home, especially when done right!
Here are a few key things to consider when preparing to install a swimming pool.
What Kind of Pool Do You Want?
Inground Pools. There are many different styles and types of swimming pools, and you have to decide what is the right kind for you and your family. There are three basic types of inground swimming pools: vinyl, concrete and fiberglass.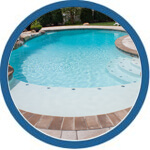 Concrete pools (also called Gunite) are the easiest to customize into any desired shape and are the strongest and sturdiest. However, they usually take the longest to build, being that it has more construction phases. Average construction time for inground concrete and plaster pools is 8-12 weeks.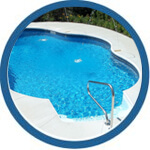 Vinyl inground pools use rigid wall panels set in concrete, with a concrete or vermiculite floor, over which a vinyl liner is draped. They usually take 2-3 weeks to install. Modern vinyl pools can be built with curves or features not seen in older styles. By the way, we sell DIY vinyl inground pool kits, in case your interested.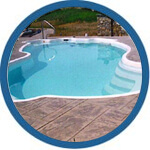 Fiberglass pools are molded in a factory and installed in the ground with a crane. They are the quickest to install, usually 1-2 weeks. Fiberglass pools are available in a wide variety of shapes and sizes. You can buy DIY fiberglass pool kits too, in case your interested.
Above-ground Pools. Another option is to install an above-ground pool, and one of its biggest benefits is cost. Above-ground pools have more location options for the space available, and a pool deck adds the look and feel inground pools.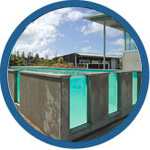 Concrete pools – Yes you can build an aboveground pool out of concrete. Many custom and very 'avant-garde' pools are being built from plain old concrete poured into wood forms, then usually finished in plaster or tile. Above ground pools sure do save a lot of work, and can be built in just 1-2 weeks.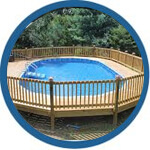 Vinyl Pools or aboveground pool kits are the standard type of above ground pool. There are about a dozen common sizes and two shapes, from as small as 12′ round, to 21'x41′ oval. You could install yourself or buy a pool through a local dealer, who will probably insist on installing his own pool package. Dealer installed pools typically can be built in 1-2 weeks.
What Are the Costs?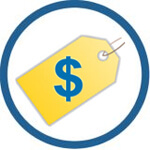 Your costs depend directly on the kind of pool you want. While there is no set price for a swimming pool, the factors that determine the costs include your region, options, materials and custom features.
Base costs for an inground pool vary widely, according to your region, but standard vinyl pools can range from $20-$40000, and your basic inground gunite ranges from $30-$50000. And they go up from there! Elaborate custom pools can cost six figures!
Above-ground pools however usually cost between $1500 and $4500, depending on the size and features you buy. Installation will also vary, but will run along the same lines, about $1500-$4500, depending on size and scope of the project. For a nice wood deck with stairs and railings, and beautiful landscaping, add another $1500-$4500.
No matter what type of pool you choose, the best way to get a precise estimate of cost is to meet with a few different contractors to discuss what you want and compare their bids.
What Safety Precautions Should You Take?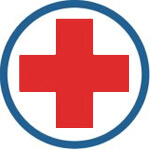 If you have children or pets, always secure your pool when not in use. The American Red Cross suggests installing a non-climbable fence or barrier four feet or higher with a safety latch gate. You can also use a safety cover or automatic cover.
Never leave pets and children unattended by a swimming pool, talk with your children about the importance of water safety and check into pool safety equipment that's available.
An aboveground pool is said to be safer for children and pets, since accidentally falling in is more difficult, but that's not necessarily true with curious children or adventurous animals.
What Kind of Maintenance Is Required?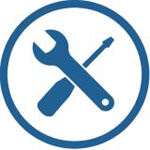 Regular pool maintenance is a big part of keeping your pool pristine and functional. As a pool owner, you'll need to do some equipment maintenance, pool cleaning, and chemical management.
Chemical management involves testing the water a few times per week, and adding chemicals to keep it pH balanced and chlorinated. Pool chemicals like chlorine tablets and shock, balancers, clarifiers and algaecides, to name a few.
Equipment maintenance involves keeping the pool filter and pump running well by cleaning the filters and baskets and keeping a general eye on things, to be sure everything is working correctly.
Pool cleaning is simply skimming, vacuuming and brushing; these will be required of the pool owner from time to time, even if you buy an automatic pool cleaner.
Your pool interior will require refinishing at some point. Vinyl liners typically last less than ten years, whereas a plaster or fiberglass finish can last up to 20 years.
Most types of pool equipment (pump/filter/heater/cleaner) will last about ten years, however they can last much longer with your good care, replacement parts and a bit of good luck. 🙂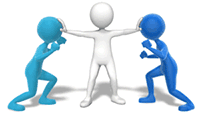 In my next post I'll get into much more detail about choosing a pool, when we put aboveground pools vs. inground pools together for a head to head match!
Toodles;


Sheryl Sollis
InTheSwim Staff Blogger