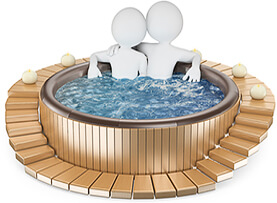 Heat up the Winter!
When some people think of winter, they think of cold weather, frigid temperatures, icy roads and snow. Now you can change all that, and think of heating up – in a Hot Tub.
The purpose of our spa buyer's guide is to help compare and contrast several hot tubs and spas features; what's included and how to distinguish between the 18 different spas and hot tubs for sale.
A section at the end to help you with helpful accessories that can be beneficial to any hot tub or spa. Before you soak in a nice hot tub, first soak up some information about spas and hot tubs.
SEMI PORTABLE SPAS
Still portable, but less so, with weights of 300-900 lbs dry and 2000-4000 lbs when full of water, they are designed for a more permanent placement, indoors or outdoors.
Within this category of portable hot tubs, we have spas made of beautifully mixed and rotomolded resins, with hot tub prices of $2-4K, or our more luxurious acrylic finished hot tub prices in the $4-6K range.
Distinguished by features such as number of jets, seats, lights and the pump and heater size, we offer over a dozen permanent hot tubs for sale, priced right and packed with features of much more expensive portable hot tubs.
ROTOMOLDED SPAS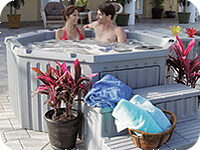 The AquaRock Bliss Spa is our entry level model. Rotomolded design has a lifetime warranty, and a light weight of 285 lbs (dry). 11 jets powered by a 2 hp pump and filter. The Bliss Jet Spa comes with enough seating for 4 to 5 people. Underwater LED lighting and a backlit digital topside control.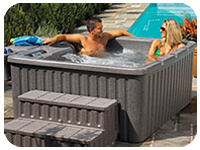 The AquaRock Serene Spa has 14 jets and a maximum capacity of four people. It runs on a 2 hp pump and is ozone ready.  Like the other Aqua Rock hot tubs, it has a backlit digital topside control system and has free chemical start-up kit available with purchase.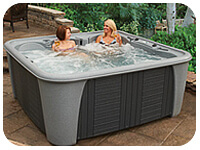 The AquaRock Tranquility Spa has 29 black jets, 6 seats and 310 gallons. The Underwater LED light is included, and the Xanadu comes ready for an Ozonator. The Pump is 2 hp and it has a 1kw/4kw Stainless Steel All-season Heater and ThermoCell. digital topside control system.
ACRYLIC SPAS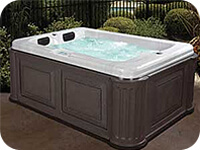 The AquaRock Fiji Acrylic Spa is an affordable acrylic spa that also includes LED lighting and an insulated cover. Runs on a powerful 4 Kw heater and a 4 hp pump, pushing through 40 jets. The beautiful acrylic finish comes in several colorful options. Fits 2-3 people in single lounger or dual lounger designs.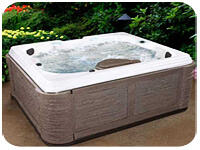 AquaRock Mykonos Acrylic Spas have 4-5 seats and includes such features as a waterfall, internal step / cool down seat, 5 hp pump, 4 kw heater, blower and 50 stainless steel jets. Weighing in at 785 lbs (dry), the Mykonos spa holds 325 gallons and has 8 total points of led lighting.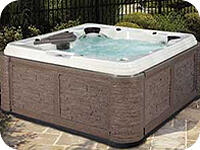 The Aqua Rock Morocco 90 Jet Hot Tub has 5 to 6 seats, a backlit LED waterfall and 16 total points of LED light, and has an ozonator installed. Rollover shoulder jets and 400 gallons make this our largest spa size. Like our other fine spas, it comes with a spa cover and a lifetime warranty on the spa cabinet.
SPA ACCESSORIES
For a complete relaxing experience, you can even include spa fragrances. Crystal and liquid fragrances provide aromatherapy and help your time spent in the spa to be even more relaxing.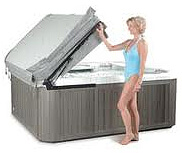 Spa cover lifts are the easy solution to storing and covering up your hot tub. This way you don't have to worry about where to store the cover, or injuring yourself or damaging the cover while removing and replacing.
Spa steps or rails are helpful to ensure safe entry and exit from the spa, and some even come with built-in storage compartments or planter boxes.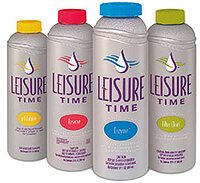 Finally, don't forget spa chemicals and cleaning tools, to keep the water fresh for up to 3 months between changes.
I hope that this spa and hot tub buyer's guide will kick start your search for a brand new hot tub or spa. Now that you know some of the basics of what to expect and what kind of accessories are helpful for spa maintenance, you can now move forward with confidence in your selection process.
View all hot tubs for sale and if you have any questions regarding, drop us an email, or call us anytime at 800-288-7946.


Alex Malamos
InTheSwim Staff Blogger