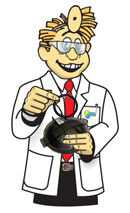 Hello, I'm Dr. Pool, but today, you can call me Dr. Pool Parts – as today's lecture centers around how to diagnose and treat ailing pool equipment, with the proper pool parts.
You can make your own repairs to pumps, filters, heaters, cleaners, skimmers, valves and more by using the InTheSwim Parts Finder.
More on that in a minute, but first, let's discuss how to diagnose your pool equipment's condition, determine the disorder, and prescribe the proper pool parts! 😉
Diagnosing your Pool Equipment
Even without formal training in pool equipment medicine, most homeowners can successfully use innate investigative skills to narrow down the source of a problem.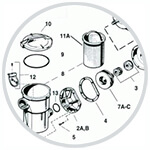 A schematic diagram of the piece of troubled equipment, and a general knowledge of how the device works, can help you quickly locate the problem part(s) in a matter of minutes.
An exploded diagram of pool equipment can help you see all of the interconnected parts and understand how water moves through the ailing piece of pool equipment.
Determine the Disorder
With the patience of a Doctor, inspect the patient closely, and listen for subtle clues that it may be presenting, to properly label the condition.
Are any parts missing? Match your equipment to the diagram. Like the o-ring that failed the Space Shuttle, small parts often are the source of big problems.
Are any parts worn? Certain pool parts can wear or deteriorate from water flow, chemicals, or being overworked. Look for signs of wear and tear. Check seals and o-rings for good fit and finish.
Are any parts broken? High pressure flow can cause some items to crack on the equipment pad, and rambunctious pool users can damage items in and around the pool.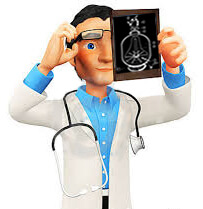 Many times you can visually see a worn or broken part, and other times, you only have external symptoms as clues to what may be wrong. That's why a schematic is so useful, like an X-Ray of your pool equipment!
With your schematic in hand, (or on the screen), you can confidently disassemble parts of your pool equipment, in a bit of exploratory surgery.
Especially for pumps, filters, heaters and cleaners, many times you may need to get inside, to find out what is really going wrong with the patient.
Finding your Pool Parts X-Ray
The beauty of the InTheSwim Parts Finder is that it's so simple to use.
Select your Category
Select your Brand
Select your Model
You'll then see the parts schematic for your piece of equipment, with a list of the parts beneath that correspond to the call-out numbers in the picture.
Most pool parts are sold individually, however some parts may be packaged together in a kit of 2 or more parts.
Pool Parts Prescription

With the patient fully examined, and considering all other evident symptoms –  you are now ready to prescribe treatment.
Place your order for any needed pool parts, and schedule the surgery! Most pool equipment repairs are minimally invasive, and can be done on an outpatient basis. 😉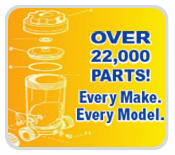 With over 22,000 pool parts, stocked in 9 warehouses, pool parts arrive fast! Most parts, with the exception of odd or rare pool parts, ship the same day that you place the order, and are on your doorstep in just days.
Of course, if you need any help diagnosing your patient's symptoms, you can always send an email to me, Dr. Pool, or call our help line for free pool tech support by phone.