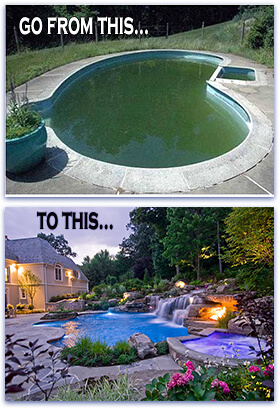 Thinking of a pool restoration? Maybe as part of a larger backyard project, or if you haven't updated your pool in 20 years, it may be time for a stand alone pool rehab.
Today's post is all about your pool design dreams – here's some killer pool renovation ideas, from pool owners just like you, that have planned and pulled off a successful swimming pool remodeling project.
First we'll look at aboveground pool remodeling ideas, and then dive into some great inground pool renovations.
Aboveground Pool Renovation Ideas
Sunken!
Partial or full burial of an aboveground pool, makes it into an inground pool! If your backyard slopes away from the house, you can bury the front side, and install a wood deck at ground level. Be sure to check with your pool manufacturer to see if your pool model is suitable for contact with the earth.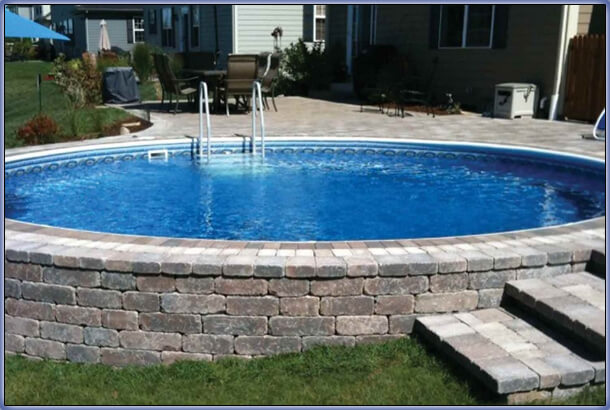 Decked-Out!
Nothing is more functional and beautiful aboveground pool remodel than to add a surrounding pool deck. There are so many ways to deck out an aboveground pool, here's just two ideas.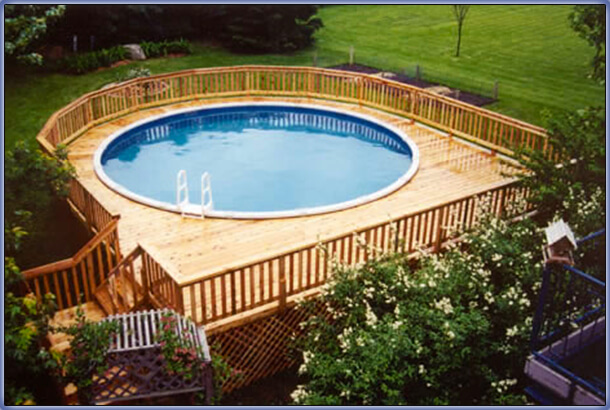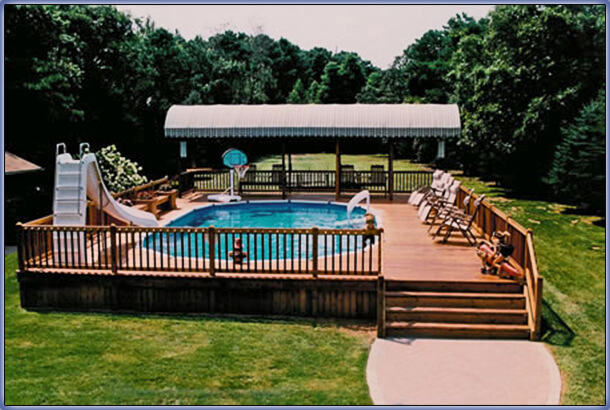 Lushly Landscaped!
For aboveground pools, a nice rock or mulch border around the pool is a good start. From there, small bushes and perennials can be used to soften the look around the pool walls. Evergreens or hedgerows can be used for privacy around an aboveground pool.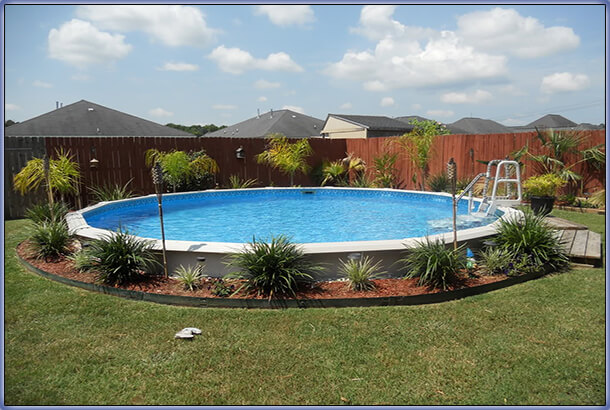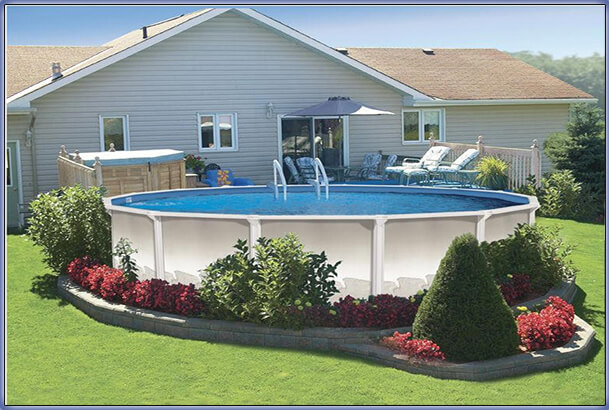 Well-Equipped!
Some aboveground pools come with a too-small pump and filter unit, designed to run nearly 24/7. Larger pump and filter systems keep the pool cleaner and the water clearer with less run time.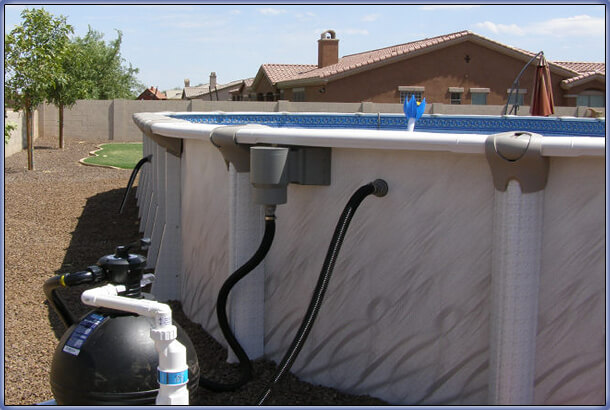 Additional pipes, valves and wall fittings can be added to an aboveground pool, for secondary returns or skimmers, or for a dedicated line for a pool cleaner. Salt systems and mineral purifiers are another popular aboveground pool equipment upgrade. Roof mounted solar panels, or a pool heat pump can be one of the most appreciated pool remodeling projects.
In the pool and around the pool, pool lighting can really improve the night time ambiance around your pool. LED multi-color underwater lighting inside the pool, and solar fence lights for the fence, or down lights on the pool uprights.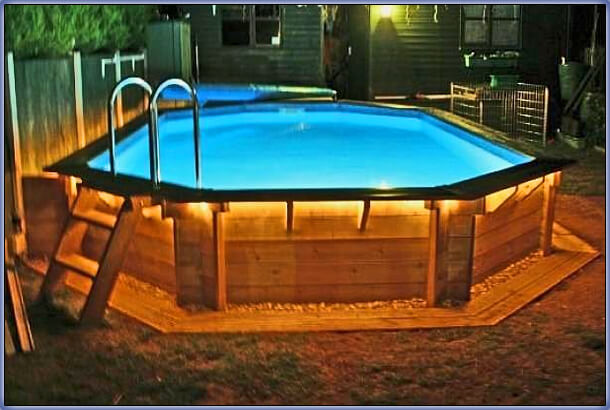 A new pool liner may not be a major pool renovation, but one advantage of the aboveground pool is that a new look can be applied to the pool every few years, without too much effort or expense. Adding floor padding, wall cove and wall padding are nice upgrades, or resurfacing the pool floor with vermiculite, instead of sand.
Inground Pool Renovation Ideas
– Resurface!
Look at all the surfaces around your pool, starting with the pool deck and coping around the pool edge. Stone, wood, stampcrete are just a few of the options for pool deck refurbishment.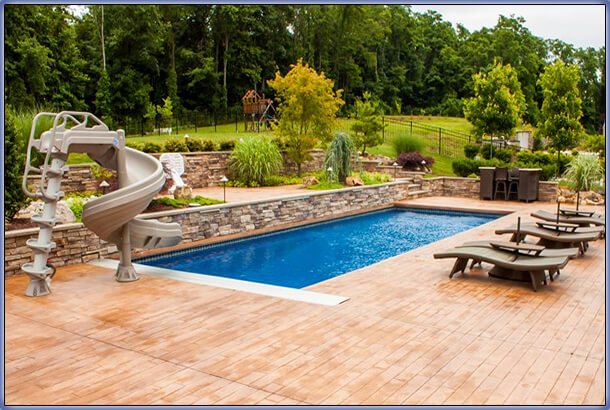 Interior surface choices are endless for concrete pools, with additives for color and light reflection. Smooth pebble surfaces, glass tile and quartz aggregates all add texture and interest to your pool surface.
Inground liner pool owners can install their own liners, or hire a local company, and change up the look completely with new shades and patterns. For a larger vinyl pool rehab, replace the pool deck and coping.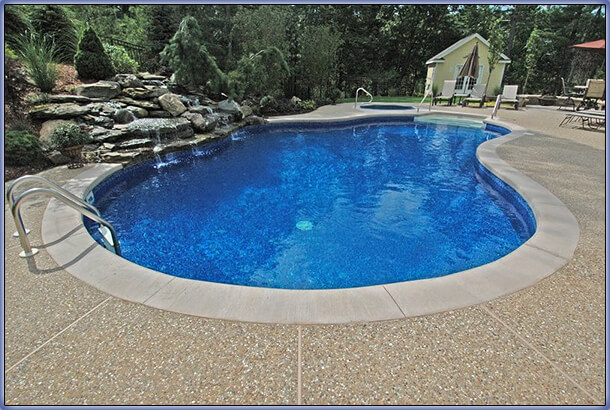 – Modify!
Changing the shape of your pool qualifies as a major pool renovation, but some changes such as adding or enlarging walk in steps, or raising the floor to create a shallow water tanning shelf, may be less expensive than you think.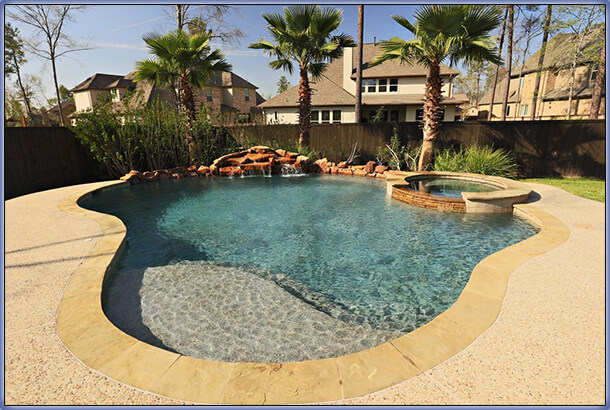 Adding a spa to the pool is another popular idea – attached to and spilling over into the pool. Now you have double the reasons to get out and enjoy your pool.
– Upgrade!
Every 20 years or so, you may want to upgrade some items around the pool, starting with the filtration system. VS pumps can save 75% in energy costs.  Mineral purifiers or salt chlorinators maintain better chemistry. New valves will make management easier. Heat pumps heat inground pools for half the cost of gas heaters.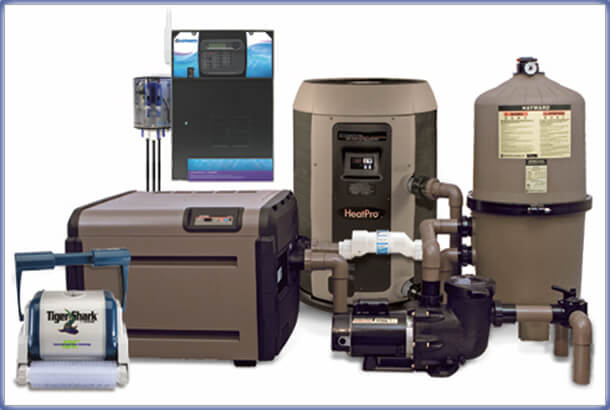 – Landscape!
After 20 years, many backyards become overgrown, especially if they have not been pruned regularly. And there's probably at least one tree on your property that makes a mess of the pool.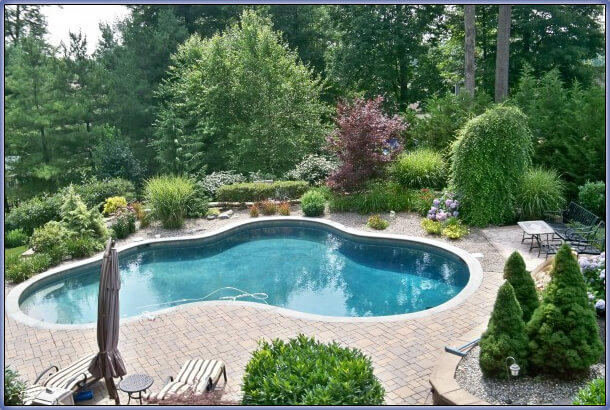 Re-landscape around the pool, with ornamentals, perennials and evergreens of different colors and sizes. And don't forget to consider outdoor lighting!
– Splash!
Adding water features to the pool is one of the most dreamed about pool renovations. From small bubblers and fountains, to large cascades or water falls, if you can dream it, it can be built.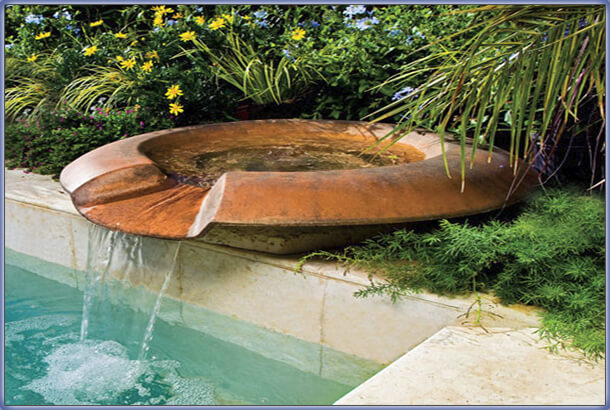 – Cook!
Outdoor kitchens have been all the rage for the last 10 years. A pitmaster's dream, it's more than just a BBQ grill, with a full kitchen. This one below has added an outdoor sectional sofa, fireplace and flat screen TV.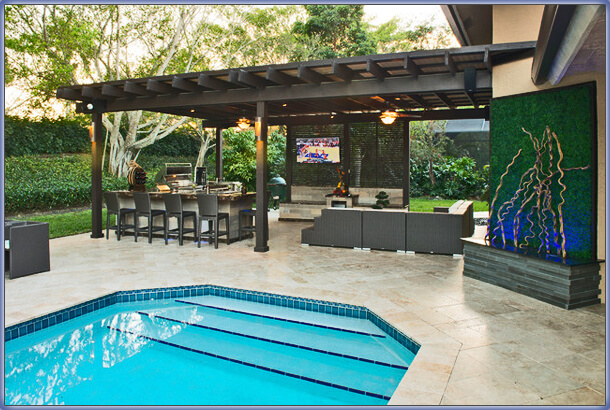 – Fire!
Outdoor fire comes in many forms, from small tiki torches, fire bowls or fire pits, to full size outdoor fireplaces – adding the element of fire to your aquatic paradise warms the night and really makes the evening glow.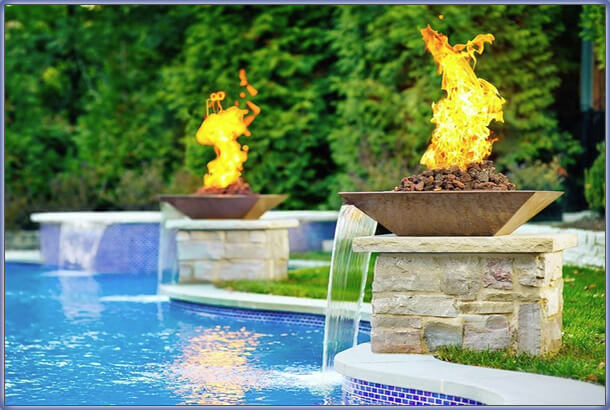 These are just a few ways that you can rehab your swimming pool. The best way to get started is to begin viewing more pictures, and start setting aside money for your next pool remodeling project!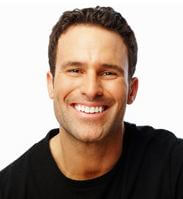 Davy Merino
InTheSwim Bog Editor