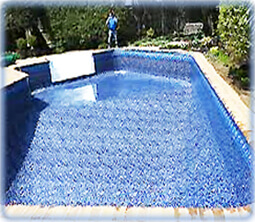 It's that time of year, where the days are getting longer and kids will be out of school soon. It's time to get the pool ready for those hot summer days and nights.
But your inground pool liner – has it lost it's luster?  Installing a new vinyl liner isn't as hard as you may think.

With a few basic tools and supplies, you can replace your own inground pool liner in a weekend, and save over $1500!
The first step is to measure your pool for a custom replacement liner. Send it to us for a fast 48-hour quote on your custom liner. After you've placed an order for your in ground liner, production begins immediately, and even in peak season, 90% of all inground liners ship within 7 days.
Drain the Pool

Tools & Supplies:
Submersible pump, Extension cord, Discharge hose.
You can drain the pool in advance if you are certain that you have dry weather in the forecast and ONLY if you have a mortar/concrete bottom pool. Sand and vermiculite pools should wait until the last minute to drain.
Your filter pump may be able to use the main drain to pump out most (but not all) of the water, or drop in a small electric submersible pump to drain the pool. Pump to a location where the water won't recycle back underneath the pool.
Remove the Liner

Tools & Supplies:
Zip bags, Box cutter, Cordless drill, Broom, Vac or Blower, and a good helper.
Cut up the liner with a box cutter, and roll it up into strips. Use a large Philips head on a cordless drill to remove the faceplate screws, and put them all in zip bags. Compare your new faceplates/gaskets with old, to be sure they match.
Inspect your pool walls for any damage or corrosion. Use paint or wall foam if you notice any rust. Duct tape wall joint seams.
Inspect the pool floor for cracks, uneven areas, erosion, algae. Patch with a wet mix of fine grade vermiculite, perlite or masonry sand. Add portland cement to make a harder mix. Allow to cure before continuing.
Clean the pool walls and floor. Use a leaf blower first, then a broom to sweep up ay debris. Or, vacuum with your wet/dry vac to remove small stuff.
Hang the Liner

Tools & Supplies:
Duct tape, HD wet/dry vac with 6 ft hose, 2 extra helpers.
Get 3 helpers for the next 15 mins. Have 2 holding the deep end corners, while 2 grab each shallow corner and walk the liner over the pool. Line up the corners and begin locking the bead into the track all around the pool.
Place your shop vac through the skimmer and behind the liner. This is going to help remove wrinkles throughout the liner. Duct tape the shop vac around the skimmer opening to prevent air from leaking.
You have a few seconds to shift the liner as the air is removed if needed, for better fit, or to push any wrinkles toward the walls, spreading them out.
Once you have all of the floor wrinkles removed, you can begin adding water.
Fill the Pool

Tools & Supplies:
Garden hose(s), Large Philips screwdriver or Cordless drill, box cutter.
Now you can begin filling the pool from one or more garden hoses. Most pools will fill in 24-48 hours.

Once you have about 12 inches of water in your deep end, walk down (carefully!) to the deep end and put on the main drain gaskets and rings. Cut out the inside vinyl piece and install the drain covers.
Keep the wet/dry vac running until the water level is at least 6″ deep in the shallow end, or before it covers the vac hose. If it shuts off before the entire floor is covered, the liner will relax, and wrinkles can appear.
When the water reaches the wall fittings, install your gaskets and faceplates for returns, skimmer, drain. Cut out the vinyl piece inside, and save as future patch material.
Continue to fill and when you get about half way up the skimmer you can prime the pump and turn on your system.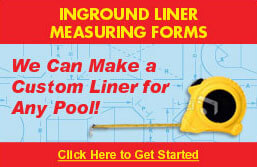 Voila! You've installed your own in ground liner, and saved over half of what a local pool liner installer would charge.
What are you waiting for? Measure your pool today for a new inground vinyl liner!


Ida Gonzalez
InTheSwim Staff Blogger