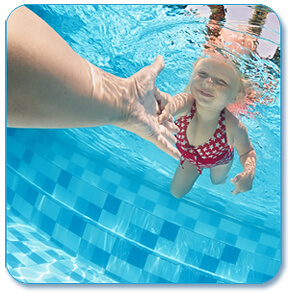 Unlike my dogs, my kids didn't enter this world already knowing how to swim, and they didn't know squat about pool safety.
So, like millions of other parents, I enrolled my kids in swim lessons, and continue every summer.
Swim lessons are great for kids to learn how to swim for fun, exercise, competition, and safety – in case they find themselves in deep water.
Knowing when a child is ready for swim lessons isn't exactly easy, so here's some information to help you understand swim lesson basics for kids of all ages.
What Age is Best?
Parents who read the grim statistics and also hear the tragic stories of parents who lose their children to drowning may think they should sign their babies and toddlers up for swim lessons. Infant and toddler swim programs like ISR are a great way to teach small children about swimming and have grown in popularity in recent years. These programs can teach infants to roll over and float on their back, but they aren't 'swimming lessons'.
According to aquatics consultant Laura Slane on BabyCenter.com, it's better to wait until kids are at least three years old to enroll them in formal swimming lessons. Younger kiddos are typically unable to listen to the teacher for an extended amount of time and truly grasp the skills that are necessary for swimming and being safe while in the pool. Although little kids can definitely enjoy their time in the water, The Washington Post notes most kids won't become able swimmers until 5-6 years of age.
Does that mean you should wait? Well, that depends. If your child shows great listening skills and coordination, maybe he or she is ready to jump in and learn. You know your child best, and if your child enjoys the pool, some instruction is probably a good thing.
Like any other sport or activity, don't push too hard if your child doesn't show a lot of interest. It would be better to wait until your son or daughter is ready and willing to follow instructions on proper swimming techniques. But irregardless of taking formal swim lessons, water familiarity and self-rescue training can be a good idea.
Benefits of Baby Swim Classes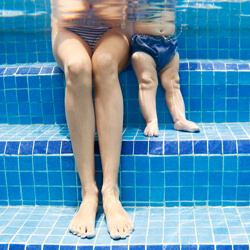 "Mommy and Me" swimming sessions for parents and babies or toddlers certainly have their advantages. In addition to being a terrific way to spend time with their little one, they also help their child acclimate to the water. As a bonus, parents who attend these classes learn water safety tips that they can use to keep their children safe around water.
Remember though, babies will not know to close their eyes under water, and if the pool is heavily chlorinated (which is likely – especially in a public pool), the chlorine could cause irritation in your baby's eyes. One idea is to ask the swim class provider if there is a pool, preferably a smaller one, that is treated with bromine or any other chlorine alternative, or a pool with a salt system. Chlorine alternatives tend to be less harsh on the eyes and skin, and a baby's eyes and skin can be ultra sensitive to start.
How Parents Can Help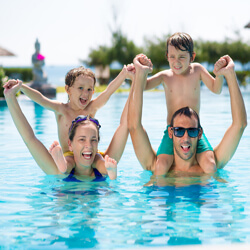 For families who have a swimming pool at home, parents can play an active role in teaching kids how to swim. Moms and dads can teach the basics of learning to swim like practicing the flutter kick while helping support them. All kids get a kick of seeing how much water they can splash into the air, and they learn pretty quickly that kicking their legs will help to move them forward in the water.
Parents can also encourage young swimmers to get their faces in the water and learn to exhale (and not inhale) in the water, with the classic "blowing bubbles" exercise. Getting your kids more used to the water by teaching swim basics at home is, of course, a lot of fun, but also instills trust and confidence in your child.
Inflatables, Floaties & Swim Noodles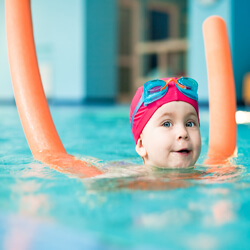 When toddlers are ready to graduate from the kiddie pool to a deeper pool, there is a variety of gear parents can use when teaching children to swim.
Encourage reluctant youngsters to get into the water with a few brightly colored inflatables. Fun pool toys like ride-on toys, inflatable sharks and rockers that can be used with close adult supervision to get kids comfortable in the water and excited about swimming.
Floaties or water wings are worn on the upper arms can help to hold novice swimmers up in the water, but are not effective teaching tools. Parents should never rely on inflatables for safety and should always be within arm's reach of young swimmers.
As kids get a bit older and develop into more confident swimmers, pool noodles can be a helpful swim aid. Tucking the noodle under the armpits, kids can practice their kicks and motor around the pool
A Few Words About Safety
In order to keep your pool safe for swimmers of all ages, it's important to keep water rescue equipment close to the water. In The Swim sells a wide variety of these safety products, including ring buoys, life hooks and first aid kits that can be used in the case of an emergency.
It's also a wise idea to keep a cell or portable phone near the pool in case of emergencies. Of course, the best safety – whether your child is an accomplished swimmer or a novice – is staying with them while they are in or near the pool.
The pool is fun, and it is certainly refreshing on those hot summer days. It's important to remember to keep it that way. Forcing a child into swim lessons he or she might not enjoy for a multitude of reasons can backfire and make them not want to go near the water.
Also, it's wise to understand if your child is great during swim lessons, that doesn't mean he or she is good enough to swim on their own even if they can do so for a short period of time.
Make sure you put safety first and fun a close second.


Larry Andersen
InTheSwim Staff Blogger