When old man winter comes howling down your street, make sure that your pool is well protected. Winter can create all sorts of problems if you're not prepared.
Today's blog post is a Buyer's Guide – to aid your awareness of the various winter pool accessory items, and present some Hot! New! products for your review. Enjoy!
Above Ground Pool Winter Accessories
We have 3 pages of winter accessories for above ground pools – way too much to list here. May I have the envelope please? The top 5 winter accessory items for 2012 are…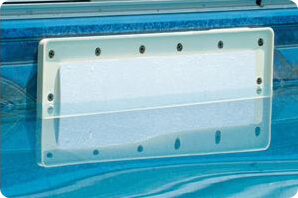 Skimmer Plug: Designed for vinyl liner pools, the Skimmer Plug snaps to fit inside of the skimmer faceplate. 10 different sizes are available to fit most any skimmer. No need to lower the water level when you use the Skimmer Plug, and unlike the Aquador skimmer closure, no need to switch faceplates.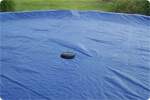 Dryco Pool Cover Drain Kit: Convert any solid pool cover into a self draining solid pool cover. Attach the self-sealing drain cover through the center of your cover. Under your cover, a hose connects the center cover drain to your return line, where the water drains from the cover surface to the outside of your pool.
Winter Pool Cover Patches: It doesn't take much wind to drop a sturdy branch on your pool cover – and it takes just as little effort to repair holes and tears in solid pool covers. Peel and stick our "Lightning Weld" patches for winter pool covers, and you can avoid having to do a mid-winter pool cover switch.
Cover Seal: Wind is also the enemy of pool covers when it gets up underneath the outer edge. Heavy "Wind Whip" can shred a pool cover in just hours. Wrap the edge and keep out wind, with our jumbo 500 ft roll of Cover Seal. Or, try the reusable Cover Clips or Wall Bags, two other wind stoppers.
Pool Pillow Pal: Great story – Invented by a pool owner who wanted to make it easier to use air pillows. Simple device connects your cover and air pillow, and keeps the air pillow centered in your pool, for most effective ice absorption. Air pillows prevent wall damage from expanding ice.
In Ground Pool Winter Accessories
We also have 3 pages of winter accessories for in ground pools – also too many items to list here. Making my 2012 Top 5 list for best inground winter accessories are:
Skimmer Blowout Kit: For inground pools, you need the tall skimmer guard. But that's not the only reason this skimmer gizmo is unique – this skimmer guard allows you to blow air through the skimmer guard and winterize the pool, without having to lower the water level. Includes plug with o-ring and skimmer adapter. Fits 1.5″ and 2″ skimmers.
Concentrated Pool Antifreeze: We love this product, because ~ why ship water around the country? This 100% Propylene Glycol antifreeze for pool plumbing can be mixed with up to a gallon of water, to make 1.25 gals of non-toxic pool antifreeze. Use antifreeze to protect underground plumbing from freezing. Pour into your skimmer and return lines.
Cyclone Pool Line Blower: Blow out your pool plumbing lines and equipment like a pro, with the compact Cyclone blower / vac. Easy to use, just connect the Cyclone to your skimmer with a flexible hose, and blow air through your equipment and back to the pool. Takes just minutes to completely blow out your pool plumbing. Blows out 10 ft deep drains easily.
Aqua Blocks: In ground solid pool covers need heavy weights to hold them in place. You could use water bags, or the much easier to use, cleaner and cooler method of Aqua Blocks. Virtually unbreakable, you will never buy another water bag again! Aqua Blocks also stack (nest) neatly for summer storage.
One-Way Winter Pool Plug: It's like a check valve for your return line. Screw this plug into your return line, and blow air through the return. Self-sealing valve allows air to escape out of the pipe, while keeping water from coming in. This is a new item this year, and has my vote for most innovative new product of 2012. In today's busy world, we have to save all the time we can!
I hope you enjoyed my Top 5 list of pool closing accessories. What's your favorite winter pool accessory, the one you wouldn't dream of closing without? Leave a comment below for me!


Sabrina Potirala
InTheSwim Staff Blogger