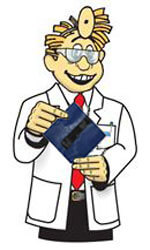 Welcome students of pool, take your seat and today's lesson can begin.
Now then, winter pool covers is the subject for discussion and specifically, pool cover reviews. What does America think of InTheSwim pool covers?
I naturally think our covers are great. Having been on hand in the development of our Polar pool covers, I can vouch for their quality of construction, but how do our customers feel about our covers?
Summary of Winter Pool Cover Reviews
Being a scientist, I wanted to look at the review data, make comparisons and draw some conclusions. My hypothesis was that through analysis of hundreds of individual pool cover reviews, an overall community consensus would become apparent.
I was excited to discover which of our 5 swimming pool cover grades would be voted the most-loved pool cover! Surely it would be our best cover, the Polar Protector, or perhaps the mid-grade Polar Plus cover would emerge the winner.
After tabulation of hundreds of pool cover reviews, an average review score or rating was produced for each of our 5 cover grades.
May I have the envelope please?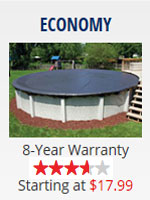 Economy – 3.73 Average Review Score
8×6 filament scrim
Double stitched borders
Navy Blue top, Black bottom
"I did not want an expensive cover because of the size of my pool. Covers are always hard for me to clean so I just throw them away each year. I was also looking for something that is light weight and this fit perfectly." – Veer
---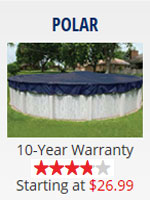 Polar – 3.90 Average Review Score
8×8 filament scrim
Triple dipped coating
Navy Blue top, Black bottom
"Covers fits very well. Material appears very durable. The aluminum eyelets in the reinforced edge are spaced around the perimeter in pairs. The cover does appear strong so I am hoping it will last a long time." – Solosi
---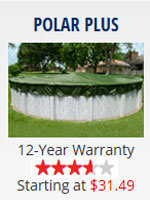 Polar Plus – 3.59 Average Review Score
10×10 filament scrim
Triple dipped coating
Green top, Black bottom
"I purchased a pool cover for a 15'×30′ pool and am happy that the cover comes larger. Other places don't give you that extra material, and they slip when water collects on top of the cover. Very happy with it." – Robbielu44
---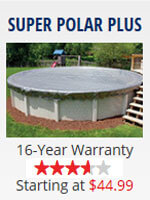 Super Polar Plus – 3.57 Average Review Score
Rip-Stop Intelligent Weave
Triple dipped coating
Heat Welded seams
"Just installed this cover and it looks good. The real test will be the Vermont snow and the load of leaves that come down. The longest we have had any cover last is about 6 years and most covers last less." – Patty
---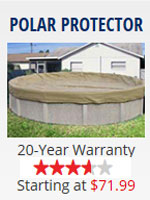 Polar Protector – 3.60 Average Review Score
12×12 filament scrim
Triple dipped coating
Tan color, 5 ft overlap
"Bought this 3 weeks ago. We put the pool away today and this cover is a must. It is lighter than most covers, very strong and durable, and easy to pull across the pool. It made closing the pool a lot easier." – Happy Camper
Fun experiment, but it turns out that my hypothesis and assumptions, were incorrect. All five pool cover types have similar customer review scores, with average star ratings of between 3.6 and 3.9 stars, out of 5.0 total.
The reason we have so many pool cover types, is to match so many wallet sizes. We like to say that we have a cover for every budget, but what we really have is 5 different grades of quality pool covers.
Let us know your review of our winter pool covers!