Episode I: "Jabba The Hutt's Pool Party"
You don't miss a Jabba the Hutt party. They are the stuff of legend and often went on for a whole weekend. It was a particularly hot Tatooine summer. Hot, even for a planet with two suns. Jabba had just put in a new pool at his palace, and the buzz around town was that he was pulling out all the stops for this party.
I still have the invitation:
"His High Exaltedness, the great Jabba the Hutt, has decreed
 that you are to be summoned to a POOL PARTY at The PALACE!

Live Music Provided By The Max ReBo Band

Dive Stick Competitions with Prizes!
 WHEN: Next Centaxday! From NOON Till ????
 WHERE: At The Pool BARGE
 WHAT YOU SHOULD BRING: Something for the snack table and your trunks!

(Clearly written in Jabba's awful penmanship)
 BRING YOUR WOOKIE COOKIES AND YODA SODA!
My Wookie Cookies were a huge hit at Jabba's Pot Luck last year, and my Yoda Soda is the stuff of legend but I can't take all the credit. I owe a big thanks to my friends at food.com and niftyspoon.com for the excellent Star Wars Recipes. If these recipes could get me into Jabba's Palace Parties, imagine what they could do for you on your planet.
YODA SODA RECIPE: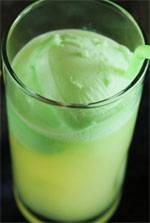 Preparation:
1. Place 1 lime on the cutting board and cut it in half.
2. Squeeze the lime juice, add 3 tablespoons sugar.
3. Add a big round scoop of lime sherbet.
4. Fill glass with sparkling water and enjoy!
Variation: You can substitute rainbow sherbet or lemon sorbet for the lime sherbet, and use ginger ale for sparkling water.
Little Jawas and especially big Wookies love Wookie Cookies, and they make any Star Wars pool party better:
WOOKIE COOKIE RECIPE:
• 1 Egg

• 1 tsp Baking powder
• 1/2 cup Cocoa powder
• 2 1/4 cup Flour
• 3/4 cup Sugar
• 1 tsp Vanilla extract
• 1 cup Butter
Roll out your dough to 1/8″ thick and use a gingerbread man cut-out. Just before baking at 375°, use fork tines to add the fur texture. When cooled, add the bandolier and face with frosting and sugar pearls.
Episode II: Ain't No Party Like A Jabba Party
I don't mean to be rude. But Bib Fortuna does not take to the sun well – but as usual, he's the first person you see when you enter Jabba's Palace. "How does he wear those robes in this heat," I thought to myself as I tried not to stare at his sunburned horns.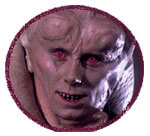 Bib was thrilled to see that I brought a huge cooler full of Yoda Soda and his beady pink eyes lit up when he saw the huge tray of Wookie Cookies, "Wookie Cookies! Nice!" He said in broken English. I handed him the cookies, and he handed me a goodie bag full of awesome Star Wars Pool Party Toys. I was ready to soak up some suns and check out the action down at the pool!
Episode III Death Star? More Like Fun Star!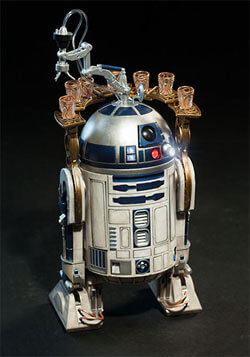 R2D2 is one heck of a server. The Droid makes his rounds quick and before I knew it he set me up with some ice cold, frothy Yoda Soda, and used his built-in air compressor (what doesn't he have in that can?!?) to inflate my Light Up Death Star Beach Ball from the the goodie bag Bib Fortuna gave me.
Speaking of Wookies, I turned just in time to see Chewbacca on the diving board and scream, "AAARRRRAAARGGGYAARG" as his massive, hairy body took flight in cannonball form.
"So that's how you say, Cannonball in Wookie," I thought to myself as a poor Storm Trooper followed Chewie around with a skimmer in a hopeless battle to skim as much Wookie hair out of the pool as possible. Good luck with that.
From the looks of it, we all got a Star Wars Death Star light up beach ball. Storm Troopers were playing volleyball with one, Boba Fett was twirling one on his on his finger like a basketball as he mingled about, and Jabba himself was batting inflatable Death Stars left and right with his tail sending them flying through the air, a fistful of Wookie Cookies in his tiny hand.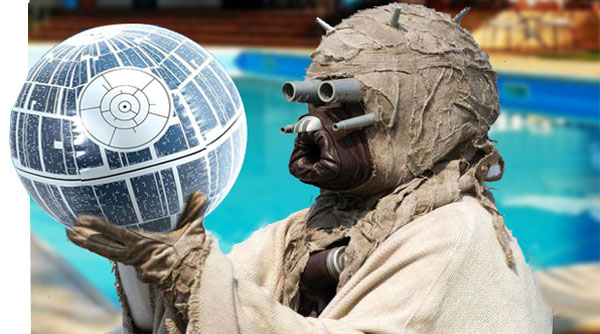 We also got smaller foam pool balls, and before long several Death Star Hop Balls were skipping across the surface of the water and pool deck. Vader was actually pretty good at juggling the Hop Balls, and if he wasn't busy with his career as a Dark Scythe Lord, he probably could have been in the circus. I bounced my Death Star Hop Ball off the surface of the pool water to a couple of Jawas and Sand People having a chicken fight.
Whenever I tell this story, people always ask, 'What do Jawas or Sand People look like with their robes and hoods off?' and the answer is, "I don't know. They swim in their robes and hoods." Go figure.
Episode IV: A New Float
Jabba didn't skimp on the finer comforts for his guests, and I soon found myself staring up at the suns floating on my back on a Storm Trooper Spring Float next to Darth Vader, who was on a Darth Vader Spring Float. If the Max Rebo Band wasn't so loud, I probably could have drifted off into a nap lying on the oversized float pillow, chilling on the comfortable, soft fabric. "I need to get one of these," I said out loud to no one particular.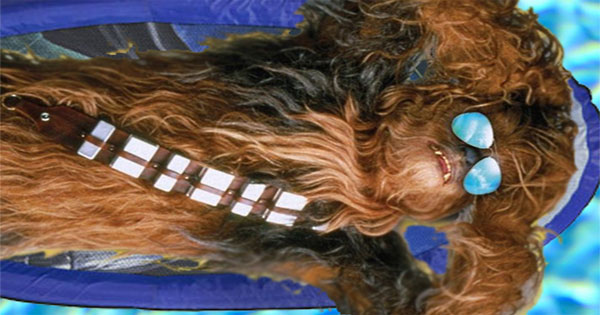 At almost 7 feet long, these Star Wars pool floats were even big enough for Chewbacca who was sprawled out on one as he swatted away the Storm Trooper's skimmer net like a fly buzzing around his hairy head and screamed, 'AAAARGG!" That's a Wookie curse word that I can't repeat in English.
Episode V: The Dive Stick Competition
Jabba loves spectator sports, and while no athlete himself, he sure knows how to bring out the competitive side in people. Whether it's offering a huge bounty to bounty hunter scum to track down someone that owes him money or a Star Wars Character Dive Stick competition. Our Bib Fortuna Goodie Bags included an awesome set of 6 Star Wars Dive Sticks. They were molded after Captain Phasma, Kylo Ren (boy did he get a kick out that), an X-wing, a Tie-Fighter. Jabba, never one to avoid an ironic joke, even included a Millennium Falcon Dive Stick.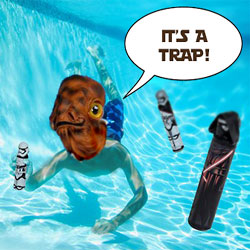 This year's prize was an all-expenses paid winter getaway to the ice planet Hoth. "I don't know why they call it Hoth," Vader shouted in his raspy baritone, "They should call it COLDTH!" No one laughed harder at Vader's joke than Vader.
On a planet with two suns like Tatooine, a winter time getaway was as valuable as a Kyber crystal and the competition was stiff with Admiral Akbar taking home first place. He may be old out of the water but the man can swim like a fish! Don't fall for his old, Admiral Akbar routine if you are ever in a competition with him. "It's a trap!".
Episode VI: Light Up LightSabers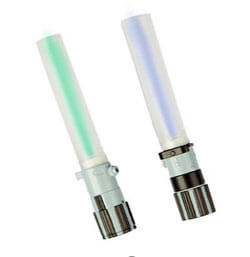 As the suns were setting the Force Awakens Character Dive Sticks were swapped out with Light Saber Dive Sticks and soon Jabba's pool was glowing with green and blue lightsabers.   Super cool as dive sticks or fun as lightsaber glow sticks.
I don't think Jabba realized that those were Yoda and Luke Skywalker's lightsaber colors, and at this point in the evening, I don't think he would have cared. The Yoda Soda was flowing freely, and he'd eaten his weight in Wookie Cookies.
Everyone appeared to be having a great time.   My attention was shifted towards dancing to The Max Rebo Band, and soon the Lightsaber Light Up Dive Sticks were just as much fun out of the pool as they were in the pool twirling them around like glow sticks and tossing them in the air.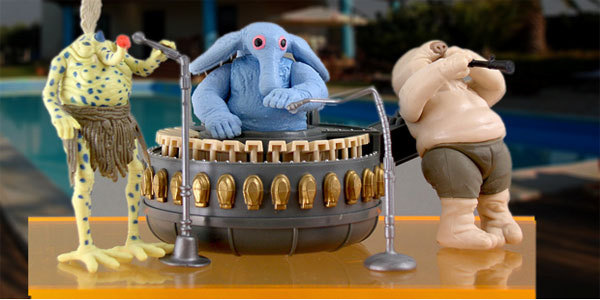 Jabba knows how to throw a pool party. Of course, I still have my Death Star Light Up Beach Ball and Death Star Hop Ball. But because I am a true collector, I kept my Lightsaber Light Up Dive Sticks and the Force Awakens Dive Sticks in their boxes because they're worth more in the 'original package'. I even convinced Bib Fortuna to let me take a matching set of Star Wars Spring Floats home with me – I got both a Vader Pool Float and a Storm Trooper Pool Float.
Get yours today! They make great holiday gift for any pool kid, or for any Star Wars fan, they make fun supplies for your own Star Wars themed pool party.

FEATURED PRODUCTS:


Ryan Dornan
InTheSwim Staff Blogger