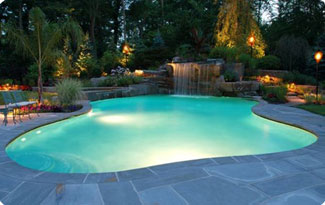 If you want to turn your backyard into a colorful, peaceful oasis, what is the easiest way? Create a sincere, inviting ambiance by revamping your pool and patio lighting. Enjoy breath taking light shows, or a soft glowing setting.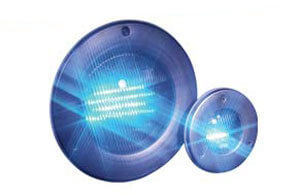 One of the best ways for in-ground pool owners to amp up the ambiance is with the Hayward ColorLogic LED Pool Light. High intensity bulb displays 7 light shows and 5 fixed colors. The five fixed colors can then be customized to create more than 101 unique colors!
Hayward ColorLogic lights are easy to install, just cut the cord behind the old light, tape the two ends together, and pull the new cord into the conduit and up to the pool light junction box. Trim the excess cord and make your wire nut connections.
ColorLogic Light shows range from "Twilight," that's perfect for an evening swim to match the colors in the sky, to "Tranquility," which includes a display of calming whites and blues. The bulbs used in the Color Logic has a lifetime of 50,000 hours – that's a lot of perfect evenings you can create.
The video above has some great examples of the kind of atmosphere you can create with LED pool lights. Because the bulb is LED, that means you will save a lot of money off your energy bills! Cooler and Cheaper! To see how much money you could save with a Color Logic LED pool light, visit the Hayward Energy Calculator.
If you are an above-ground pool owner and want to create some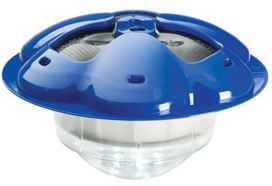 beautiful lighting in your pool, try the Floating LED Pool Light for a tranquil look! This floating light runs on a rechargeable battery that will last up to 12 hours between charges. You'll get 360 degrees of ambient light to add pizzazz to your backyard. It can also be used out of the pool for many other lighting purposes.
Changing up the lighting in your backyard will help liven up the atmosphere. A great way to go about doing this is with ChillLites.
ChillLites are cordless, rechargeable LED lamps that are chlorine and water resistant, which makes them perfect for placing them poolside or even floating in the water.
ChillLites come in four fun shapes; bubble, balloon, globe and cube. Color LED bulb glows red, blue, green, and white.
The ChillLite Loon pool light is great for smaller pools. This battery-operated underwater light is magnetic to stick anywhere on your pool wall, and can be used in or out of the pool. The Loon emits red, blue, green, and white light while fading from one color to the next.

Globe Lights are perfect to hang on your pool umbrella spokes, or on a patio or gazebo eave. They are weather resistant, so they will last you even though the toughest storm! These lights look amazing during the day and at night.
Lighting outside of the pool is just as important as the lighting under the water. Illumination of seating areas, pathways and landscapes will create depth after dark, and allow you to highlight the best areas of your backyard.
Creating dramatic lighting in your backyard couldn't be simpler. Small lighting touches like these make such a huge improvement. Add some deep and soothing lighting around your swimming pool – you'll be one step closer to your peaceful oasis.


Sabrina Potirala
InTheSwim Staff Blogger