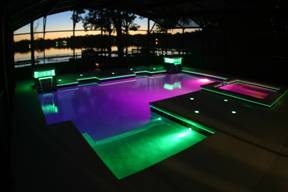 Imagine turning your backyard into a colorful, peaceful oasis with the capability of an awe-inspiring light show right in your own pool ~ all while lowering your electricity costs and conserving energy. Well, with LED pool lights, that dream is within reach.
The latest innovation in swimming pool lighting technology is the use of LED lights to create breathtaking colors under the water while keeping a focus on energy efficiency. LEDs (Light Emitting Diodes) are small semiconductor devices that convert electrical energy directly into a distinct color of light. LED pool lights combine these digital light sources with the intelligence of a microprocessor, controlling all aspects of illumination. The results are amazing; crisp color, a bright yet dense saturation, and special effect capabilities.
LED pool lights are much preferable to traditional incandescent bulbs, as a typical incandescent bulb lasts only about 5,000 hours whereas an LED light will last 30,000+ hours. LEDs create light without reaching the high heat extremes that traditional light bulbs do. With less heat, they require less energy to operate, and less energy is wasted. LED pool lights are brighter while using up to 79% less energy than traditional incandescent lighting.
LED circuits also approach 80% efficiency, which means that 80% of the electrical energy is converted into light energy while the remaining 20% is lost as heat energy. Comparatively, incandescent bulbs operate at 20% efficiency, meaning that 80% of the energy is lost as heat. Even though incandescent light might seem cheaper initially, using LED pool lights increases use benefit, while reducing energy costs.
In addition to the economic bonus of saving so much energy, LED pool lights have a color changing capability that provides a personalized light show in your backyard. The colors span the rainbow spectrum, and you can easily change them to suit your mood.
In-Pool LED Lights
The Hayward Color Logic LED Pool Light even allows you to synchronize two different colors at once! Imagine setting up your pool with red and blue colors – it makes the perfect backdrop for an evening swim that matches the colors of dusk in the sky! This particular model has a lifetime of longer than 50,000 hours – that's a lot of perfect evenings you can create. For more info about how much money you could save with this particular model, calculate your pool lighting costs here.

Announcing the LED Pool Wall Light for soft sided above ground pools. This particular light uses magnetic technology that is delivered through the pool walls to deliver more light than a 50-watt halogen pool light. Unlike other pool lights, this particular model can be moved around, and will float in the water if it gets disconnected without any damage. The magnetic wall light for soft pools extends the swimming hours well into the evening, with the low cost and longevity of LED pool lights!
LED doesn't have to just be in the water, either. There are plenty of other products that utilize LED technology that will help light the way around your pool. The ChillLite Pool and Patio Lights as well as the LED Globe Umbrella Lights would add magnificence to any back yard and would give it a unique, fantastical guise.
Patio LED Lights
ChillLites are cordless, rechargeable LED lamps that are chlorine and water resistant, which makes them perfect for placement poolside or even floating in the water. ChillLites are in 4 cool shapes; bubble, balloon, globe and cube shaped lights fade from shades of red, blue, green, and white. Remote controlled operation. Super accent lights for your next pool party.
Globe Lights are perfect to hang on your pool umbrella spokes, or on a patio or gazebo eave. Indoor/Outdoor, weather resistant, but not for use in the pool. LED Globe lights shine even during the daylight (left), and provide excellent nighttime illumination. 25 ft, 115v power cord lights up all 12 LED lamps. Globe lights also look gorgeous on the branches of a petite tree.
LED lights are surely a major game changer for the energy efficient, tech-savvy pool owner who likes value in his new products. Not only are they stunningly beautiful to decorate the backyard and pool with; LED lights save money and energy.
Create a stunning pool lightscape with less impact on both the environment and your wallet. Your friends will be seeing green with envy over the spectacular light show these LED pool lights will create, while you'll just be seeing more green in the bank!
Take a look at all of our swimming pool lights for inground or aboveground pools ~


Sabrina Potirala
InTheSwim Staff Blogger