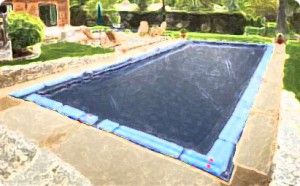 Sadly, it is almost time for many of us around the country to start thinking about covering the pool. Since it's still late in the summer, now is a good time to assess the condition of your current winter cover and determine if you'll need to purchase a replacement, or if you can get by one more year, and have some extra holiday funds.
When possible, it is always better to place a pool cover order early and have everything you need on hand – ready to close and cover the pool. Today I'm going to share some information and a few tips you can use when ordering a new solid winter cover for your in ground pool.
In case you were wondering, a solid winter pool cover is so named because water and debris cannot pass through the pool cover. Sometimes they are just referred to as "pool tarps" because they simply lay on top of the water, and are similar to a tarpaulin. Indeed, we sell many winter pool covers for purposes other than just covering swimming pools.
Solid pool covers are meant to be oversized (they are said to have an "overlap") so that the cover can float on top of the water after you lower the water level for the winter.

Order by pool size to receive a cover with the correct amount of overlap. In The Swim's solid winter covers have a built-in 5 ft. to 6 ft. overlap that will fit a given size pool after the water level is dropped by 18 inches.

If you find yourself in between sizes, or you have a non rectangular pool shape, order a larger cover rather than a smaller one. You can fold under extra material, but you can't create more! A larger cover also allows you to shift the cover one way or the other, if a hole should develop near the edge.
Always keep in mind that even if a solid pool cover is properly sized and resting on the water as it should, it is important to remember that these covers are not able to support significant localized weight, and that children or pets would very easily pull the cover into the pool if they were to walk out on it.
Solid Pool Cover Options
In The Swim has quite a few cover options. The stronger the cover, the longer warranty it will have, and these will be the most costly. Winter pool covers are like most things in life – you get what you pay for, I suppose. We have such a huge variety of winter pool covers that it may seem confusing at first; this is only because we want to have a pool cover that will be affordable for every pool owner.

Economy Winter Covers are the least expensive inground pool cover option which currently feature an 8 year warranty, 1 year full replacement, and 7 years pro-rated. A good pool cover that should last for several years.

Pro-Strength Polar Protector covers are our best winter pool cover, and they currently feature a 20 year warranty, 5 years full replacement, and 15 years pro-rated. If you're the kind of person that prefers to buy the best of everything, you'll like this pool cover.
In between our low-end and high-end pool covers we have at least a half dozen other pool covers to choose from. A lot to choose from, I know – but we believe in choice, not confusion! As you move up the ladder from good to best, each grade of pool cover is a little stronger and better made.
Which Pool Cover Should You Buy?
I suppose you'll have to answer that, but to help you make the decision, look to the other stuff around you. Do you buy the best of everything, or do you try to buy the best deal? Do you prefer a Cadillac or Chevy? Would you rather buy a new pool cover every 3-4 years, or buy one that will last 3-4 times that long? The choice is yours – we have a pool cover to meet everyone's purchasing styles and preferences.

The difference between a good and a great pool cover has to do with how tight the weave, or "scrim" is, and on how many times the weave is laminated, or dipped in protective layers or coatings.

"Pro-rated" means that you will receive a percentage of the price of the cover to be used towards the purchase of a new cover.  The percentage received will generally decrease with each year that passes.
Solid Pool Cover Accessories
Solid pool covers need weights to hold them in place against the weight of accumulated rain and snow, and brisk winter winds. They can be secured by water bags (aka water tubes) or by aqua blocks.
Water bags are long (8ft or 10ft) vinyl tubes that you fill half-way with water and run through the loops which are sewn around the perimeter of the cover.  They are available as single water bags with one water chamber or double water bags with dual water chambers. Water tubes can be purchased individually or you can purchase a solid pool cover with a complete set of tubes – as a kit.

The benefit of double water tubes is that they are less likely to roll due to the separate chambers, and they provide peace of mind, in that if one chamber is punctured and leaking, the water bag can still be useful.
Aqua Blocks are durable hard plastic boxes that are filled half way with water and sit on top of the cover around the perimeter of the pool. They are very sturdy and nearly impossible to break, and while they are more expensive that water tubes, they can last forever.

You may be tempted to use other heavy items like planters, logs or even lawn furniture to hold your cover down, but I would advise against this, for the reasons below.
If something were to cause the cover to be pulled in to the pool it would pull the objects around the perimeter in as well, which could cause extensive damage to your pool, especially if you have a vinyl liner. Aqua blocks and water bags will harmlessly float if the cover is pulled into the pool from too much water on top, or severe weather conditions.


It is recommended that you periodically pump off rain and snow melt in excess of 1 inch from your cover with a pool cover pump. About an inch or so of water will help to protect the cover from wind damage, but excess water weight will stress the seams of a solid pool cover and create a potentially unsafe situation.
The Water Wizard is a great cover pump option for keeping up with rain and snow melt. This is important because puddled water attracts worms, and worms attract birds, who can poke small holes in your pool cover with their sharp beaks and claws.

If you do find that you have small holes that need to be patched, we offer a winter cover patch kit that contains two 8×10 inch adhesive-backed patches.
Leaf Nets, also called a Leaf Catchers, are a great accessory if you have a lot of trees around your pool. Leaf catchers are mesh nets that you place on top of your winter cover when you close the pool in the fall. Leaf Nets make it really convenient to remove the leaves on top of the cover all at once.

Remove the Leaf Net after all the leaves have fallen so that the leaves don't sit on top of the cover all winter long. A cleaner cover will last longer!
If you have any questions about which type of pool cover or accessories are appropriate for your pool, please give us a call at 1-800-288-7946; we are always here to help – even in such sad times as pool closing!


Jackie Wolski
InTheSwim Staff Blogger