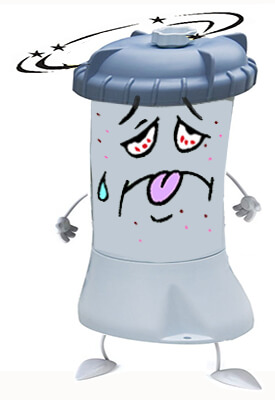 Is your Intex pool filter a little… tired? Intex pools are very well known to be a quality pool for the price; a nice starter pool.
Intex Fast Set and Frame Set pools are also known for coming with filters that are a bit on the small side, to make the package price competitive.
If you've struggled with Intex pool filter problems, and have ever thought you may need to upgrade someday ~ well, today may be that day!
Benefits of Bigger & Better
The Benefits of a larger filter system are many, suffice it say that when you water is over-filtered, you'll have fewer pool water problems.
Larger filter surface area goes longer between cleanings.
Poor water conditions are cleaned up faster, or prevented.
Larger pump with basket makes it easy to vacuum to pool.
Greater suction and circulation keeps the pool cleaner.
Now, let's get down to some actual equipment recommendations for an Intex pool. I've grouped the pump and filter suggestions below by the type of Intex pool – Inflatable Easy Set, Frame Set or Ultra Frame Pool.
Easy Set Pool Filter Systems
These pools have been available in many sizes, from 8′ round, all the way up to 24′. Which is why there are so many sizes of Intex filter pumps for these pools.

Easy Set pools come with an integrated pump and filter unit that is matched to the pool size. These filters are rated in gallons per minute of water flow; 530 gpm, 1000 gpm, 1500 gpm and 2500 gpm.
An easy way to upgrade your Easy Set pool filter is to just buy a larger Intex Filter System, to increase the water volume per hour. They all have the same filter size however, except for the 2500 gpm unit, which uses a larger filter cartridge.

To upgrade even further, look at the Intex sand filter systems. For under $270, you get a 16″ sand filter coupled with a pump and oversized strainer basket.
Metal Frame Filter Systems
Metal Frame pools are much deeper than the Easy Set pools, and with a sturdy frame around the laminated canvas pool shell, they can hold much more water.
More water = more pump capacity. Our 24′ round Metal Frame pool is sold with a 2500 gpm cartridge filter. It's adequate, but if your pool sees a lot of dirt and debris or swimmers and sun, you may need something bigger and better.

Depending on your frame pool size, you could look at the 16″ or 19″ Sand Master filters, with full-tilt pool pumps mounted on a skid, from $330.

If you need even greater filtering capacity, the Hayward EC-30 Perflex DE filter will make any Intex pool shine like a diamond, with the power of diatomaceous earth filtration.
Ultra Frame Filter Systems
Ultra Frame pools need the largest filters, but these pool sets may be sold in the box with one of the smaller filters, which wear out quickly under the strain of so much water.

Ultra Frame pools can use a 19″ Intex sand filter, but if you have one of the larger Ultra Frame pools, you may be better off with the Hayward 21″ sand filter and pump.

To upgrade to a ridiculous level (which you'll never regret, trust me), look at the Hayward X-Stream pool filter system. This is the real deal, industrial sized equipment for permanent above ground pools.

If you want the most superior form of pool filtration in terms of particle size, then look at the Hayward EC-50 Perflex filters, with the same Power-Flo pump as the X-Stream cartridge filter, but with a diatomaceous earth filter.
Installing a New Intex Filter System
All you need to do is swap hoses from the old system to the new, prime up the pump and plug it in! However, if you replace with a sand filter, you'll need some filter sand, and DE filters need DE powder. Both of these items can be purchased online, but pool filter sand is best bought locally, to save shipping costs
Let your old filter retire and order your new bigger and better Intex filter system today, and start enjoying a more carefree summer!


Joshua Foster
InTheSwim Staff Blogger