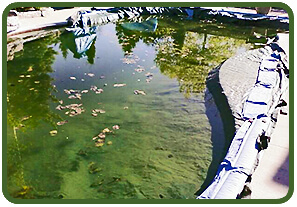 Spring pool opening goes more smoothly when you have a proper winter pool closing – the most important part being that the pool cover is tightly put onto your swimming pool.
A tightly put winter pool cover protects the water from debris and winter conditions, but you can defeat the purpose if the pool cover comes loose and nothing is done about it for many winter months. Allowing for debris build-up inside the pool, stains and algae are the result.
Avoid opening the pool in April or May to a sad surprise or shocking realization that you have a lot of clean-up to do. If the pool cover becomes loose or falls into the pool, put on some warm clothes and get it taken care of now.
Winter Pool Cover Issues
Strong winds can shred loose aboveground pool covers in minutes.
Leaks in the pool can damage a pool cover, or make it fall in the pool.
Heavy rain and snow can pull in a solid cover, or rip the seam.
Heavy snow and ice can rip old safety cover straps.
Ice sheets on a solid pool cover can be sharp on the edges.
Large sticks or branches can pierce pool covers.
Farm animals or wild animals can cause severe damage.
My Cover Fell in the Pool!

If your solid cover slipped into the pool, either from a pool leak, or too much water weight on the cover, or animals or tree branches that fell onto the pool cover – here's how to deal.
With several strong hands, grab the edge of the cover and pull it back up over the pool deck – if possible. Weigh it down around the edge with water bags. Never use heavy planters or cinder blocks or bricks, which could be pulled into the pool.
Start pumping water, using submersible pumps, or a cover pump. A vacuum hose can be used to siphon additional water from the pool cover.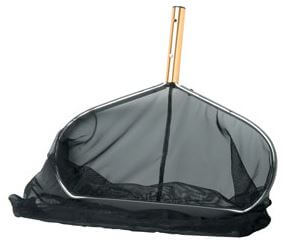 Break out the skimmer nets – Leaf Rakes are the easiest for any debris removal. Pull the debris gently towards you to make for better scooping. Place the debris into a container that has holes in it that will allow for draining of the water.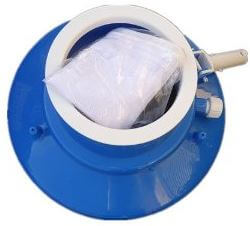 Scoop out as much as you can by using the leaf rake. A pool brush can also be used to gently pull debris to the edge. If the cover is really submerged deeply, a garden hose vacuum like the Leaf Gulper can be a big help.
After you have eliminated all of the accumulated debris and water from the cover, you can tighten up and reset the pool cover as the surface water recedes. Inspect the cover closely for any holes or tears.
If your pool cover is completely submerged in the pool, with more water on top of it than beneath it – after cleaning as much as you can, and removing the water bags, just pull it out of the water, folding it as you remove it.
Now you can check on the water. Note how much debris went into the pool. You may be lucky and only have smaller debris in the water, in which case means you could just simply vacuum it out in spring time. If there is more debris, use your leaf rake or leaf gulper to clean it as much as possible.
For pools that have been neglected for years, with the pool cover submerged in muck and yuck, a drain and clean of the pool will be necessary.
Large amounts of mucky water going into your pool from the pool cover will likely have phosphates, nitrates, bacteria and all sorts of other undesirables, so be sure to shock the pool and use PhosFree if your pool cover split or became submerged with a large volume of organic debris (muck and yuck).
In any case, once the pool cover and debris situations are stabilized, you should check and balance the water chemistry.
Winter Pool Cover Repairs
If there is a tear or hole in the cover, you can easily make a repair using pool cover winter patch kits. Cover patches allow for quick fixes on any winter swimming pool cover so you don't necessarily have to buy a new replacement pool cover.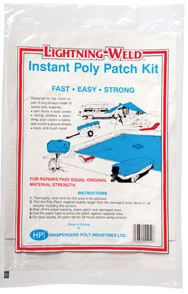 Solid pool covers can be quickly patched with our Lightning Weld pool cover patch. Self adhesive and super sticky. Patch both sides of the pool cover for best results.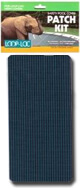 For safety pool covers, use our Loop Loc Patch Kit, in 4 colors, for solid or mesh safety covers. Self adhesive 4″x8″ patches are made by 3M, and makes a permanent repair, to all brands of safety pool covers.
Small rips or tears of around 6 inches are a prime example of a problem that can be remedied with a pool cover repair patch. The weave of a winter pool cover usually causes pool covers to rip in a straight line, making home repairs simple.
A rip in the cover larger than 12 inches may not be possible to repair permanently, but you may be able to make it through the winter before having to replace the pool cover.
Pool Cover Problem Prevention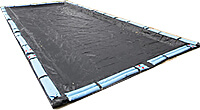 For inground pool covers with water bags, keep your cover tight with a good supply of double water bags. Never use bricks to hold down the pool cover or heavy objects. Periodically check on the water tubes throughout the winter season, patching or replacing any that have leaked.
A well functioning pool cover pump is important to be able to pump the 1-2 feet of rain water and snow melt that you probably get through winter.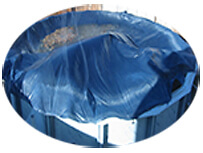 Aboveground pool covers can use Cover Clips, Wall Bags or Cover Seal to keep out high winds. Some A/G pool owners like to keep a small amount of water (less than an inch) on the pool cover, to help keep it down during windy days. Use a cover pump or siphon method to remove excess water that could weaken the cover seams or rip the cover along the edge.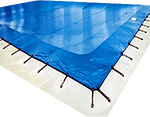 For safety pool covers, if your pool cover straps aren't tight enough, there can be water accumulation on the surface of the cover, or touching from the underside. Tighten straps so the springs are halfway compressed, and the cover deflects only slightly in the center. Keep your water level in the pool between 6″ – 18″ below a safety pool cover.
Safety cover manufacturers can sew on new straps, make sewn on patches, or replace entire panels for mesh or solid safety covers that have become damaged.
No matter what pool cover you own – whether it is a mesh cover, solid cover, safety cover or automatic pool cover, take care of winter pool cover maintenance and you can prevent a mid-winter pool cover disaster!


Alex Malamos
InTheSwim Staff Blogger