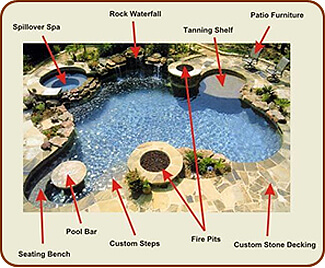 Every twenty years or so, most inground pools are in need of some renovation.
Part face lift, part modernization, a pool renovation can bring new life to an otherwise drab backyard.
It all starts with a plan – start planning now for a spring pool renovation.
Pool Renovation Prep List
1. Build a Budget
What you can do depends on how much money you are willing to spend. For most inground pool renovations, prices start at $10,000. This will buy you new tile and plaster, or a new vinyl liner and a new pool deck.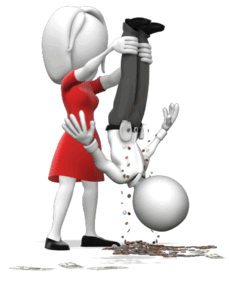 New coping, waterfalls, attached spa or fire pit could add another $5,000, give or take. When you start to dream of changing the pool shape,  adding natural stone decking or several new features, that's when the cost really escalates.
It's not uncommon for larger scale renovations to cost more than the original cost of the pool, but keep in mind how long ago that was. A twenty year old pool can easily cost twice as much to build now, as it did then.
 2. Peruse Pictures
This is the fun part! Point your browser, as we used to say, to sites like Houzz, Pinterest and Swimmingpool.com. Make a pictorial list by pinning to your own Pinterest board, or saving pictures to your hard drive so you have quick reference to your pool dreams.
Keep your budget in mind, it's easy for scope creep to carry you away, but at this point, don't worry too much about costs. What's more important is to establish some ideas, to see what's possible, and find some direction for the project.
3. Calculate Costs
At this point, 2-4 months before you are ready to begin, do a good bit of online research on local pool service companies in your area advertises as doing pool renovations. Pool builders may be the best equipped to do pool renovations, but  pool service companies or pool management companies also play in this field.

You may already know all the pool companies in town if you've owned your pool long enough, or live in a small town. Visiting a company website can be useful and informative, or they may be on facebook. You could play detective and look for any kind of online reviews or news.
Narrow down a list of 3 or 4 companies, or a reasonable number for your area, and start calling their office, or fill out an online contact form, suggesting that you schedule a meeting regarding renovating your pool.
You should already have some ideas in mind, which they can help put in perspective for you, in terms of cost and feasibility. Be upfront about your budget with them, or a price range, if you have some flexibility in that regard. Ask them what they would do, if it were their pool, with your budget. The salesman will usually bring a photo book or a tablet to tell you about the company and show you examples of their work.
This is useful both to generate ideas and to see what kind of work they are most proud of. It's usually best not to be a guinea pig with a company doing a pool renovation. If they've never built a tanning shelf, or complex water features, you don't want to be their first customer! They should have experience with the kind of work you want done.
4. Choose a Contractor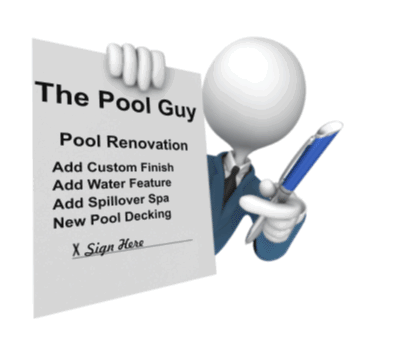 After getting prices from 2 – 4 contractors, evaluate them based on their portfolio, references, timeline for the project, warranties and of course price. Don't be swayed by a charismatic or pushy salesman, but give yourself time to consider other quotes, and check references before signing a pool renovation contract.
Ask what portions of the job they will use sub-contractors, and which will be performed by in-house crews, for which they may have more control over. Ask for references in your neighborhood that you can contact, and be sure to contact them. Perform online searches to further establish their reputation. Don't be put off by a few negative reviews, but if they are predominantly negative…
10 Pool Renovation Ideas
Now, here's a list of some cool things you can do while renovating an inground pool. If you can dream it (and pay for it!) you can do it! Nearly anything is possible! Some of these ideas are on my wish list, and some of these I've already done!
New pool deck; stone, pavers, brick or wood.
Add a tanning shelf, or long bench in the shallow end.
Waterfall, cascades or laminar deck jets.
Planter areas, with small trees and large bushes.
Pebbletec or Glass Tile pool surface.
Glass pool fencing for improved safety.
Pavilion, Pergola or Pool House.
New pump, filter, heater, valves.
Add a spillover spa.
Add an outdoor kitchen and fireplace.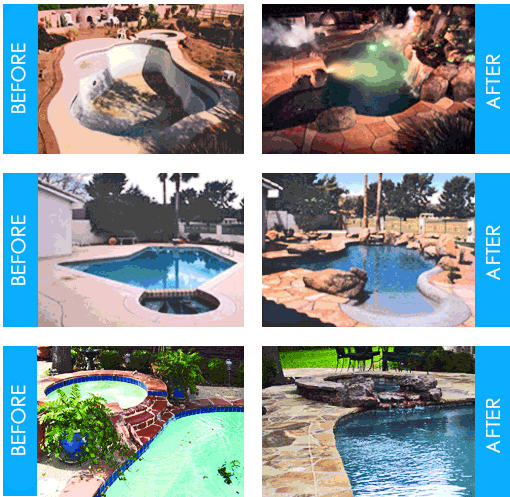 What's your dream pool look like? Leave a comment below!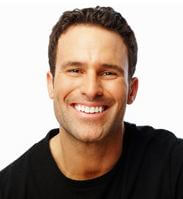 Davy Merino
InTheSwim Staff Blogger