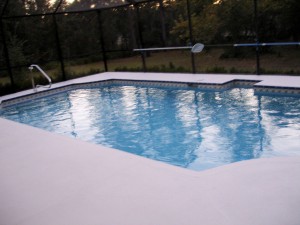 Most people put good effort into keeping the pool in good shape, but they can forget about the deck – and a pool can only look as good as the deck that surrounds it.
After a few years of neglect, whether it's concrete, wood or any other type of surface, age starts to show and the appeal of your beautiful pool, just like the stain of the deck, begins to fade. This gets worse when pool owners fear their only salvation lies in replacement of the entire pool deck – which anyone knows is not cheap.
Fortunately, In The Swim has several affordable products which can help you rejuvenate and renovate your deck, without the stress of tearing out or busting up the existing one.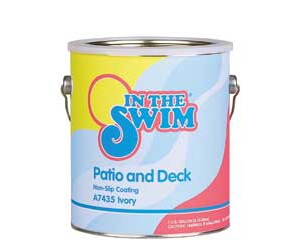 All you need to brighten up your pool deck is some good pool deck paint, and a few supplies. The process of pool deck painting is not so complicated, it's easier than painting a pool, maybe even easier than painting a room in your house.
Our pool deck coatings are easy to apply to concrete, stampcrete, Kool Deck, wood decks – very versatile!
Pool Deck Painting Preparation:
After the cracks have been repaired, we need to ready the surface for paint. This involves cleaning to remove oils and dirt, and acid washing to etch the surface, or make it rougher.
Pool Deck Crack Repair:
First off, nearly all of In The Swim's pool deck paint and coatings can be used on concrete and wood, but if you have a concrete pool deck, it's good to start off by locating any cracks or fissures. Hairline cracks don't pose much of a problem, and our pool deck coatings will fill them in fine. Larger cracks in your concrete, however, should be cleaned with a wire brush or compressed air, and then filled with an outdoor caulking compound. If you find cracks, clean them out and then patch them up with this simple all-in-one Pool deck repair kit.
Larger holes or deep fissures in your deck? Fill them with our Poxy Patch. Easy to mix and spread, and very thick so it has low slump. Can also be used for setting anchor sockets or diving board jigs. Poxy Patch has very high tensile strength, and sets up quickly, so you can be ready fast for painting.
If your concrete pool deck is in very bad shape, with spalling or delamination, and hundreds of tiny cracks… you may want to consider using some brute forces to lift up the loose material and fill them with a concrete mix that is troweled smooth.
Degreasing the pool deck
If you have a pressure washer, this can come in handy during the pool deck prep process. Using a mixture of TSP (Tri Sodium Phosphate), and warm water, scrub the pool deck with a stiff deck brush to loosen dirt and oil. Pressure washers and acid won't remove all of the oils, we need a degreaser like TSP.
Etching the pool deck
After we have degreased the pool deck, and hosed it off thoroughly (be careful not to get the TSP in the pool water), we can acid etch the concrete and/or previous deck coatings. Carefully pour from a flower watering can, a diluted acid mixture onto wet concrete. Use a stiff brush to move the mixture around. Hose thoroughly, off the pool deck. If your deck is wood, you can skip this step, but you may consider sanding the wood with a pole sander, or wood floor type rotary sanding machine.
We have a Pool Paint Surface Prep Kit that contains TSP and Sulfamic Acid in one bucket to make your supply shopping simpler.
Note: the cleaning process could be harmful to delicate plants and shrubs that are off the deck, use as little TSP and Acid mixture as you can, and dilute with lots of water. Acid can be neutralized by using a base (pH increaser), before rinsing.
Pool Deck Painting:
After the deck is clean and dry, we should paint without too much delay. No need to wait for days, like with epoxy pool paint, our pool deck paints are a water-based latex.
Primers for Pool Decks:
Concrete pool decks won't need to use a primer coat, but two coats of our pool deck paint is recommended. If the pool deck surface is extremely rough and pitted, you may even want 3 coats, or a thick initial coating.
Wood pool decks should use an oil-based primer, to improve the bond between the latex paint and the wood, and deck screws.
Painting your Pool Deck:
Supplies: Make sure to pick up a paint application kit which has all the tools necessary for the job. You'll need a roller frame and an extension pole. Use a low nap roller, 3/8″ or less. Using a bucket with a paint grate is easier than moving a low paint tray around. Mixing the paint with a drill and a paddle bit is recommended for complete mixing.
Small brushes are useful for cutting in on areas of the deck which come close to poles or adjacent patios. You may want to use painter's tape to tape up the coping stones around the pool edge, or other items to keep them paint-free.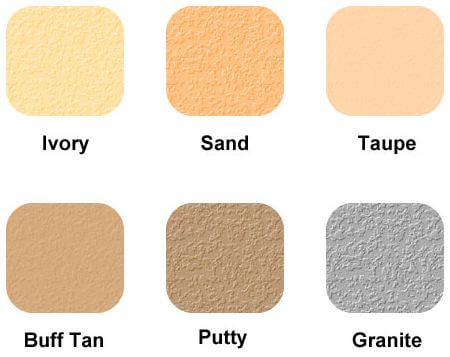 Now comes the fun part – it's time to select a pool deck paint. Choose the paint which best compliments your pool area. Two coats is the standard treatment, so be sure to add up all of your square footage and order enough paint, so that you won't run out. It's good to have a little bit leftover, in case you need to touch up an area in the near future.
Paint: The application might not be so fun (stretch out those lower-backs), but the amount of money you're saving is. Just roll on the paint, in smooth, even strokes. Keep an even amount of pressure, so that an even amount of paint is being rolled on.
Seal: To make sure you're not doing this again in another 2 years, seal the entire deck after the paint has dried with our pool deck sealer. This step is crucial and the most often overlooked, but preserves the color of the paint significantly longer. Stains that would normally ruin the appearance of your pool deck wash off easily, and our pool deck sealer protects the bright color of the pool deck against harsh UV rays, heavy traffic and chlorinated pool water.
Now you can sit back and enjoy your rejuvenated pool deck! A pool deck paint project can be done over a weekend, so all things considered, not a bad investment of time and money. You will be amazed at the effect that a refinished pool deck has on your entire pool area.

Michael Doan
InTheSwim Staff Blogger